Last Updated on January 20, 2023 by Share My Kitchen
These 30 easy Tiktok eats will stop your children from teasing you about being outdated. These recipes will help you keep up with the times. The recipes, if you can believe them, are amazing!
What is the first thing that comes to mind when you hear "TikTok?" If you answered with the catchy Ke$ha song, you might get older.
Let's stop kidding ourselves: the age group we belong to is not the ideal target audience for this popular social media platform.
However, it is still worth looking into if you enjoy cooking or you are looking for new ideas for lunch and dinner.
TikTok actually has a lot of professional chefs and bakers! It is a treasure trove full of cooking tips and recipes!
But is it worth the hype? Although there is no way to know if every single one is, the 30 recipes listed below definitely are worth trying.
30 Easy Tiktok Eats List
These viral easy Tiktok eats will make you more famous among the children. Let's get to work!
1. Pesto Eggs
The TikTok user, Amy Wilichowski, made a green twist on a classic egg on toast.
Instead of making sunny-side-up eggs traditionally, she fried them on a pesto sauce-based bed and then served them with goat cheese and toast.
Her easy Tiktok meal was so popular that it had been viewed more than 8 million times!
The verdict? It's delicious! Adding the pesto brightens up a simple meal in both taste and appearance.
2. Baked Feta Pasta

In Finland, this easy TikTok meal went viral in 2019. It's not clear why it didn't make the news all around the globe because it's incredible!
The concept of this recipe is to use baked feta, a delicious appetizer made with feta cheese, cherry tomatoes, and olive oil, as a pasta dressing.
You can use any pasta noodles, but farfalle (butterfly-shaped pasta) is recommended if you aim for a pretty presentation.
3. TikTok Ramen
This viral easy Tiktok meal food hack transforms instant ramen into a gourmet meal!
All you need to make this transformation is to stir fry the noodles with butter, garlic, soy sauce, and egg.
Combining these ingredients results in sweet, salty, and umami-rich flavors.
This recipe uses Indomie Mi Goreng, an Indonesian instant noodle, as its base. However, you can use any other brand since they will work just as well.
4. Pasta Chips
These pasta chips are amazing!
This idea is genius. Although it is still a mystery how they came up with the idea of deep-frying pasta, it is a blessing that they did.
These pasta chips, tossed with olive oil and seasoned with cheese and spices, are crunchy and full of flavor.
5. TikTok Green Goddess Salad 
TikTok doesn't just have delicious, indulgent dishes; it also offers healthy options!
You might not be the biggest fan of salads, but you must consider this recommendation.
This salad's key ingredient is its salad mix-ins. It consists of cucumbers, chives, cabbage, and scallions.
The dressing is a perfect blend of onions, garlic, spinach, basil, nutritional yeast, olive oil, rice vinegar, and cashews.
It is an incredibly rich, thick, and creamy pesto dressing. It is simply out-of-this-world amazing.
Combine them, and you will be amazed at the results.
6. Oreo Mug Cake
If you are always hungry for dessert, these microwave mug cakes will be heaven-sent to you.
Unfortunately, mug cake recipes are often disappointing. There were no high expectations for this Oreo mug cake.
But, wow, this cake is next-level-delicious! It's not only delicious, but the texture is truly unique.
The cake was also perfectly cooked despite being microwaved. It is moist but not wet, and it is fluffy and not rubbery. It is indeed quite impressive!
7. Cloud Bread
Cloud bread is one of the best TikTok trends out of all the ones in this roundup.
Who wouldn't love a piece of this fluffy, jiggly delight?
The recipe was delicious! The results were simply excellent.
All you need to do is beat the egg whites with cornstarch and sugar until they are very stiff.
This results in a billowy batter that becomes a puffy, meringue-like bread after it is baked in the oven.
Moreover, it's so simple! This recipe doesn't require you to make a yeasted dough, which can be tedious and time-consuming with the need to knead, roll, and proof.
8. Viral TikTok Salmon and Rice Bowl
This salmon and rice bowl was a hit on TikTok for a very good reason.
First, you can't go wrong with a dish that has salmon and rice as its base.
Then, add Japanese mayo, soy sauce, avocado slices, and roasted seaweed sheets to make it even better.
It's almost like eating sushi but in a rice bowl form. Delicious!
9. TikTok Wraps
Although quesadillas or tortilla wraps aren't a new idea, this TikTok hack adds a fun twist to the classic dishes.
The idea is to cut a tortilla wrap into 4, with each quadrant having a different filling.
Then, to create a delicious 4-layer tortilla wrap, the quadrants are folded over each other.
This is where the fun begins: There are no limits to how many fillings you could use. You can use meats, cheeses, or vegetables.
You can also easily customize it to suit your tastes. 
10. Cinnamon Roll in a Mug
This is another recipe for mug cakes that garnered very low expectations of being delicious.
Think about it: a classic cinnamon roll is a laborious task that takes time and effort. So, it was impossible to imagine a microwave shortcut recipe.
However, this cinnamon roll in a mug is fantastic! Although it doesn't have the same bready texture as a traditional cinnamon roll, the flavors are perfect.
11. Vegan Pici Pasta
Pici pasta, also known as "Pici Senesi," is a hand-rolled pasta that comes from Siena, Italy. It's made only with flour, olive oil, and water. It is surprisingly simple to make from scratch.
This pasta is also unusually vegan because it doesn't contain eggs.
Then, you can add some greens to the pasta to make it a healthy and delicious dish.
12. Yogurt Toast
This toast looks indulgent, but it is super healthy!
Do you see the creamy custard on top of your toast?
Although it looks rich and decadent, it is a healthy combination of Greek yogurt, egg, and maple syrup.
Do you not love it when people find healthy ways to make indulgent food, and it's still delicious?
This toast makes a great breakfast dessert. Just garnish it with the berries of your choice, and add an extra drizzle of maple syrup.
13. Accordion Potatoes 
The name of this trend is enough to make people intrigued!
Potatoes are simply the best root vegetable. They yield beyond-remarkable results no matter how they are sliced or cooked.
These accordion potatoes, however, are just on a different tier. You only need to take one look to understand why.
These potatoes are stunning, taste great, and have great textures. Imagine French fries, but ten times crispier and more flavorful.
14. Tiktok Egg Sandwich
If you are looking for something different to have during breakfast, this TikTok egg sandwich will become your favorite. It's just that delicious.
It's not much different than a ham, egg, and cheese sandwich if you think about it.
However, its unique design makes it even more attractive.
Begin making this egg sandwich by pouring the beaten egg mixture into a pan, then place two pieces of bread over it.
You can easily make a delicious sandwich with some additional ingredients and some folding. Yummy!
15. Brown Butter Chocolate Chip Cookies
You can find hundreds of chocolate chip cookies online, so you might be wondering why this particular one is so popular.
Using brown butter is what makes these cookies unique!
It's just butter you heat until it melts and becomes brown.
This gives the butter a richer and more nutty taste, which you can also taste in your cookies.
16. Blended Baked Oats
This viral TikTok recipe gives a significant boost to your bland oats!
To make your oats more enjoyable to eat, combine them with sugar, mashed bananas, chocolate chips, and baking powder. Then, bake them in ramekins to make puffy, muffin-like treats.
They are simply divine. They are healthy and hearty thanks to the oats, and they are also decadent because of the rich chocolate chip.
17. Banana Pancakes 
These sweet and fluffy banana pancakes will get you started on your day!
Just add some mashed bananas to the traditional batter to make the flapjacks tastier and extra fruity.
These are delicious on their own or with any of your favorite sweet or savory (or both) breakfast toppings.
18. Elote Sweet Corn Ribs
This easy TikTok meal recipe takes only 15 minutes and is just as delicious as it looks.
These are perfectly seasoned strips of corn ribs and charred to perfection.
Charring gives the corn a particular chewy texture that can be combined with its natural crunchiness. This creates a lovely contrast of textures.
The flavors are also fantastic. The corn can be topped with jalapenos, cilantro, chipotle sauce, and cheese crumbles to give it a beautiful balance of sweet, salty, and spicy.
19. Egg Boil Easy TikTok Meal
Although you might love a runny golden yolk, everyone can agree that a boiled egg does not allow you to have some high expectations.
However, this food hack will make it more delicious. You can enhance the humble protein with seafood boil sauce as its dressing.
Simple boiled eggs can be transformed into a delicious saucy dish with the addition of butter, cajun spice blend, and sugar.
20. TikTok-Inspired Nori Wraps
This concept is very similar to the TikTok wraps, except that you will use a strip made of nori instead of flour tortillas.
This sushi-quesadilla fusion combines East and West, and the results can't be beaten!
These nori wraps contain canned tuna, cucumber, avocado, and egg slices.
But, you can add your favorite sushi fix-ins to make it your own.
An excellent recommendation is to make this with some salmon sashimi, mango slices, cucumber, and crabsticks! 
21. Caramel Apple Wrap
This TikTok is part of the wraps trend, and it is perfect for every sweet tooth out there!
These wraps are filled with slices of caramelized apple, then served with more apples and a beautiful drizzle of caramel on top.
Who says you can't make some apple pie on your own?
22. Grated Egg Toast
This toast is known for its vibrant colors. But it's also quite impressive in terms of flavor and texture!
It is some crispy, buttery sourdough bread served with mashed avocados, then topped with grated boiled eggs.
This gives eggs an exciting texture and more appeal.
Then, season this toast with salt, red chili flakes, and tabasco if you like to add spice to your day.
23. Viral Cornbread Easy TikTok Meal
This TikTok recipe will make your cornbread sweeter than usual. So, if you are interested in that, you are in the right place.
This cornbread is really good! It is crispy and crunchy on the outside and moist and buttery inside.
The texture of this cornbread is more cake-like than traditional cornbread. This recipe is for you if you like cornbread that way.
Pro tip: Don't forget to sprinkle salt on the bottom of your pan! This adds a pleasant flavor in contrast to sweet cornbread.
24. Easy TikTok Meal – Breakfast Casserole
There is no such thing as a lousy breakfast casserole. So, this is not an exception.
This casserole is what breakfast dreams are made of. It is a combination of eggs, sausage crumbles, cheese, and a delicious biscuit base.
It contains all the essential nutrients, including carbs, protein, and fat. The only thing missing is the vegetables, but they are not a significant component that is usually missed.
25. Krispy Kreme Donut Bread Pudding
Although this donut bread pudding has recently been a TikTok hit, it's not new.
Paula Deen, the queen of southern cooking, came up with the idea of making bread pudding from leftover Krispy Kreme donuts.
You might even remember her sharing the recipe on a talk show and saying it's healthy since there is "no sugar added."
But, it doesn't matter who you learned it from, TikTok, Paula Deen, or any other person. What matters is that you try it because it's mind-blowingly delicious.
26. Cloud Bread Pizza
This TikTok trend is similar to cloud bread. It uses baked whipped egg whites to create a fluffy pizza crust.
The best part about the crust is that it's carb-free, which is excellent for people trying to reduce their carbohydrate and calorie intake.
This simple trick will allow you to enjoy an indulgent pizza without guilt.
27. Cheesy Garlic Biscuit Balls
Cheese + garlic + biscuits. This combination does not take a culinary veteran to recognize its beauty!
These biscuit balls are addictive!
They are incredibly soft and fluffy, packed with delicious garlic flavors, and oozing with mozzarella.
The best part? You don't have to make your biscuits. You can just use an old can of biscuits, and you're good to go.
28. Better than Feta Pasta Easy TikTok Meal
This popular easy TikTok pasta recipe contains flavors from sweet tomatoes, peppery garlic, Boursin cheese, and spices.
This is the right direction if you have never tried Boursin cheese. Get at least three blocks of Boursin cheese from your local grocery store today! You'll seriously fall in love with it!
It is soft and creamy, much like cream cheese. And there are many flavors available.
There are garlic and herbs, pepper, fig and walnut, shallot and chive, and many more!
29. Chili Oil Eggs
The pesto egg food hack inspires this recipe, using chili oil instead of regular oil for frying eggs.
This little switch will add a layer of heat to your usual sunny-side-up eggs, which are plain-tasting.
During breakfast, serve the eggs over rice with some sesame seeds and furikake (Japanese seasoning).
30. Dalgona Whipped Coffee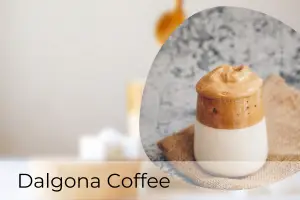 Last but not least, is dubbed the official beverage for the 2020 COVID-19 pandemic and one of the easy TikTok eats that has gone viral while we were in isolation.
Only people who live beneath a rock don't know about Dalgona whipped coffee.
This is a Korean-inspired beverage with a milk base and a thick, foamy coffee foam on top.
Although the taste is good, the challenge is to magically transform a simple mixture of instant coffee, sugar, and boiling water into fluffy foam. This is what makes it so appealing.