Last Updated on February 18, 2022 by Share My Kitchen
We are in a constant search for all sorts of information cooking-related, including tips and tricks to improve our results in the kitchen. Tips are always welcome, especially if they are tested and come from celebrity chefs. Below follow cooking advice from a few very popular chefs – not exactly secrets, but more cooking common sense.
Thomas Keller's cooking tips
1.      Take advantage of pan-roasting.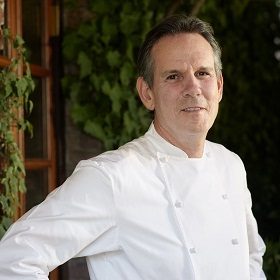 This is a combination of sautéing and roasting and requires the use of a frying pan with an ovenproof handle. Sautéing sears the exterior of your favourite veggies while the ambient heat of the oven cooks the food uniformly. Plus, finishing in the oven frees up the stovetop for other dishes.
2.      Season from on high.
When you hold your saltshaker right over the food, the seasoning winds up concentrated in a smaller area. Holding the shaker a few feet above ensures more even distribution.
3.      Temper your meat.
If you transfer meat straight from the refrigerator to a hot oven, there's no way it will cook evenly. A whole turkey, for example, should sit at room temperature for at least one hour before cooking. When you take it out of the oven, allow it to rest for 20 minutes to allow for carryover cooking and redistribution of juices.
4.      Layer salads.
Serve salads that feature several components in a shallow platter, so guests can easily sample all of the ingredients. Think about weight as you assemble the salad, saving lighter items, such as pine nuts, for the top.
5.      Make your own pie crust.
This will allow you to choose the type of fat you want to use as your shortening, whether it's butter for a dessert pie or lard for a savory dish. Mix by hand to avoid overworking the dough — this is the secret to a crispy, flaky crust.
Source: www.vivmag.com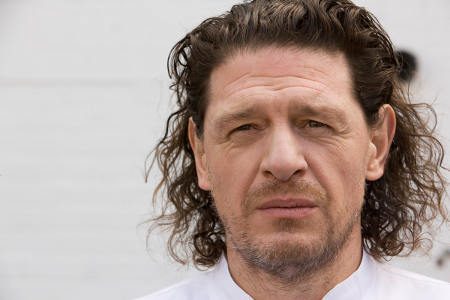 Marco Pierre White Photo source: www.mirror.co.uk
Marco Pierre White's cooking tips
1.       Use a great knife made from good quality steel together with a large, thick chopping board.
Using a good sharp knife made from steel that holds its edge is important. It does the work for you. You cut yourself with blunt knives, not with sharp knives.
2.       Use great quality, heavy pans.
Cast iron frying pans or griddle pans are great to cook with because they conduct heat efficiently and retain it.
3.       Use the best quality ingredients that you can get.
Jamie Oliver Photo source: www.guardian.co.uk
Jamie Oliver's cooking tips
1.       Cookware
If you just buy a few good pans, a decent chopping board, and a good knife, you will be 15 percent better at cooking.
2.       Cooking pasta
The first thing to get right with pasta is seasoning the cooking water. If you're using table salt, you'll need 1 level teaspoon per litre; sea salt, you'll want a bit more. If you don't get the seasoning right, your pasta will taste like air.
3.       The best stir-fries
When making stir-fries, you must get your wok really hot before you start cooking, and it's important that all your ingredients are ready and prepared in advance.
Source: www.womanandhome.com
Gordon Ramsay's Cooking Tips
1.       Prepare for Success
Before you begin cooking a dish, have all your ingredients prepared and ready to use.
2.       Patience Is A Virtue
When cooking a steak, be patient and make sure the pan is sizzling hot before adding the meat. This ensures perfectly seared meat.
3.       The Spice of Life
Always keep garlic ready to use in the freezer. Blitz a few cloves in the blender and freeze them in an ice cube tray. They're perfect for use in sauces and stews.
4.       Don't Be Wasteful
After cooking chicken, fish or beef, don't toss the leftover bones – they are key to making perfectly flavored stock! Simmer the bones in water with a carrot, an onion, several peppercorns, and a bay leaf for one to two hours.
5.       Keep It Hot, Hot, Hot!
Never open the oven when baking. The cold air will sink your cake.
6.       Don't go cheap!
Always use high-quality cookware. It looks better, cooks better, and lasts forever.
7.       Rinse the bitterness away!
Rinsing chopped red onions in cold water will help ease the sharp taste.
8.       Don't eat the schmaltz!
When making a soup, sauce, or casserole that ends up too fatty or greasy, drop in an ice cube. The ice will coagulate the fat, which you can then scoop out.
Source: www.monstersandcritics.com
Mario Batali's cooking tips
Mario Batali Photo source:www.peoples-history.com
1.       When you go to the store, purchase the best quality ingredients you can afford.
2.       Establish relationships with your grocers  – Become friends with your fishmonger, and the next time he gets a beautiful fillet of fresh fish in, he'll call you up and let you know it's arrived.
3.       In recipes that call for wine, use inexpensive but good wine.
4.       Cook with fresh ingredients as much as possible.
5.       Consider all of your ingredients – When you put salt and olive oil in everything, shouldn't you take the time to find the best salt and olive oil? It will affect the way your food tastes.
6.       Pesto should never be too liquidy, it should be thick and paste-like.
7.       For perfectly al dente pasta, cook it one minute less than the package recommends.
Source: www.yumsugar.com