Last Updated on February 18, 2022 by Share My Kitchen
Ever wondered what is the main difference between professional and domestic kitchens? Well, if you've been to a full-blown professional kitchen you'll know the difference. However, if you haven't, you may find this post interesting – it provides a summary of the main differences plus pictures from the kitchens of some of the best restaurants in the world.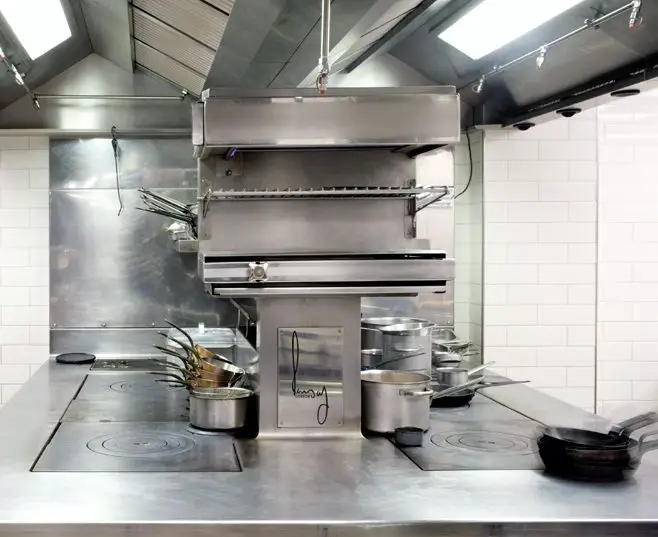 The first time you enter a commercial kitchen it might be shocking – everything looks different!
I've been asked many times by customers to let them look inside one of our kitchens, or by friends to give them a tip on what is that "one thing" they should not miss in their domestic kitchen.
Home Kitchens vs Professional Kitchens In The World
While there are a few specialty tools that really make the difference between home and professional kitchens, most tools aren't anything ingenious or high-tech. My overall conclusion is that there are three main differences between commercial kitchens and home kitchens are the size (of everything!), the quality, and the kitchen layout & function.
Size
One of the main differences is in the size of everything in the commercial kitchen – starting from the fridges, freezers, and ovens, going through the mixers and cutting boards, and even the ventilation system, which is an essential part of every professional catering facility, everything is big!
As an example, let's compare an appliance found in all kitchens – the refrigerator. The average domestic refrigerator is a one or two-door appliance, with a freezer compartment and a refrigerator compartment. In a commercial environment, the freezer is often an entire room where meat and other frozen products are stored. The refrigerator will be large enough to store everything they use regularly, plus they tend to keep a more consistent temperature than the average kitchen refrigerator.
When choosing appliances for such a venture as a restaurant, cafe, or bistro, you want to be sure they will be large enough and contain the proper features to handle the work you will acquire. This also helps the work go faster and things run more efficiently.
Quality
The materials from which the fixtures, fittings, and equipment are made are different.  Because the carcass of almost everything is made entirely from 18 gauge steel, it is not only extremely strong but also impervious to fire & water and does not harbor insects. Thus metal carcasses will perform for many, many times longer than a traditional wooden carcass kitchen in a demanding commercial environment.
Then there are clear construction and safety differences between most kitchen appliances designed for domestic use and those designed for the professional kitchen. Domestic pieces of equipment are often low power and are not designed for frequent use. Quite on contrary, professional machines usually have much more powerful motors that are built to a much higher specification and durability.
Even the smallest professional kitchens have equipment with commercial specifications, to ensure financial success, maximum cook performance, and safety objectives.
Layout
Workflows and safety are the prime drivers in the layout of a professional kitchen. Every professional kitchen has to have smooth traffic patterns and clearly defined workstations that do not overlap.
There are many requirements and regulations that need to be followed. For example, there should be a set-down space next to any deep-fat fryers, or never having a fryer at the end of a run, or always allowing at least one meter to the front of any cooking equipment, to name a few.
Then there are designated specific areas and workstations compulsory to every kitchen:
Receiving Inventory area; Cold & Dry Storage; Food Preparation area; Cooking Line; Holding Area; Waiters' Pick-up area; Clean-up area;  Garbage and Recycling area and Employee Break Area, and sometimes few other areas. Now, how much space do you need for all this?
How Big Is A Full-Service Restaurant Kitchen
The rule of thumb for a full-service restaurant is approximately 5′sq/ft of kitchen space for every seat. That space can be larger or smaller depending on several variables such as using pre-prepared food, take-out service, and the type of restaurant. For example, a 60 seat restaurant with minimal takeaway service would need approximately 300 sq/ft of usable kitchen space.
I'm stopping here before it gets too professional and boring. I think most of you get the idea that a professional kitchen is a world of its own and has very little to do with the kitchen you have at home.
Below are photo collages from few famous kitchens, designed and operated by great chefs, whose establishments are currently among the best restaurants in the world.
Inside Some Of The Best Restaurants In The World
Noma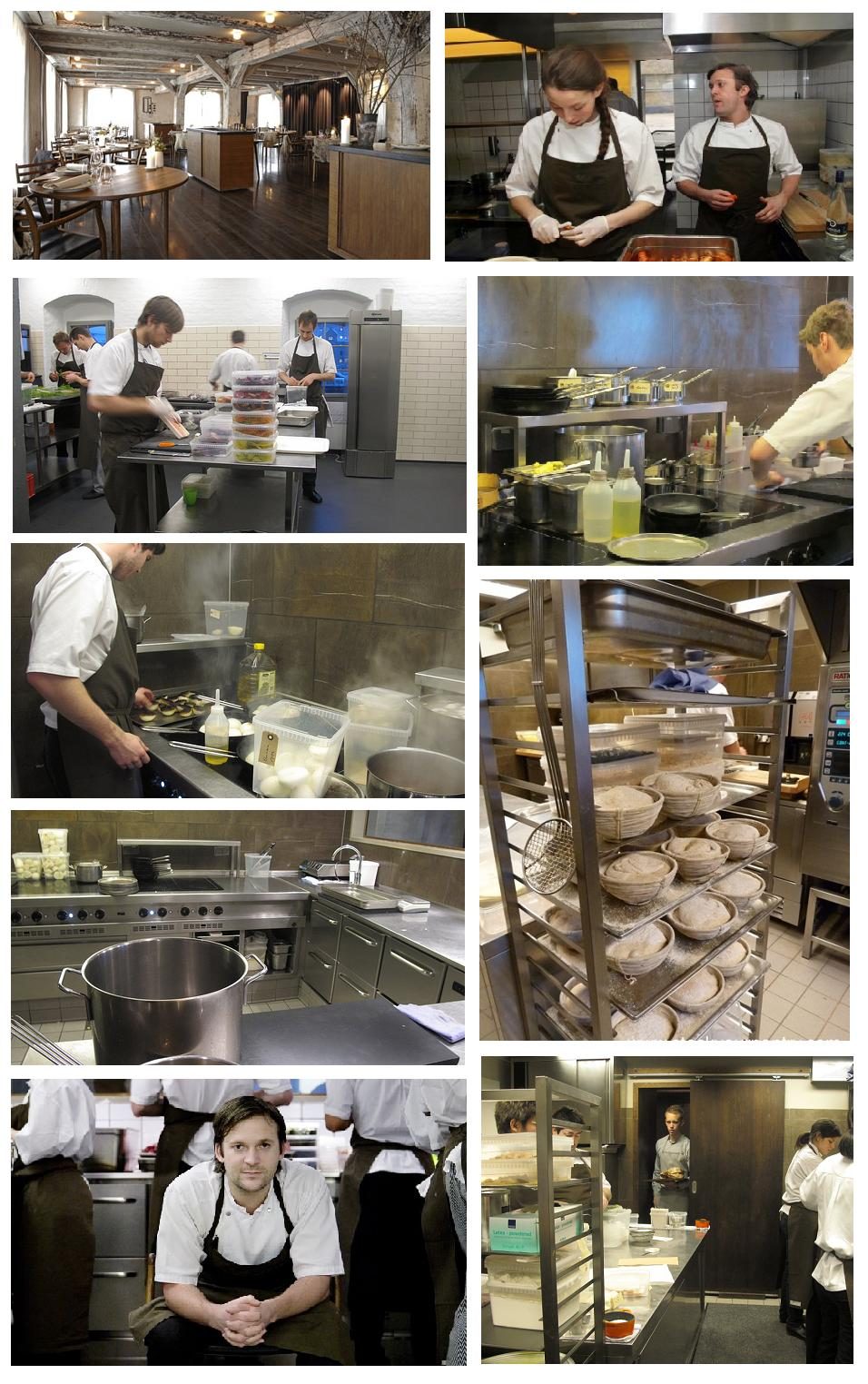 Photo sources: www.gastroanthropology.com, www.france24.com, www.sergetheconcierge.com, www.3.bp.blogspot.com, www.4.bp.blogspot.com, www.flickr.com,
Noma
Noma is a two Michelin star restaurant run by Chef René Redzepi who is best known for its reinvention and interpretation of the Nordic Cuisine, plus for its fanatical approach to foraging. But there is much more to this ground-breaking restaurant than the mere picking of Mother Nature's pocket – In both 2010 and 2011, it was ranked as the Best Restaurant by the World by Restaurant magazine.
Head chef: René Redzepi Food type: New Nordic Cuisine influenced by molecular gastronomy
Web Site: www.noma.dk
El Celler de Can Roca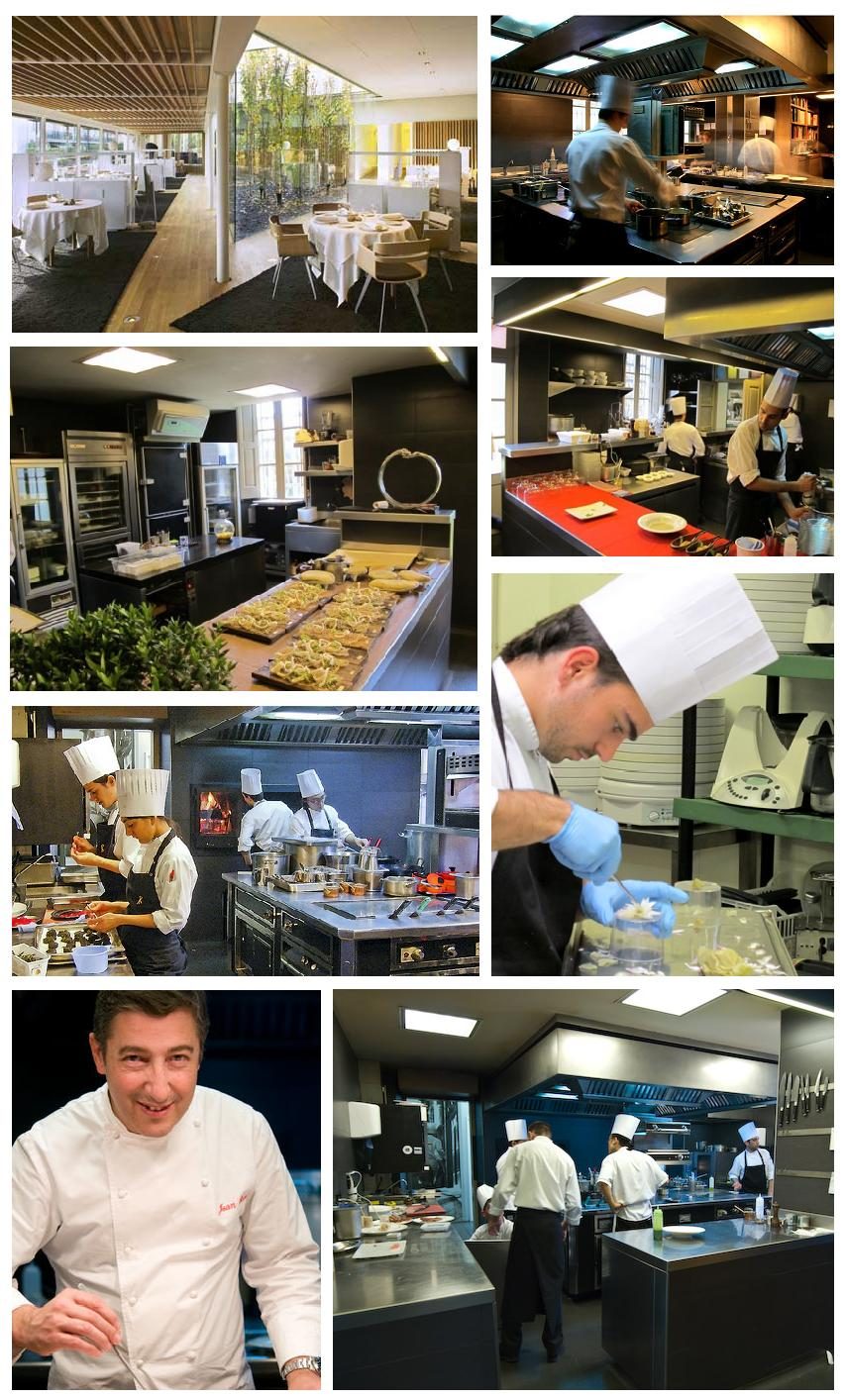 Photo sources: www.onlineluxury.wordpress.com, www.top-10-list.org, www.velvetescape.com, www.flickr.com, www.starchefs.com, www.thehappyexplorer.com
El Celler de Can Roca
Being second best restaurant in the world raises a lot of expectations, but they we're met and even exceeded. El Celler de Can Roca is run by the three brothers Roca – Joan is the head chef; Josep, the sommelier, and the youngest brother, Jordi , who is in charge of desserts. Their cooking is described as an "emotional cuisine" mixing different ingredients and combinations and even creating dishes based on famous perfumes, all this with the idea to trigger childhood memories or take you back to a specific place in your past.
Head chef: Joan Roca Food type: Modernist Cuisine (emotional cuisine)
Web Site:  www.cellercanroca.com
Mugaritz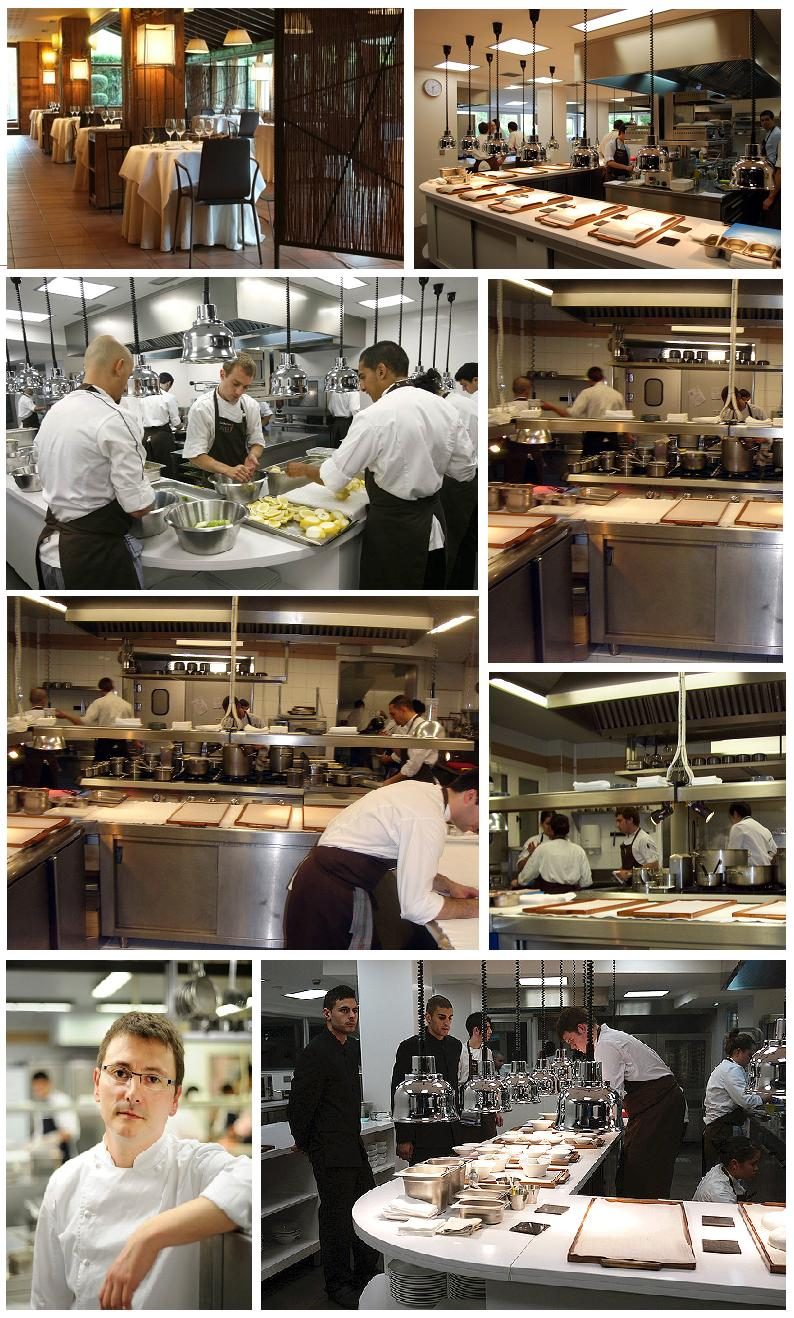 Photo sources: www.4.bp.blogspot.com, www.rafarivas.photoshelter.com, www.thechocolategrape.files.wordpress.com, www.thegoodtravellife.com, www.eitb.com, www.elpais.com, www.flickr.com
Mugaritz
Mugaritz is currently number three restaurants in the world. It has two degustation menus that change daily according to what Chef Andoni Luis Aduriz can get his hands on at the street markets and what's growing in the restaurant's herb garden.
Head chef: Andoni Luis Aduriz Food type: Modern Spanish (produce-driven cuisine)
Web Site:  www.mugaritz.com
Alinea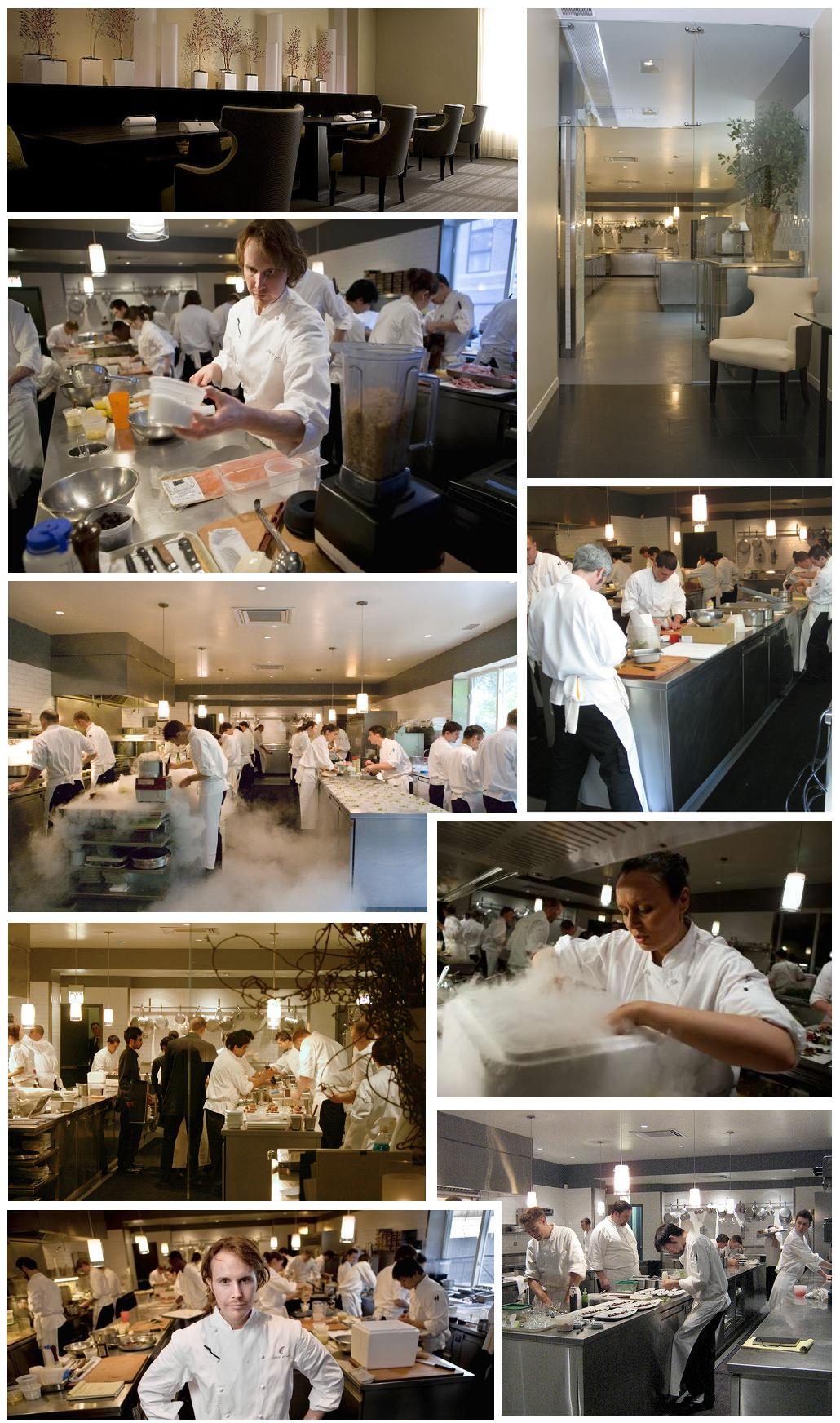 Photo sources: www.1.bp.blogspot.com, www.blogs.laweekly.com, www.hewitthorn.com, www.chicagotribune.com, www.luxuo.com, www.flickr.com
Alinea
Currently 6th best restaurant in the world, Chicago based Alinea restaurant has three Michelin stars. And everything about it is unique, from the deconstructed food, uncommon flavour combinations and theatre the dishes served the food is served: test tubes, cylinders, multi-layered bowls that come apart, to name a few.
Head chef: Grant Achatz Food type: Ultramodern (Artistic food/ edible art)
Web Site:  www.alinea-restaurant.com
D.O.M.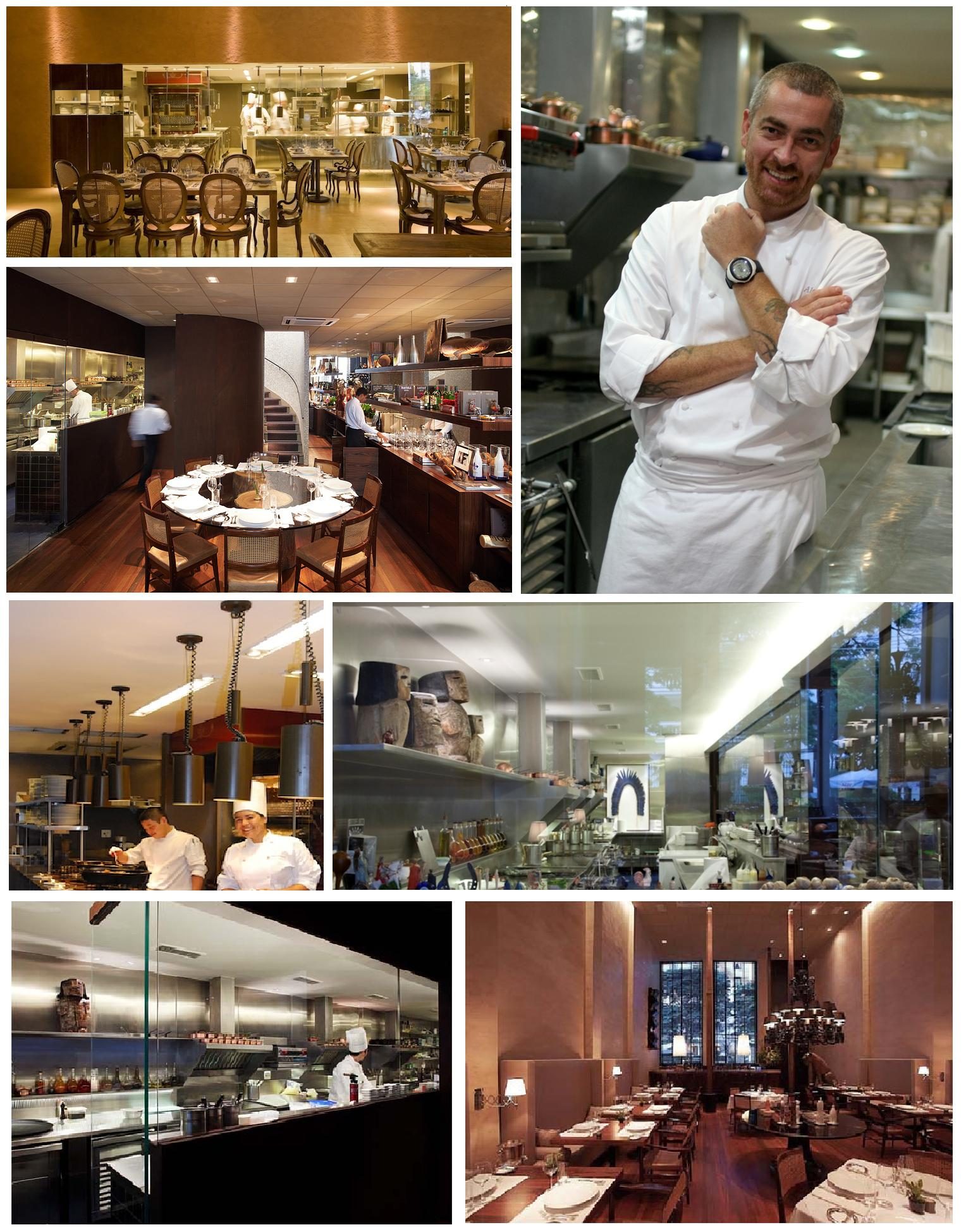 Photo sources: www.theworlds50best.com, www.zonatourism.com
D.O.M.
Currently number 7th in the world the Sao Paolo based D.O.M has become a priority destination for gastronomes from around the word.  Chef Alex Atala is in constant search of indigenous ingredients, from tupuci juice from staple manioc tuber to Amazonian herbs and the huge white-fleshed pirarucu fish to ensure his restaurant is unlike any other in the worlds.
Head chef: Alex Atala Food type: Modern Brazilian
Web Site: www.domrestaurante.com.br
Per Se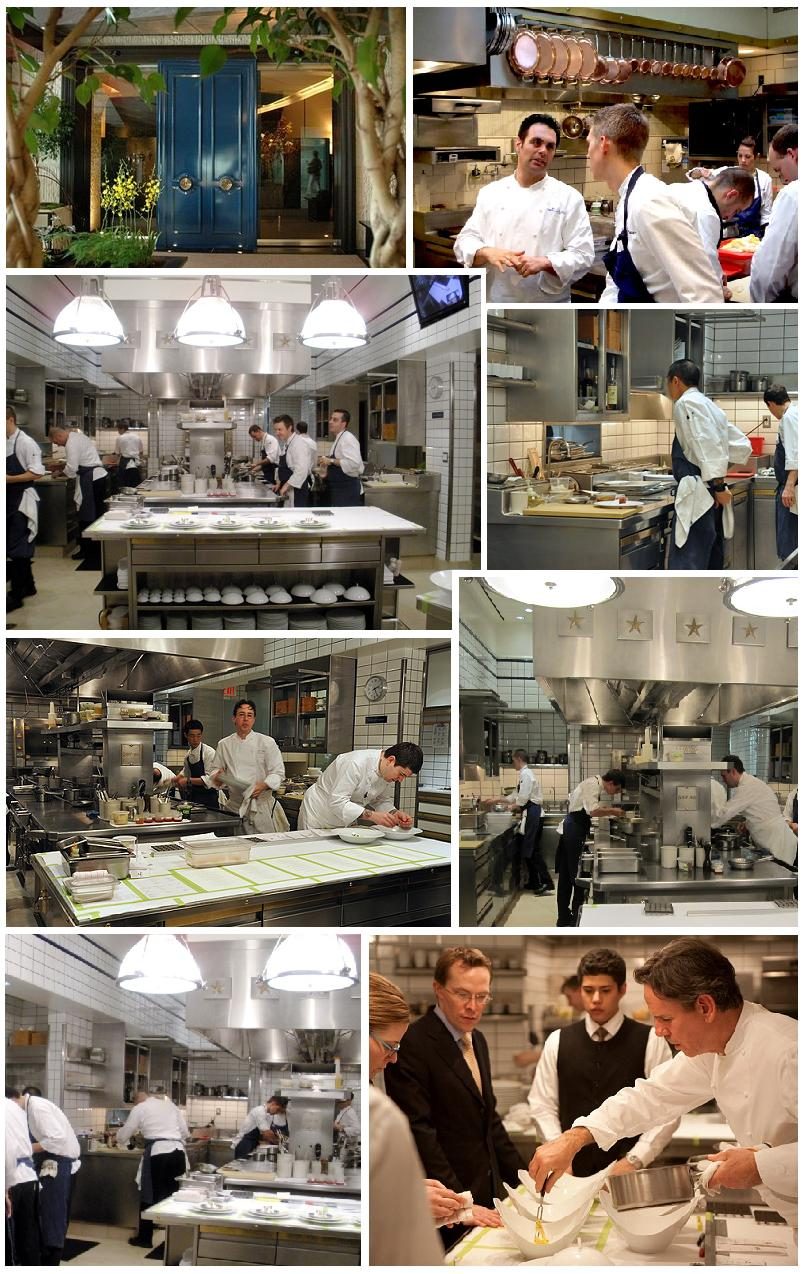 Photo sources: www.flickr.com, www.justataste.com, www.lettherebebite.com, www.1.bp.blogspot.com, www.blog.sigsiv.com, www.c.photoshelter.com, www.4.bp.blogspot.com
Per Se
Currently number 10th in the world and based in New York City, Per Se is the urban interpretation of Chef Thomas Keller's earlier creation – the French Laundry. The three Michelin stars restaurant, considered by many to be among the most genuine destination restaurants has changed its menu every day of its nearly eight years – that's tens of thousands of different dishes, some re-introduced from prior seasons but continuously refined.
Head chef: Thomas Keller Food type: French cuisine with American influences
Web Site: www.perseny.com