Last Updated on November 5, 2022 by Share My Kitchen
There are many furikake seasoning brands out there. You might be wondering which one to go for. The best way to ensure you choose the right one is by checking out our top five list. We have already searched stores for the best products to know the best furikake seasoning brands. We tried, tasted, and short-listed the top 5 most outstanding brands out of them all.
No more senseless waste of unpalatable furikake rice mixes. Nor do you have to let your money go to waste. This review aims to turn your plain, bland white rice, soup, or ramen into an exciting dish.
I look forward to a fun and easy Japanese cuisine meal you can enjoy with your family.
What is Furikake?
Furikake is the Japanese version of a dry condiment. It is often a mixture of roasted sesame seeds, chopped seaweed, dried fish, herbs, spices, salt, and sugar. It is also common for this Asian product to contain monosodium glutamate, or MSG, to achieve that umami flavor.
The unique blend of nutty, salty, savory, and a tad bit fishy gives the dishes a complementing taste. Sprinkle it on top of foods like ramen, soups, and stews as a garnish. It is also essential for adding flavor to onigiri or Japanese rice balls.
History of Furikake
Furikake comes from the Japanese word furi kakeru, which means "to sprinkle over." This dry condiment came about during the Taisho era between 1912 and 1926. A pharmacist named Suekichi
Yoshimaru began it all. The lack of calcium in the typical Japanese diet prompted him to create this unique blend of dried fish, vegetables, roasted sesame seeds, herbs, and nori seaweed.
This unique mixture is added to different dishes to enhance the flavor. But most importantly, it is used to augment the food's nutrient content, including calcium and protein. Nevertheless, it was not until September 1948 that furikake was made widely available to the Japanese market. It was the Nissin company that took this dry condiment into large-scale production.
The commercialization of the product significantly contributed to addressing the nation's issue with malnutrition.
Today, furikake has become globally accessible. The flavor profile had also become so varied. From curry to barbeque flavor or meatless furikake for vegetarians, you can find a variant that best suits your taste.
Who Will Love Furikake?
I think the more appropriate question is – Who does not love furikake?
For Asians, white rice is a staple food. And this dry condiment will instantly give your rice a different twist. Topping it off or mixing it with furikake will infuse it with flavor, making it more enjoyable with or without a viand.
Furikake is also a popular go-to seasoning for dressing up leftover dishes. It turns day-old rice into excellent fried rice. It can also transform cheap ramen into a restaurant-like appeal by adding a dash of furikake, an egg, and probably a few slices of meat.
Furikake is also an excellent way to trick picky eaters. It encourages the intake of fish and veggies without being too overt in taste. Not to mention, the bits and pieces of furikake can also add culinary aesthetics. So, I'm sure your kids will find it visually appealing and in their palates.
Flavors of Furikake
As time went on, the flavors of the furikake expanded. Today, there is already a wide array of flavors to choose from. Nevertheless, most people agree that the OG flavors are still the best.
Shiso
Shiso furikake flavor particularly pertains to perilla leaves. Asian households use the leaf as a wrap for sushi rolls and onigiri balls. Perillas belong to the same family as mints. Flavor-wise, though, it tastes more similar to basil or coriander. It has a herby taste with a hint of licorice or anise.
Nori Tama
The noritama flavor combines Nori (dried seaweed) and tamago (egg). The taste is simple, but it has the right balance of savory, salty, and umami. It is my favorite among all the flavors.
Salmon
This flavor features dried salmon, perfectly seasoned to give that savory and salty taste. This seasoning alone can already make your rice taste satisfyingly like a complete meal.
Wasabi
Wasabi is the flavor to use when you want to add a little heat to your food. It comes from the same family as a horseradish-a cruciferous vegetable that is naturally green in color and contains the allyl isothiocyanate compound. This organosulfur chemical is the primary reason for the spicy, nasal-flaring taste of the wasabi plant.
Goma Shio
Goma Shio is the best flavor to keep things plain and simple. It is an essential combination of Goma (sesame seed) and Shio (salt). This seasoning may not add a ton of distinct flavor. But it is enough to keep your rice, soups, and noodles lightly seasoned.
Aside from the traditional flavors, here are some other furikake flavors that are also worth trying:
| | |
| --- | --- |
| Variety | Main Ingredient |
| Hon Katsuo | Bonito flakes |
| Yakiniku | Grilled meat |
| Sukiyaki | Beef flakes |
| Curry | Japanese curry |
| Ajidoraku | Bonito flakes, sesame seeds, seaweeds, and egg |
| Vegetable | Mixed dried veggies |
| Chirimen Sansho | Dried sardines and sansho pepper |
| Wakame | Seaweed |
| Matcha | Green tea |
Our Top 5 Favorites for Furikake Seasoning Brands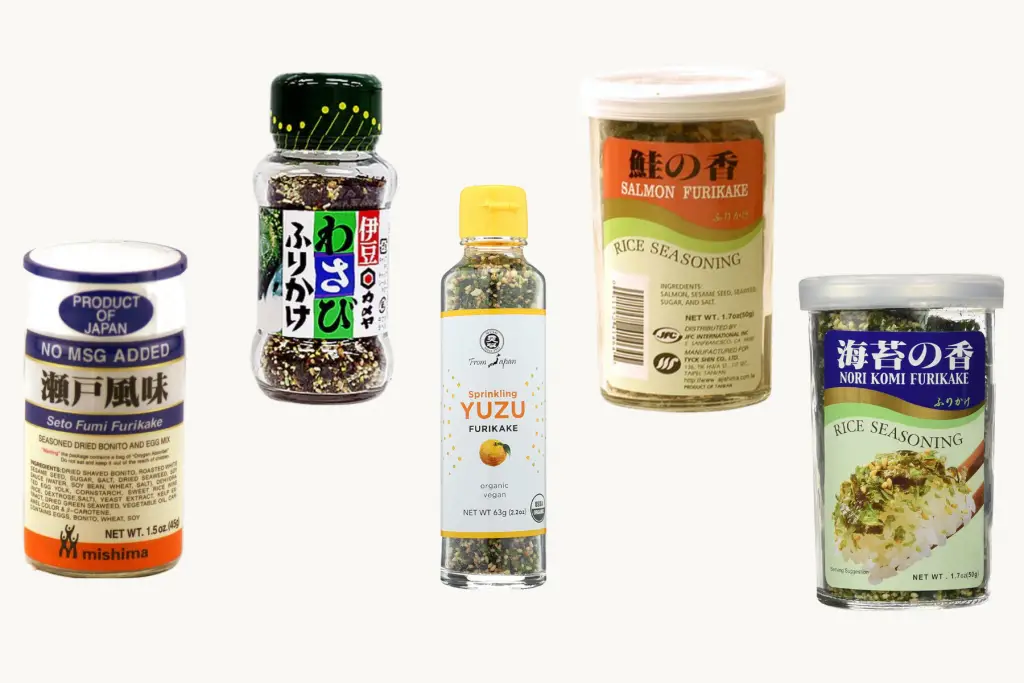 Nori Komi Furikake Rice Seasoning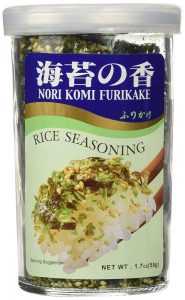 I must say that the Nori Komi is one of the essential blends among all kinds of furikake seasoning brands. That's it! It is a simple mixture of crunchy seaweed, sesame seeds, salt, and sugar.
The taste is uncomplicated, which is a great compliment when added to different dishes. Nevertheless, its simplicity is what makes it unique. I mean, this basic recipe is what allows it to become a versatile seasoning.
Some people think of it as the vanilla of ice creams. It is plain, and it tastes neutral. But, it is an excellent combo for other flavors like Neopolitan, cookies & cream, chocolate marble, and funfetti ice creams.
JFC Salmon Furikake Rice Seasoning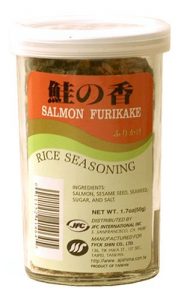 JFC Salmon Furikake is a furikake seasoning brand that contains the base ingredients of the nori komi but with bits of dried salmon flakes that enhance it. This variety is excellent if you want to incorporate some protein into your seasoning. It is perfect for those who are always on the go and hate tedious cooking preparations – like me! Just sprinkle it on top of plain rice, and then boom, you have a quick and easy meal ready to be served or packed.
However, heed the warning that this product contains MSG and gluten. So, that is something you need to consider, especially when you have sensitivity to such a chemical and allergen.
Kameya Wasabi Furikake Rice Seasoning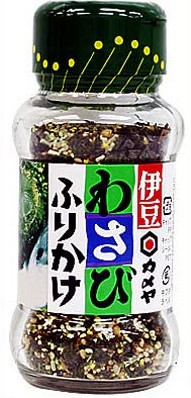 Wasabi furikake is my favorite flavor to reach out to when I want something salty and spicy for my dish. The Kameya Wasabi Furikake Seasoning is a blend of roasted sesame seeds, seaweed, bonito flakes, dried egg, green tea, and other spices.
The Kameya furikake consists of hot wasabi grown locally at the foot of Mt. Amagi in Izu, Shizuoka. This particular place in Japan is a well-known producer of high-quality wasabi. Now that I know that, I won't complain about the price! The vast natural spring water resources in Izu are what make their wasabi taste richer.
Mishima Seto Fumi Furikake Rice Seasoning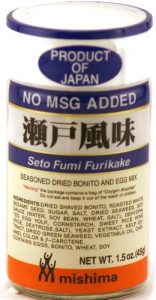 The Mishima Seto Fumi Furikake Brand is another legit product of Japan. Its flavor is a fantastic mixture of shaved bonito flakes and dehydrated eggs with added roasted white sesame seeds, black seaweeds, kelp extracts, and more.
This product markets itself to be one of the best furikake seasoning brands used for sushi rolls and salads. But IMO, this is a perfect seasoning for every kind of dish. I tried it on my omelet, rice bowls, and stir-fried noodles, which always taste at least ten times better.
What I love best about this Mishima furikake is that it does not contain MSG. Yes! I know it's not common to find an MSG-free furikake rice seasoning. This Seto Fumi is!
Muso Yuzu Furikake Rice Seasoning

Yuzu is a type of citrus fruit. So, this being the main ingredient in this furikake variety, it is quite interesting. But boy, I was surprised at how often I ended up reaching for this bottle over and over again. It has the right balance of saltiness, umami, and that zesty taste that instantly livens up any dish. I like it best as a topping for salads, shirataki noodles, stir-fried vegetables, and meats that have been grilled.
There is so much more to like about this product. Aside from the excellent flavor profile, it has a concise list of natural ingredients. And some of it also happens to be organic and vegan. It also does not contain MSG or gluten.
Takeaway:
Wide varieties of furikake rice seasonings are already on the market today. And I completely understand how confusing it is to find the right flavor for you. To take all your worries away, jump in and consider the five best furikake flavors we highlighted herein.
These are undoubtedly excellent furikake seasoning brands, not just for rice but for countless other dishes. So, think no more. Add these flavors to your cart, and level up your meals with these furikake rice seasonings.