Last Updated on November 1, 2022 by Share My Kitchen
Nothing beats an ice-cold drink to cool you down and quench your thirst on sweltering hot summer days. It is so satisfying that it would be a blast to have it all the time at home. That's what the best ice crusher machines are precisely made for. With just a simple push of a button, et voila! Your slushies, fresh fruit shakes, frozen margaritas, mint juleps, and a ton more ice-based recipes are waiting to be served.
ShareMyKitchen only wants the good stuff for you, so we took the time to scour the market for the best ice crusher machines. We gladly put them all to the test to recommend only the best.
This article reviewed 7 of the best ice crushers on the market. We will discuss what makes them a great addition to your kitchen. We will also give you a list of the essential things to consider when choosing an ice crusher. So that in the end, you will achieve that refreshing ice-cold drink you are aiming for.
Essential Things to Consider When Buying Ice Crushers
Manual vs. Electric
Ice crushers may either come as manual or electric-powered. Both work the same function but have their own pros and cons.
The manual ice crusher is well-loved for its portability. It does not require a power outlet to operate. So, you can freely use it anywhere, like in the backyard or when having a picnic outdoors.
Because of its size, though, manual ice crushers can only deliver limited power. This type of machine is not the ideal option for crushing very large blocks of ice. At the same time, it works a bit slower compared to those run by electricity.
On the other hand, power is the most significant advantage of electric ice crushers. These machines can deliver stronger grinding action to crush larger sizes and amounts of ice. That said, they are usually ideal for commercial uses.
However, it demands to be plugged in. This makes it less portable and feasible for outdoor use. A bigger motor also means louder noise. And that might cause an issue with your neighbors if you constantly use the machine.
Size
The size of the machine will essentially depend on the amount of ice you intend to produce regularly. Ice crusher models are available in varying sizes from 5 kilograms up to as much as 100 or more kilograms of ice per hour.
You probably don't need to crush much ice daily for home use. Hence, a machine with a 5 to 10-kilogram capacity will suffice. Small batches will do fine with a manual type of ice crusher. It can serve its purpose, and it is more affordable too.
However, investing in a sizeable industrial-grade ice crusher is best if your intention is for commercial uses. This kind of machine is designed to keep up with enormous demands. It is more powerful and capable of producing vast amounts of crushed ice in a shorter time.
Blade Quality
The blade is responsible for crushing the ice to your desired size. Thus, its quality will have a direct effect on the performance of the machine. Needless to say, the higher the blade quality, the more efficient it will be able to chop up the ice.
A blade made of stainless steel is the most favorable and common choice of material. It is durable, highly wear-resistant, temperature-resistant, non-corrosive, rust-proof, and does not easily get deformed. It would also be ideal to choose food-grade quality blades like 304 or 316 stainless steel to ensure health safety.
Shaving Adjustment
Getting one with shaving adjustment settings would be great to get the most out of your machine. This will allow you to change how coarse or fine you want your ice crushed. That way, you can cater to more types of recipes.
Non-Slip Grip
Ice crusher machines tend to produce vibrations when in use. So, a non-slip grip at the bottom of its base would really be a big help to keep it stable and in place. This also prevents accidental falling of the ice crusher, especially during unsupervised operations.
Our Top 7 Picks for the Best Ice Crushers
OKF ELECTRIC ICE CRUSHER MACHINE
The OKF ice crusher machine is the perfect mid-sized ice crushing machine. It is not too bulky yet sturdy and powerful enough to produce up to 220 pounds of ice per hour. It is crafted with 3 food-grade 304 stainless steel blades that can crush ice into a fine snow-like consistency.
The splash-proof outlet design prevents ice from spilling all over the place. I also love how they incorporated user safety by adding a non-slip handle, six rubber rings at the bottom, and a waterproof power switch. Most importantly, it is engineered to automatically shut off when the hopper handle is lifted or opened.
This is just the right size for both indoor and outdoor activities. I've used this to make tons of snow cones, which never failed me. The only gripe I have with this ice crusher is that you cannot adjust the fineness.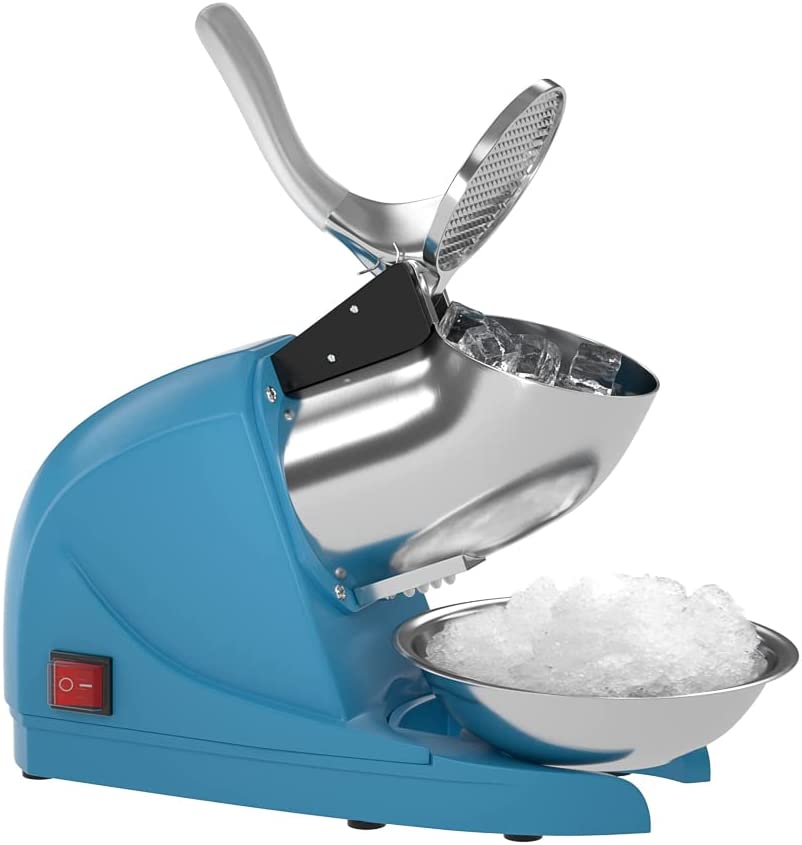 KOFOHON ELECTRIC ICE SHAVER
The Kofohon ice crusher is similar to the OKF machine. However, this model is available in small, medium, and large sizes. Thus, you can choose which capacity is more suitable for your needs. The smallest can produce about 176 pounds, and the largest can reach as much as 330 pounds of ice per hour. This makes the machine ideal for a wide range of uses in domestic and commercial settings.
The Kofohon also features 3 sharp 304 stainless steel blades that can crush large chunks of ice into fine smooth shavings. It is also food-grade, so you won't have to worry about chemicals leaching into your food and beverages. I also appreciate that the blades are removable and replaceable. When the time comes, you only need to change the blade component instead of the entire machine itself.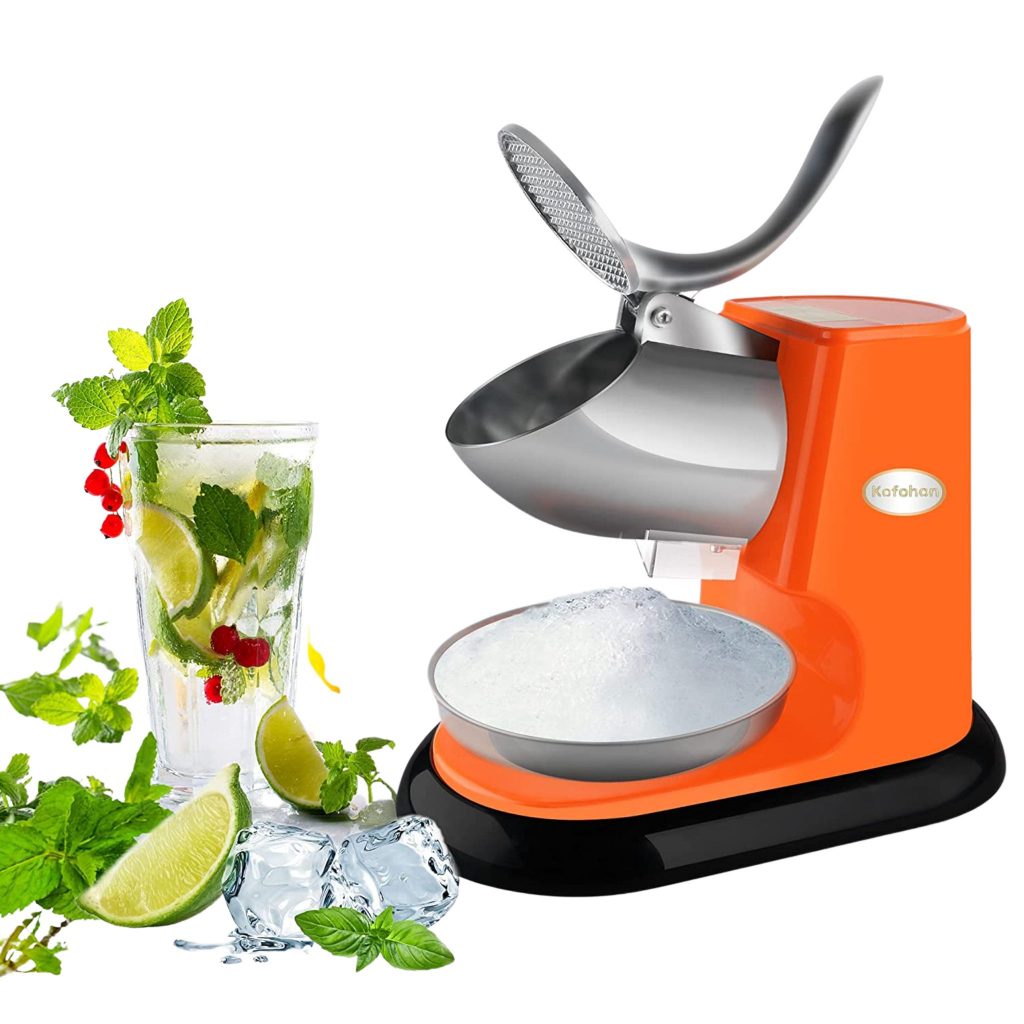 VEVOR COMMERCIAL ICE CRUSHER MACHINE
The Vevor ice crusher machine is the ideal ice crusher for outdoor parties and events. The device is attached to an enclosed injection-molded polycarbonate box with a wide window. This allows you to store up to 34 liters of shaved ice with minimal exposure to dust and other contaminants. The box is also attached with a drain hose to allow extra moisture to drip out and make the shaved ice last longer.
This commercial-quality ice crusher is only equipped with dual stainless steel blades. Still, it is well compensated with a 300-watt copper motor. This generates a crushing power of 1450 rotations per minute which can deliver up to 396 pounds of ice per hour. Indeed, it is powerful, yet it still promises to produce minimal noise and vibrations.
Same with OKF and Kofohon, the most significant disadvantage of this ice crusher is the lack of options to adjust the fineness. However, this may not be an issue if you primarily intend to use the device to produce a snow-like ice texture.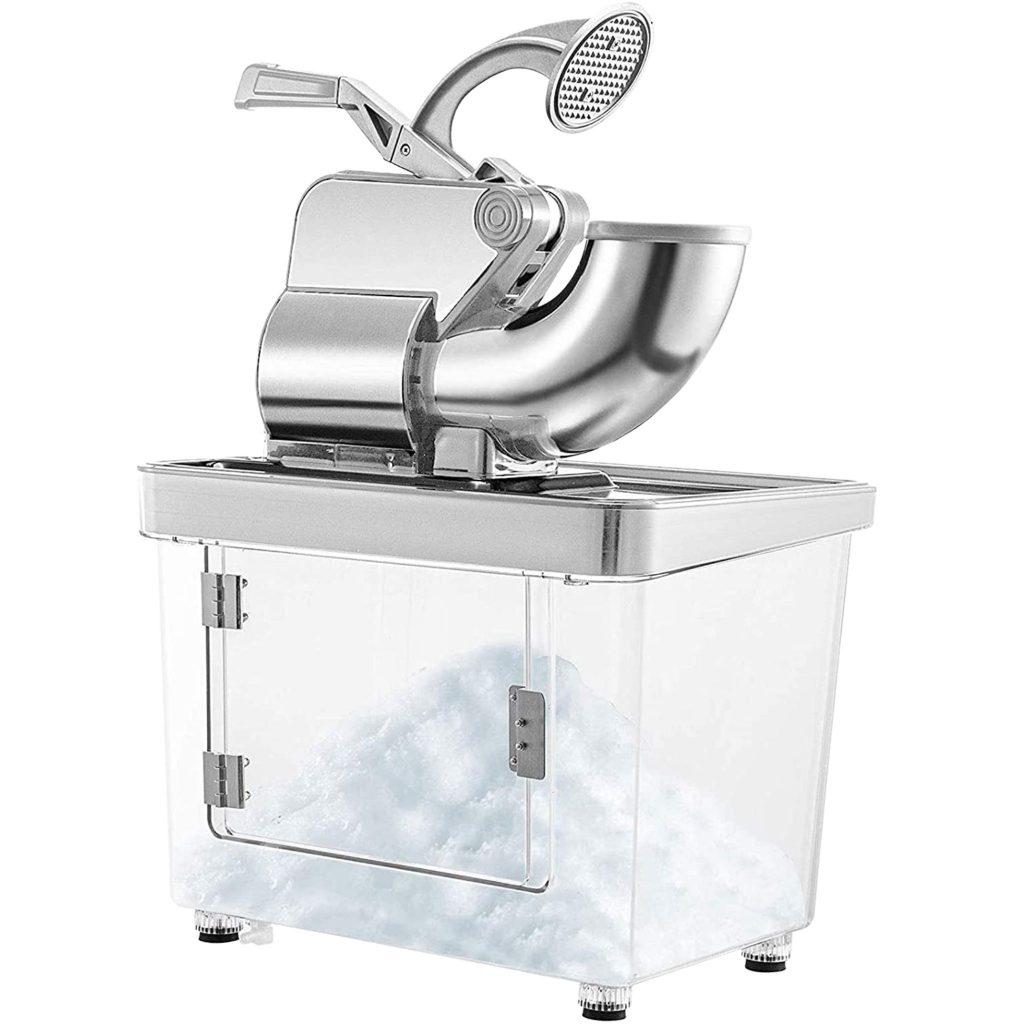 CLASSIC CUISINE FROZEN DRINK MAKER
The Classic Cuisine ice crusher machine is essentially equipped with a pitcher receptacle instead of the typical jar or bowl. That is because it is intentionally designed as a frozen drink maker. Nevertheless, it still serves the same function as any other ice crusher.
What I like about this is that it is very convenient to use. You can directly mix your drink after crushing the ice in the same pitcher. Thus, saving you the time and the extra effort to clean multiple containers. The pitcher can hold about 1.1 liters of fluid.
This electric frozen drink maker comes with two shaving settings. Depending on your chosen recipe, you can opt on how fine or coarse you want your ice crushed. It also has cord storage at the bottom to keep the power cable tidy and secure.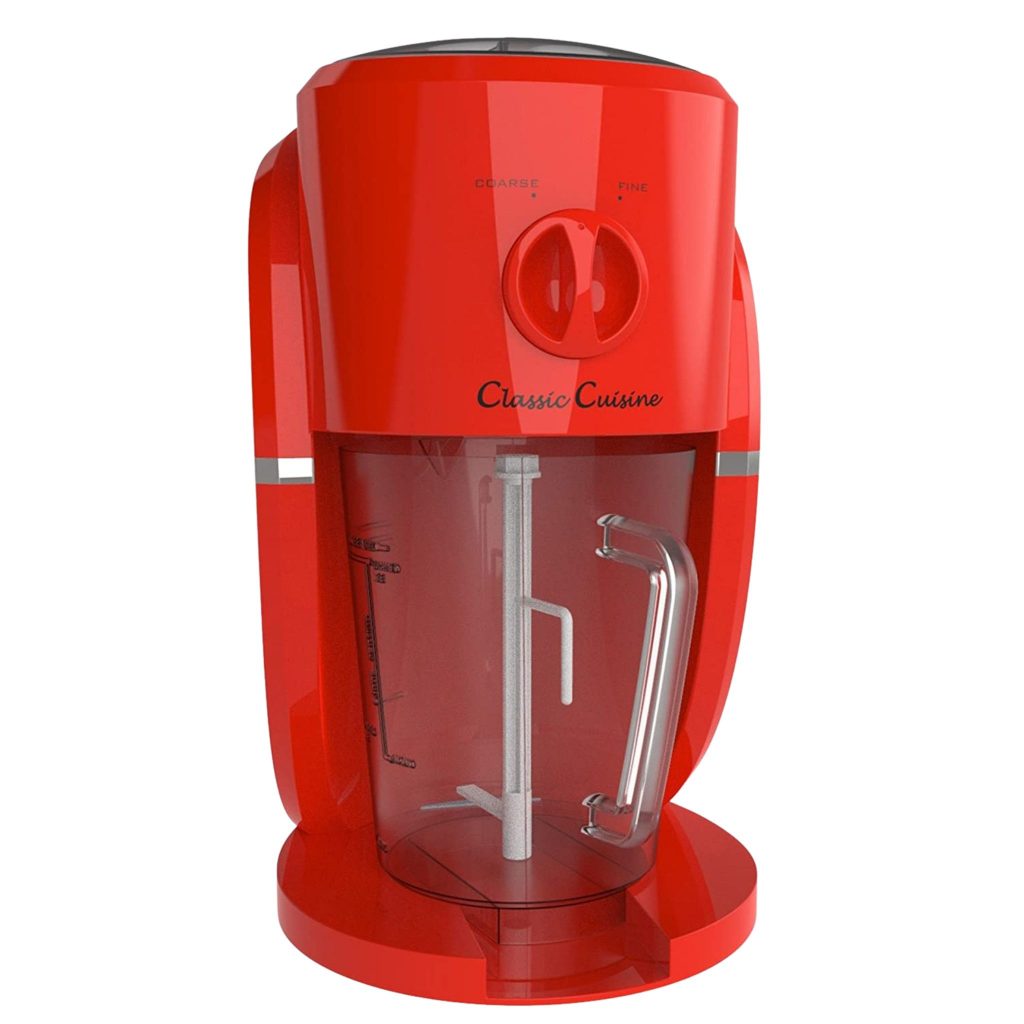 MANBA PREMIUM PORTABLE ICE CRUSHER
The Manba premium ice crusher is my favorite when it comes to portability. It is manually operated using a hand-crank, so you don't need to find a power outlet. It may require a little bit of muscle to grind. But, the three high-precision 18/8 stainless steel blades are very sharp that they can effectively shave ice for fruit shakes, cocktails, and other recipes.
The ice crusher comes with a BPA-free plastic jar. This container can store about 1 liter of shaved ice. This should be enough to make 2-3 tall glasses of drinks.
I often reach for the Manba portable ice crusher when we are out for a picnic or camping. It is very lightweight and compact so that it won't take up a lot of space. It is a perfect gadget to cool you down after an outdoor adventure.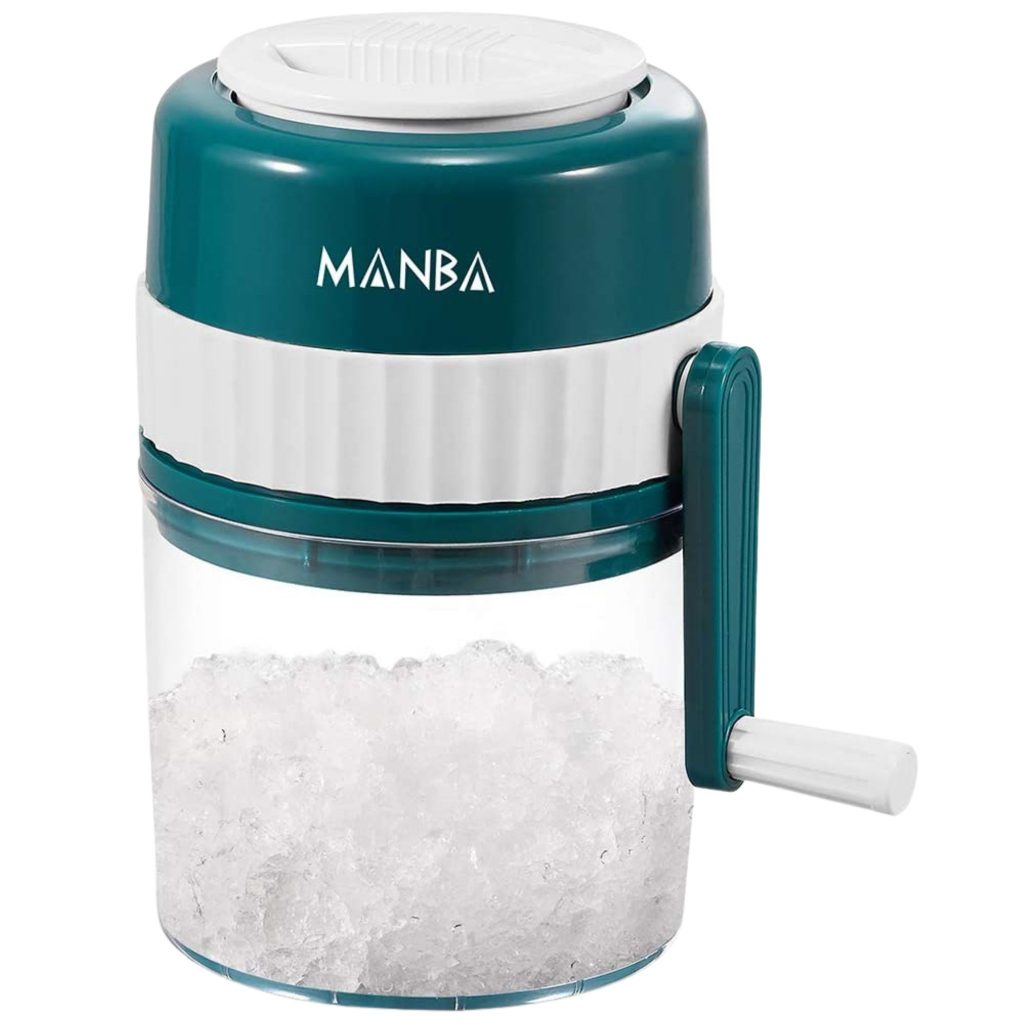 NUVANTEE MANUAL ICE CRUSHER
The Nuvantee ice crusher embodies elegance that perfectly complements a mini cocktail bar.  I am in love with its chrome-plated zinc alloy construction. It looks so sleek but most importantly, it is durable and rust-proof.
This manual ice crush is equipped with carbon steel 430 blades. Though the crank handle is a bit thin, it is not that difficult to rotate. Nevertheless, I would still suggest being gentle when handling it. You can also reverse the direction should the mechanism get stuck.
The machine comes with a portable BPA-free plastic jar. The 10×6 inch dimension is enough to make small batches of cocktails or a breakfast smoothie. So, I would instead consider this more like a personal ice-crushing device.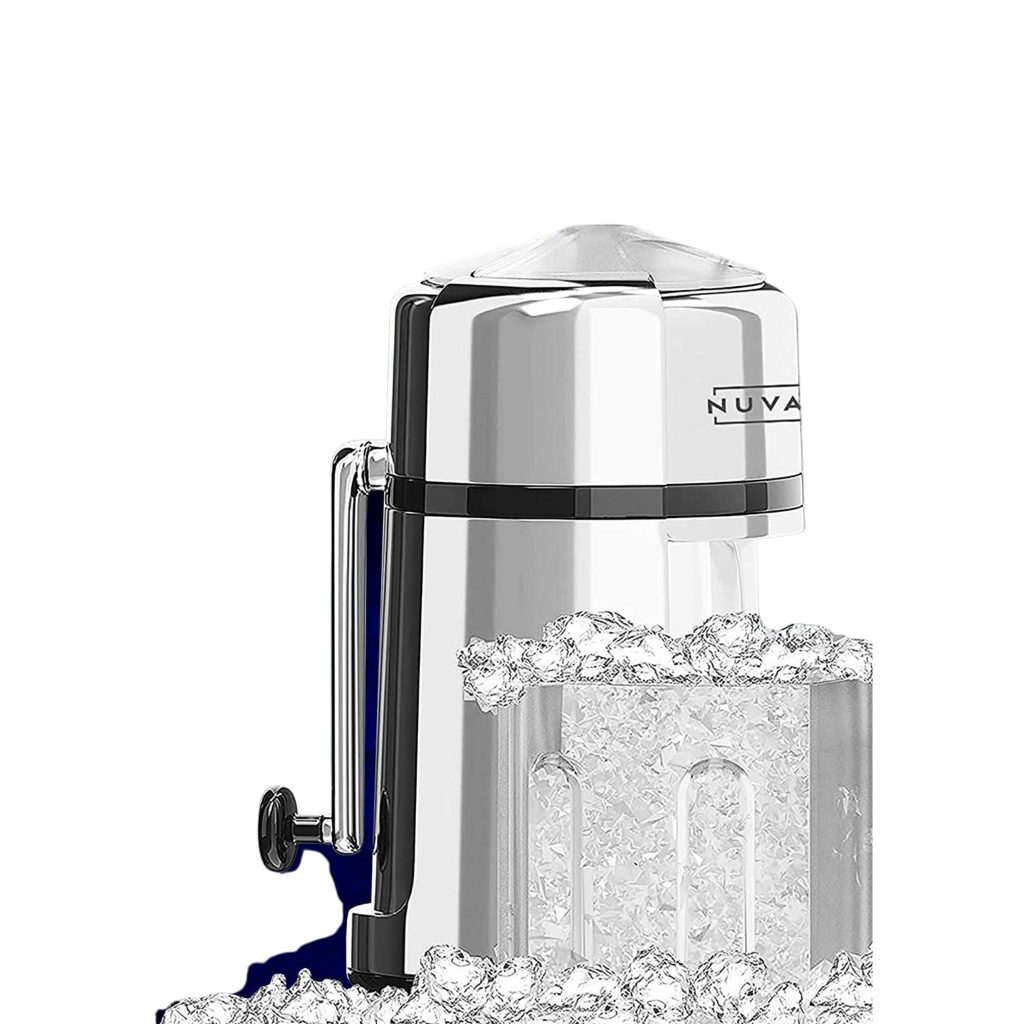 TIME FOR TREATS ICE CRUSHER
The Time For Treats ice crusher is another portable manual ice crushing device. Like Manba and Nuvantee, it comes with a hand crank lever duly attached to the blade mechanism. As you turn the handle, the blades rotate and crush through the chunks of ice.
The suction base is what sets this model different from the design of other manual ice crushers. This feature gives the machine a more secure grip on the countertop or table. As long as the surface is non-porous, the machine will stick to it like crazy.
The blades also provide two crushing options. You can choose to rotate the crank clockwise to produce finely crushed ice. The counterclockwise rotation, on the other hand, gives you a coarser texture.
I love how simple yet so reliable this ice crusher is. It is tiny but can do the job well. It is more apt for personal or lightweight usage.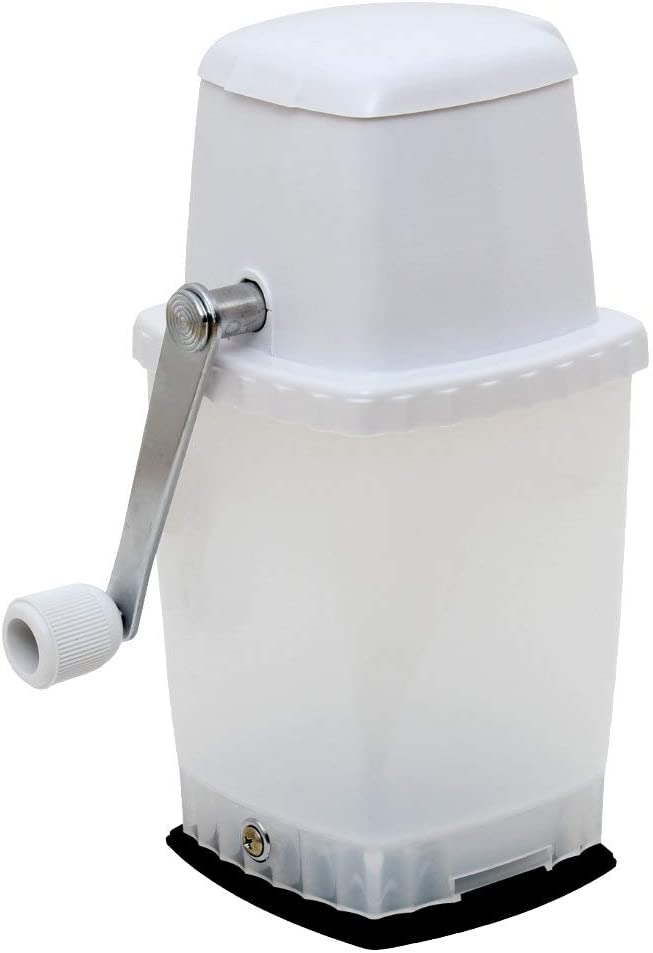 Final Thoughts:
If you ask me to choose only one of the seven best ice crusher machines I reviewed, I would have to go for the OKF Electric Ice Crusher. It has the power, durability, efficiency, and value for money I am looking for in an ice-crushing device.
The capacity of this machine is not too small nor too big. Hence, it can work well for both household and commercial uses if you wish.
The only thing that could probably be a deal-breaker for some is its lack of ability to change the size of the shavings. Nevertheless, ice is ice. It would still deliver the same coolness you want on your drinks, whether finely or coarsely crushed.