Last Updated on August 1, 2022 by Share My Kitchen
If you are a home cook, then you've probably come across a few slicing techniques that make your life easier. And if you're like me, you want to share them with your friends so they can benefit too. If this sounds like you, then this post is just for YOU.
Different Slicing Techniques
I'll be giving 8 different slicing techniques every home cook should know.
1. Brunoise
Recommended Tool: Chef's knife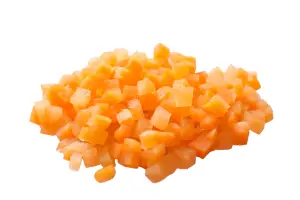 A brunoise cut requires that the food be julienned first, then cut in quarters and diced again to make about 1/8-inch cubes. This slicing technique can be used to cut carrots, onions, leeks, and celery. It can also be used for bell peppers and other hard root vegetables such as beets and turnips. However, this cut is not recommended for soft vegetables such as green beans and cauliflower.
2. Chiffonade
Recommended Tool: Chef's or paring knife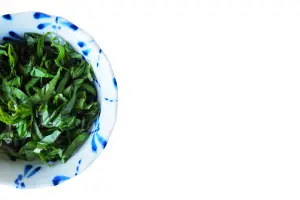 The best method to cut herbs into long ribbons is the chiffonade slicing technique. Stack fresh basil or mint leaves on a flat surface, and roll them tightly. Then, cut across, hamburger-style. Also, this method works well with leafy greens such as spinach, collards, and kale.
3. Chop
Recommended Tool: Chef's knife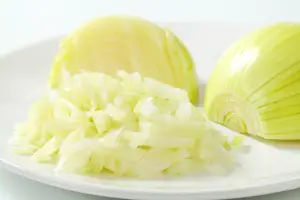 Chopping can be used for many foods. It is a casual, impractical term that means to cut food into small pieces.
4. Cube
Recommended Tool: Chef's knife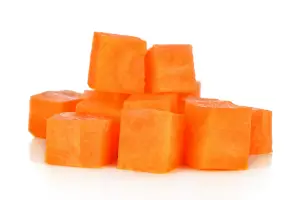 Cubed ingredients are cut to uniform sizes using a more precise method than chopping ( e.g. "1/2-inch cube"). This slicing technique can be used with various foods, including potatoes, carrots, meats, and bread.
5. Dice
Recommended Tool: Chef's knife 
The dice cut is usually smaller than a standard cube. It also makes uniform squares for even cooking and a polished result. You can use this slicing technique often for the classic salsa or mirepoix, which is a mixture of celery, carrots, and onions.
6. Julienne/French Cut
Recommended Tool: Chef's or paring knife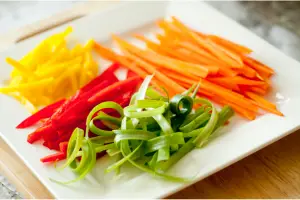 The ingredient is cut in long, uniform strips, like matchsticks, in julienne (or French) cut. Julienne is usually the slicing technique used to make salad ingredients and green vegetables, such as cucumbers, bell peppers, and zucchini.
7. Mince
Recommended Tool: Chef's knife or food processor 
Minced ingredients are cut very finely. For aromatics like ginger, garlic, and onion, mincing is the best slicing technique as it makes the paste-like consistency, which is a desirable end result.
8. Slice
Recommended Tool: Chef's, paring, or serrated knife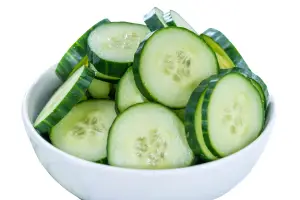 The general term "slicing" refers to cutting across the grain into uniform, thin pieces. You can slice almost any vegetable, fruit, and other ingredients such as cheese and bread.
Different Slicing Techniques: Conclusion
We're not going to say that we know everything there is to know about slicing fruit, but we think we've got a pretty good handle on eight different slicing techniques. Feel free to experiment with your own slicers, and don't be afraid to try out new things. That's the best way to hone your skills around the kitchen, but hopefully, this guide has given you a few things to try next time you're in the mood for a few slices of fresh fruit.