Last Updated on October 25, 2022 by Share My Kitchen
Hot summer days and cocktail parties will never be complete without a drink or two. Thus, you can never go wrong by investing in a good-quality ice crusher machine that can surely deliver that "chill" to your refreshments and dessert treats. 
I have tried over 30 products, from the cheapest manual ice shavers to the most top-of-the-line ice crusher machines. And, I have finally narrowed it down to only ten. Yup, these 10 ice crushers have been through ample tests to prove their quality, performance, and value for money. 
That said, reading this article will not only save you the time and effort of searching for the right ice crusher machine. But, it will also spare you from buying worthless products that just won't make the cut. 
Quick Verdict:
Out of the 10, the Vevor Commercial Ice Crusher is my #1 choice. Why so? Because it ticked all the right features – quality, quantity, and efficiency. It is built to deliver premium performance and durability that will last you a long time. Thus, even though it's not the cheapest in the market, I am confident that it will still give you the most value for your money.  
And if you use ice crusher machines to make drinks for parties, you can't have the machine break down in the middle of the event. That would be an utter shame! So, it is the wisest choice to invest in a reliable and highly trusted product like the Vevor commercial ice crusher. 
10 Best Ice Crushers in the Market Today
VEVOR COMMERCIAL ICE CRUSHER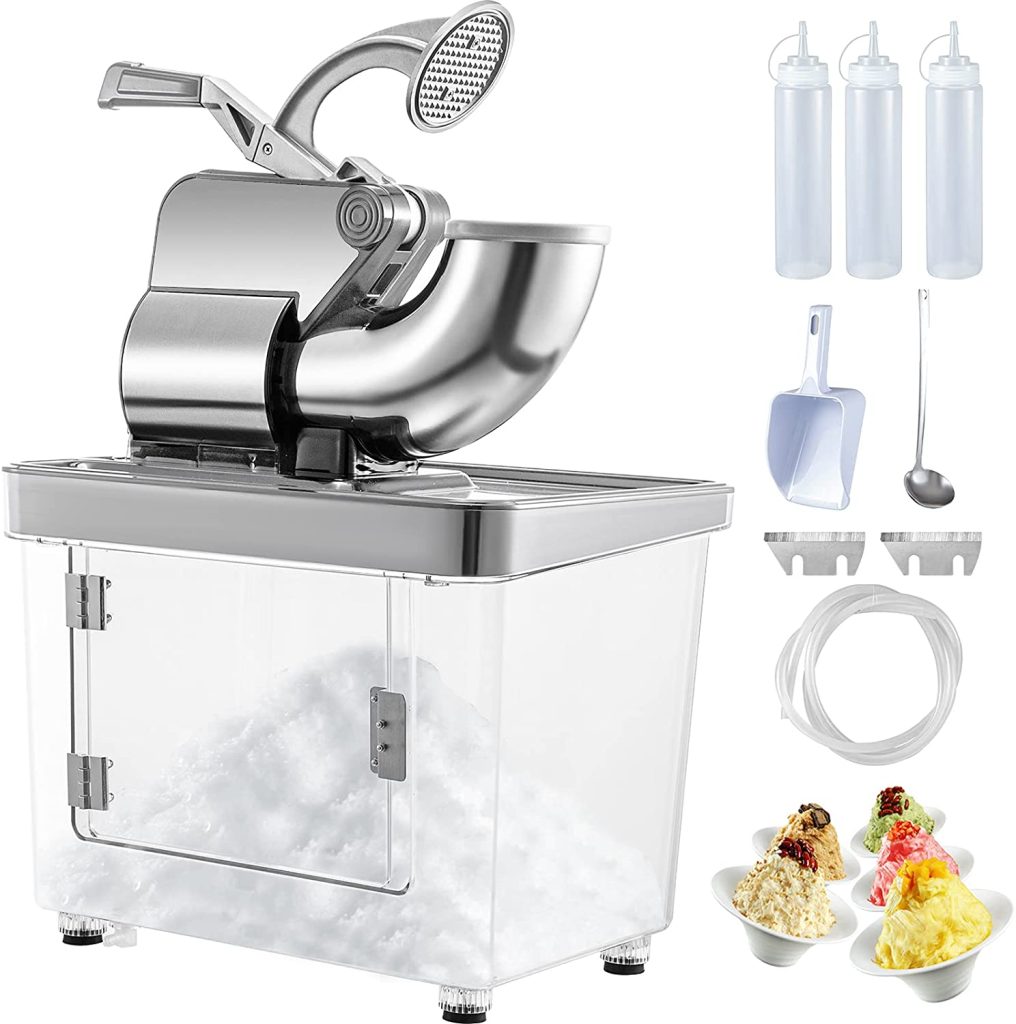 The Vevor commercial ice crusher machines are on the pricier side. But hey, if you want the best of the best, then you better be prepared to go all out. This piece of equipment is ideal if you are looking for a heavy-duty ice crusher machine. It is built with a 300-watt copper motor that produces a great amount of power and torque to turn standard ice or any other frozen treats into smooth bits. Plus, its lifetime customer commitment gives you a long-term assurance of quality service.
Although it doesn't produce snow-like fineness, I did find it just the right texture for cocktails, slushies, fruit shakes, and frozen lemonades. As for the capacity, I have tried crushing close to 400 pounds of ice in an hour and I am so thrilled to see that it did live up to its claim.
Pros
Dual stainless steel heads
Crushes up to 440 pounds of ice per hour
300-watt copper motor34-liter ice storage box
Lifetime customer service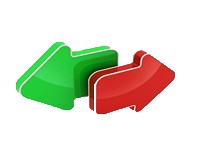 Cons
Expensive
Texture is not as fine as ice snow
Cutting blades can dull out quickly
GREAT NORTHERN POLAR BLAST ACRYLIC SNOW CONE MACHINE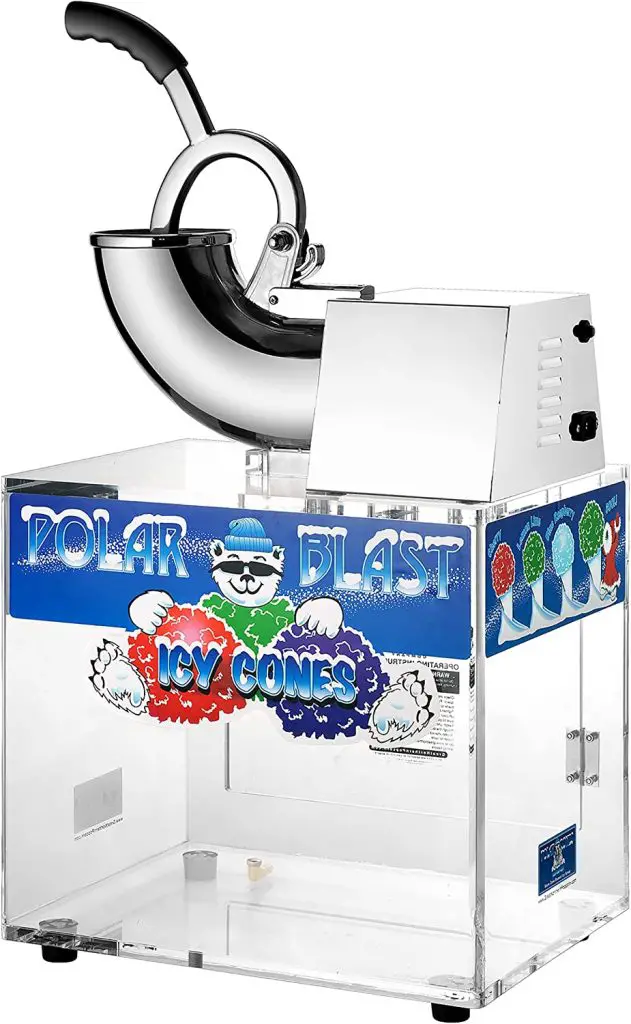 The Great Northern Polar Blast machine is quite similar to Vevor commercial ice crusher machines. It offers almost the same power, RPM, and output. But, this machine is way more expensive. Hence, it only came second on our list. 
Nevertheless, I still think it is a good investment if you are constantly hosting events. I have partied with this machine a couple of times and it did not fail to produce fine-crushed ice as it promised.
Pros
The heavy-duty stainless steel cutting blades
Crushes up to 500 pounds of ice per hour4 1/2-inch wide hopper
Features safety motor reset button
Clear acrylic ice box with easy access door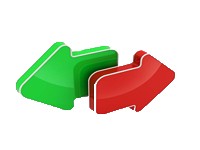 Cons
Very expensive
The acrylic box is a bit fragile
The container is not insulated enough to prevent ice from melting 
OKF ELECTRIC ICE SHAVER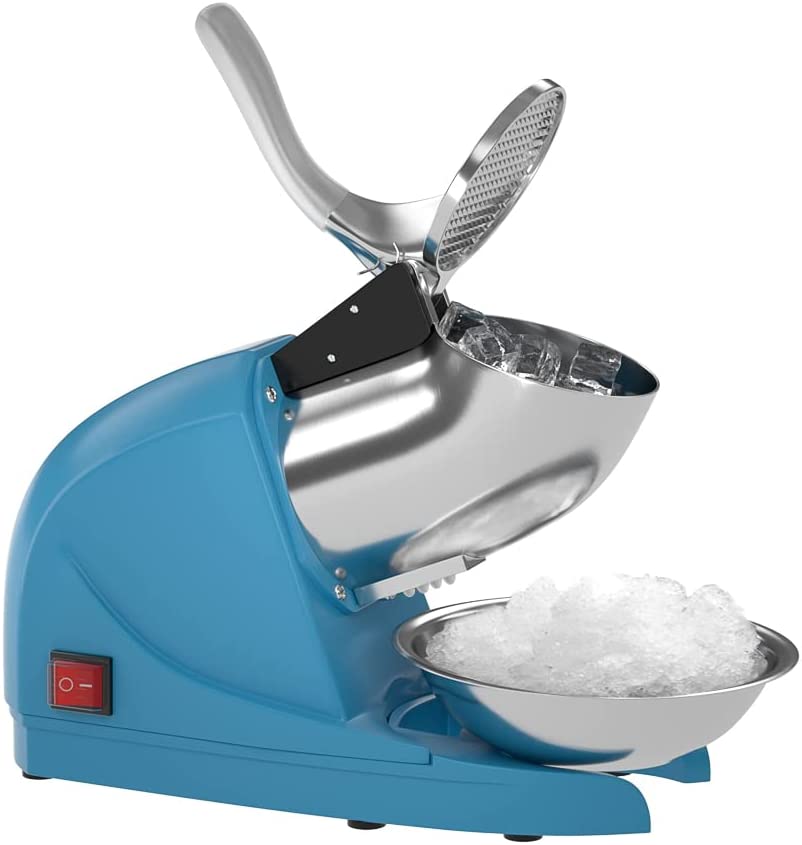 Okay, let's take a break from the high-end stuff and shift to a more affordable product with equally competitive motor power. The OKF electric ice shaver offers both practicality and a powerful motor that produces well-crushed ice. Because of its small size, this machine can reasonably deliver up to 220 pounds of ice per hour. 
But what I love most is its straightforward design. It is compact and super easy to use. No bulky ice box to deal with. So it is more suitable to work with it in smaller batches.
Pros
3-blade stainless steel cutters
Upgraded 380-watt motor power
Rotated speed of 1500 runs per minute
Can crush up to 220 pounds of ice per hour
Automatic safety mechanism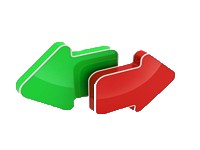 Cons
The ABS plastic housing is prone to warping
A bit messy
The ice bowl is a bit small
MANBA PORTABLE ICE SHAVER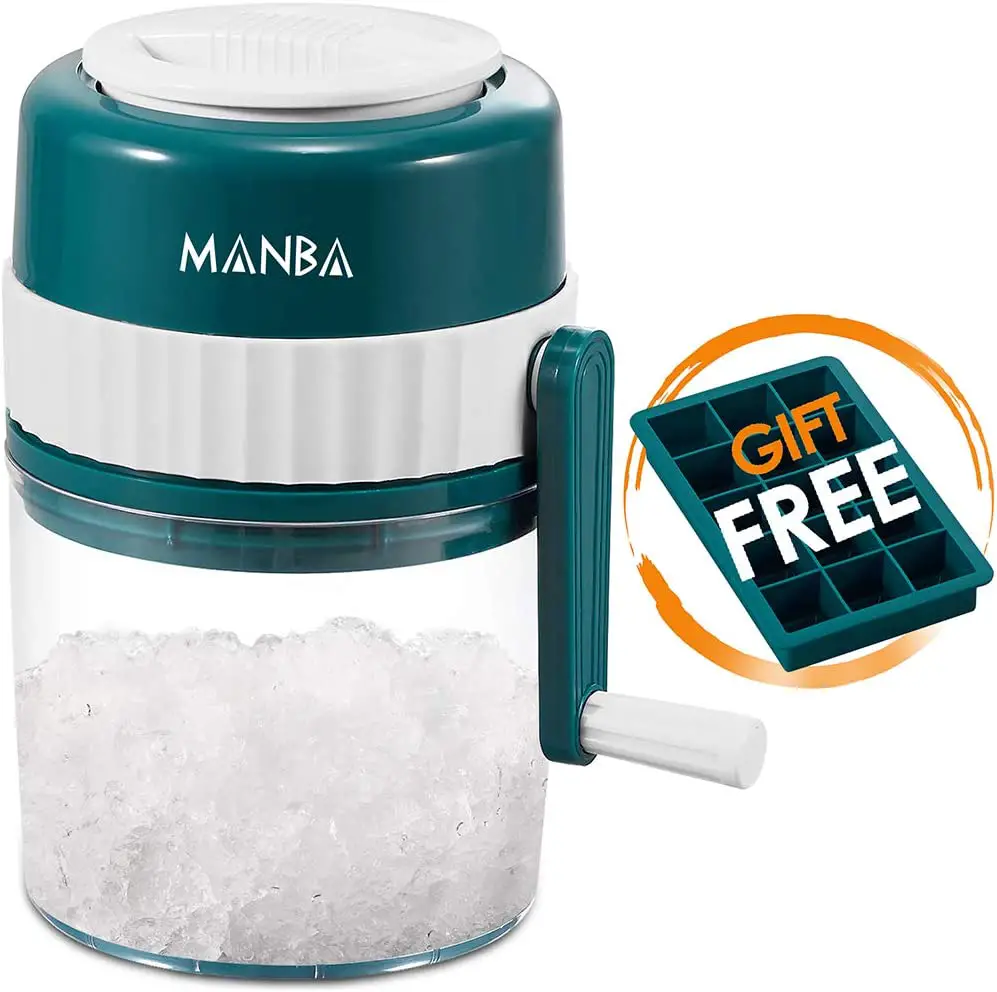 If portability is a big factor, then the Manba ice shaver is the perfect go-to product. This manual ice crusher machine crushes ice with its triple stainless steel blades. However, you need to exert a little bit more effort to get that ice turned into bits. 
The great thing about manual ice crusher machines like Manba is that they are perfect to bring along to picnics, camping, and other places where access to electricity is not available. This is actually a staple tool in our family RV. We take it with us anywhere we find adventure. So, the kids will always have a refreshing frozen lemonade while the adults can enjoy some mojitos.
Pros
Portable18/8 Stainless steel blades
Replaceable triple precision-cut blades
BPA-free
With a free 15-cavity ice cube tray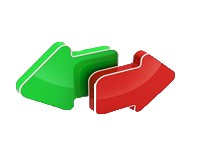 Cons
Requires physical effort to operate
Narrow ice compartment
Difficult to clean
TIME FOR TREATS ICEBURG ICE CRUSHER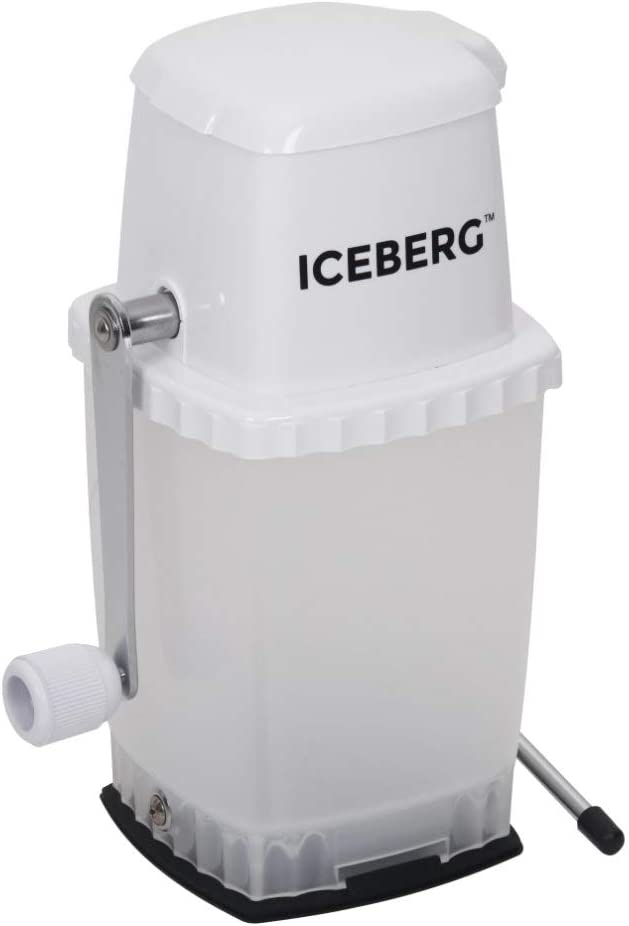 Unlike other ice crusher machines, the Time For Treats Iceberg Ice Crusher comes with a suction base rather than anti-slip rubber feet. This makes its adhesion to non-porous surfaces stronger and more stable. Something that you would definitely need while manually working on that hand crank. 
I also like how you can turn the crank clockwise for finer crushing or counterclockwise if you wish your ice pieces to be chunkier. Be sure, though, not to overload the hopper to minimize jamming the mechanism.
Pros
Strong suction base
Chrome-plated steel handle
Can hold up to 5 1/2 cups of crushed ice
BPA-free plastic5 years warranty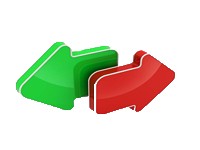 Cons
Expensive Not rust-proof
Have tendency to jam
NUVANTEE MANUAL ICE CRUSHER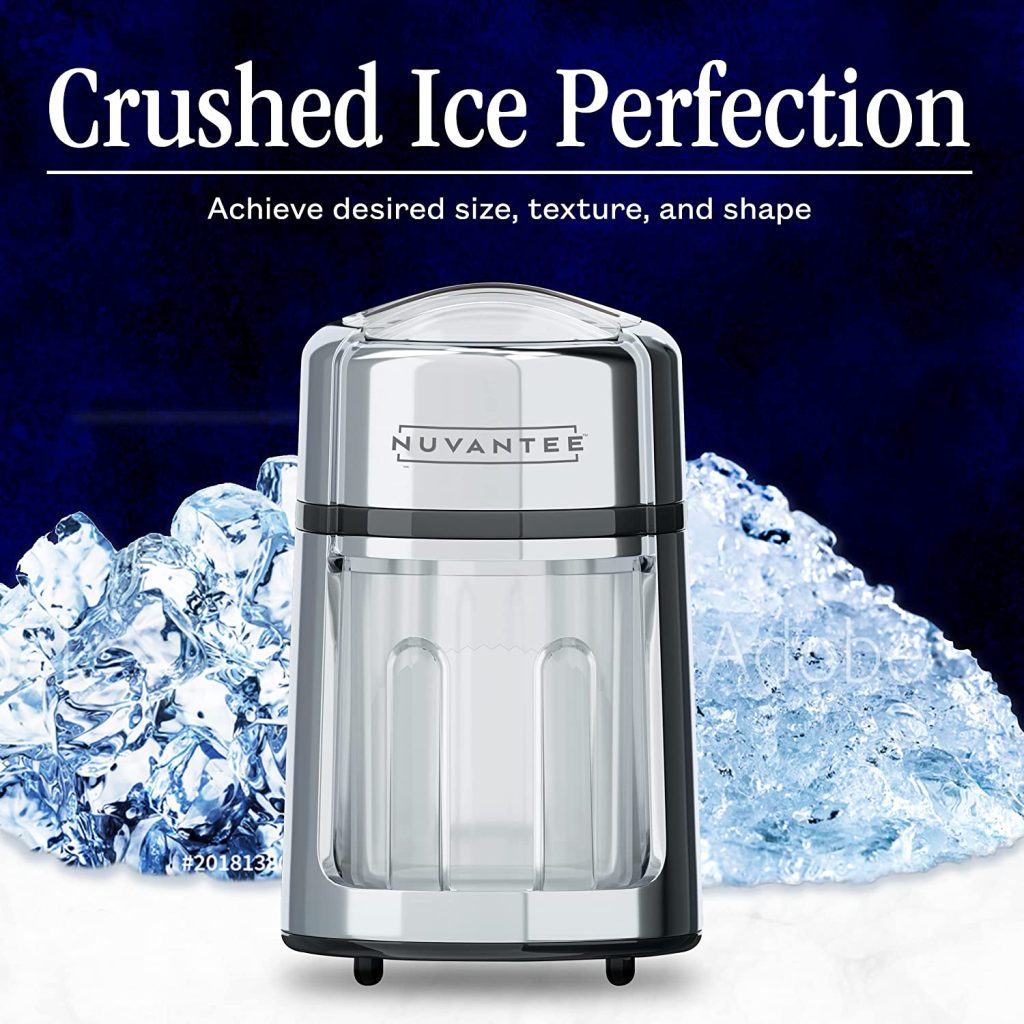 To be honest, the Nuvantee ice crusher won my heart because of its chrome-plated and zinc alloy exterior body. It gives the crusher a very sleek and legit bar-feel aesthetic. It is something that you would want to display together with expensive bottles of liquor. 
Function-wise, this ice crusher machine does the job well too. The crushed ice is not as fine as shavings, but coarse enough to be used on mint juleps and Moscow mules. I find it works best when the hopper is filled only halfway through. It is easier to crank the handles this way, and it gives you finer crushed ice too.
Pros
Carbon steel 430 blades
Chrome-plated and a zinc alloy construction
Non-slip legs
Easy to use and store
Lifetime guarantee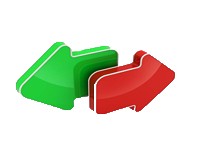 Cons
Not rust-proof
Coarser ice texture Squeaky crank handle and gears
DASH SHAVED ICE MAKER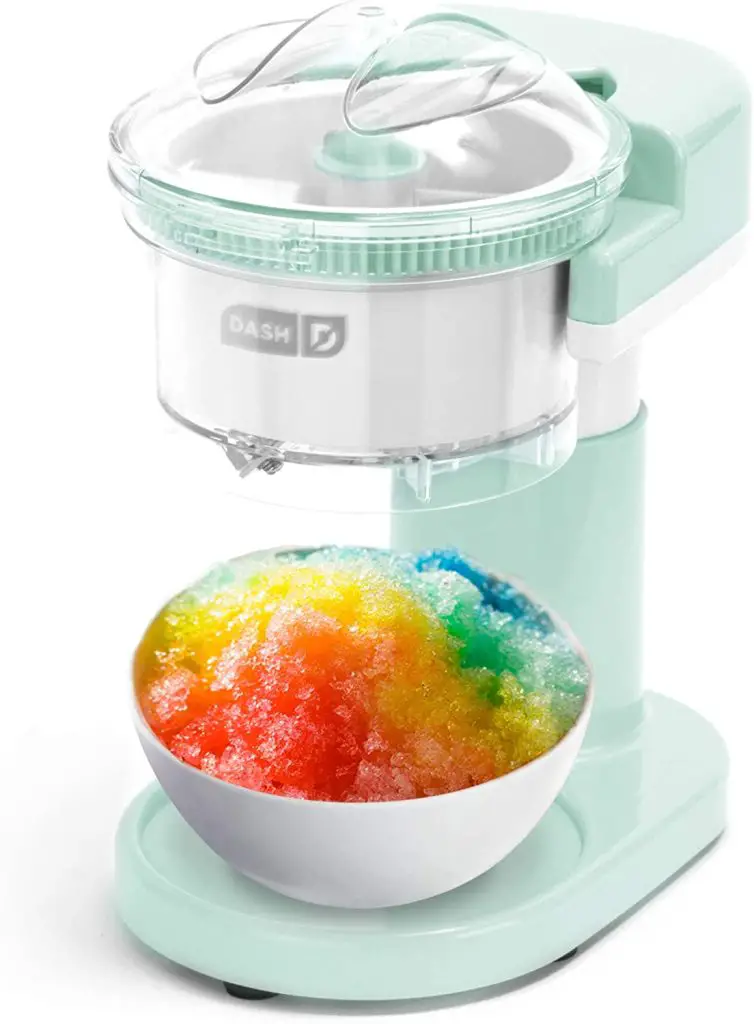 The Dash shaved ice maker is one of the most popular ice crusher machines on Amazon and I totally understand why. This machine is super easy to assemble, use, and clean. Although this doesn't readily come with a bowl, I highly suggest you use a stainless steel container to prevent the ice shavings from melting too quickly.
I love how this product already comes with a free recipe book. It is beginner-friendly and an awesome activity to do with children. My kids and I tried a bunch of recipes at home and we all enjoyed them. Just make sure to closely supervise the use of the machine to prevent untoward accidents.
Pros
Adjustable stainless steel blades
Compact size
Easy to assemble and use
Dishwasher-safe components
Includes free recipe book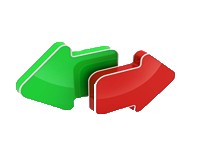 Cons
Does not come with an ice bowlNo on/off button
Can be a little noisy
NOSTALGIA RSM602 COUNTERTOP SNOW CONE MAKER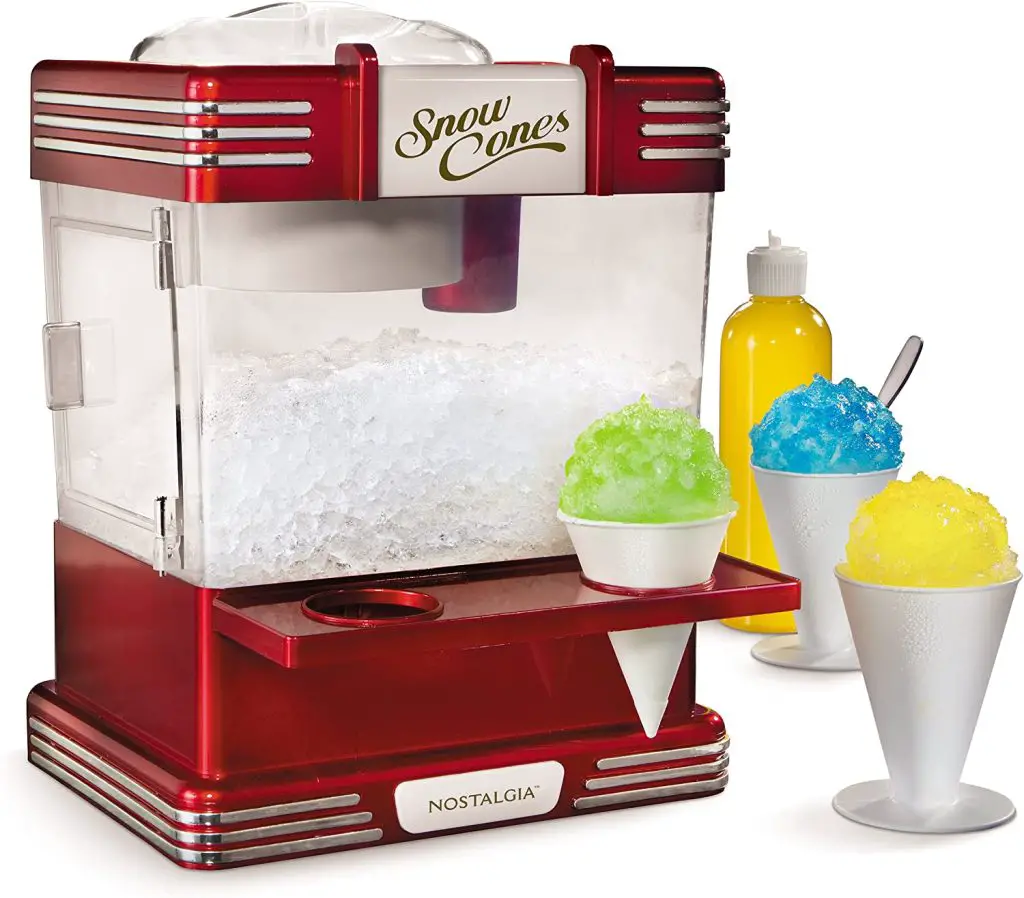 The Nostalgia countertop ice crusher is the first appliance I bought with the pure intention of making snow cones for a party. I'm so happy I did because the kids were so thrilled about making their own snow cones. 
I appreciate that it was built with a cone holder on the side. Although it holds only two, it is better than none. Not that you need a lot either as your ice treat might only melt if held out too long.
Pros
Adjustable stainless steel blades
Compact size
Easy to assemble and use
Dishwasher-safe components
Includes free recipe book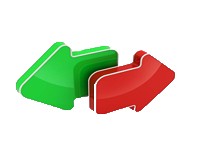 Cons
Loud noise
No drain hole for excess water
The side door does not shut properly
WESTMARK GERMANY MANUAL ICE CRUSHER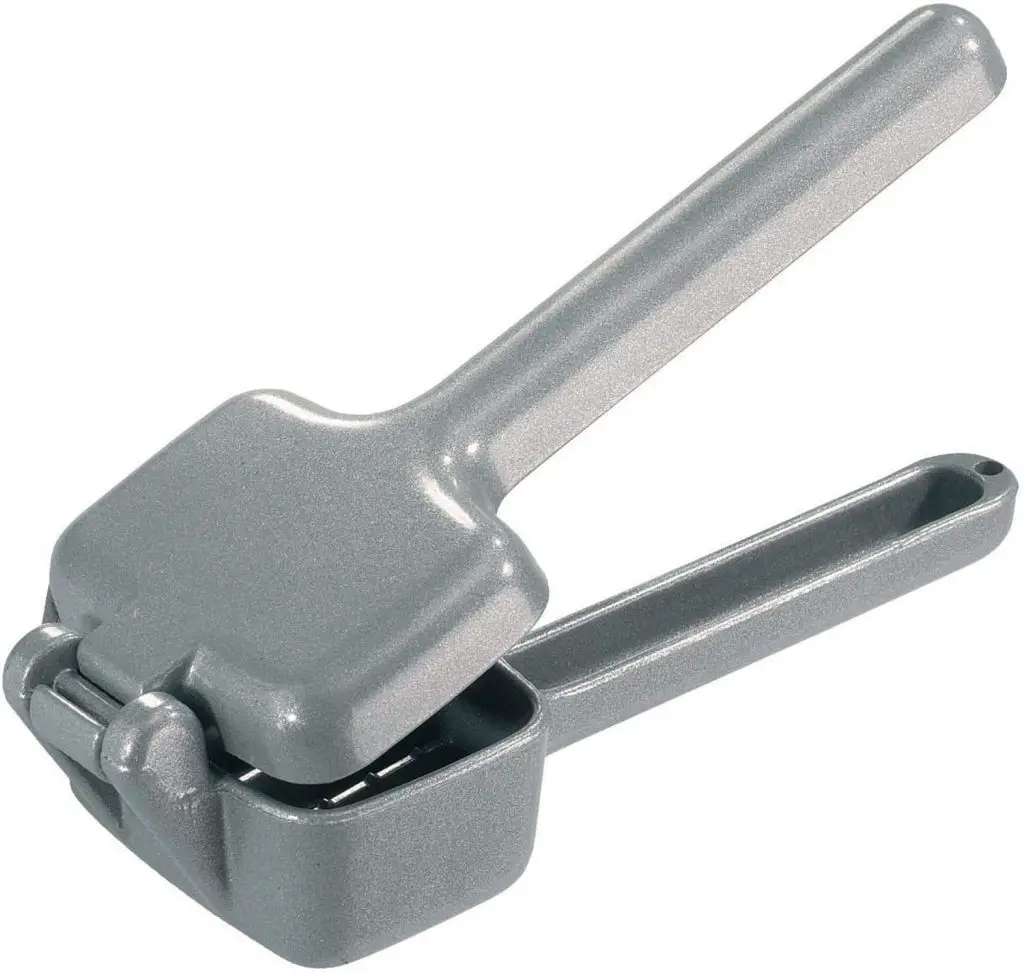 If you are looking for an ice crusher machine that will last you a lifetime, Then this German-made Westmark manual ice crusher is your best bet. It doesn't have a complex motor or mechanism, you just need pure arm strength and its highly reliable and durable quality.
This stuff is small but mighty! I have owned mine for at least five years. And without of shadow of a doubt, I am looking forward to using it for more years to come. It won't produce tons of crushed ice, but it will never fail to deliver anytime, anywhere you want a serving or two for your drinks.
Pros
Heavy-cast aluminum construction
With an ergonomic handle design
Noise-free
Dishwasher-safe5-year warranty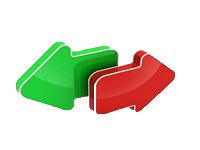 Cons
Small size
Requires a fair amount of hand strength
The coating might eventually peel off
GLACIO ICE MALLET & LEWIS CANVAS BAG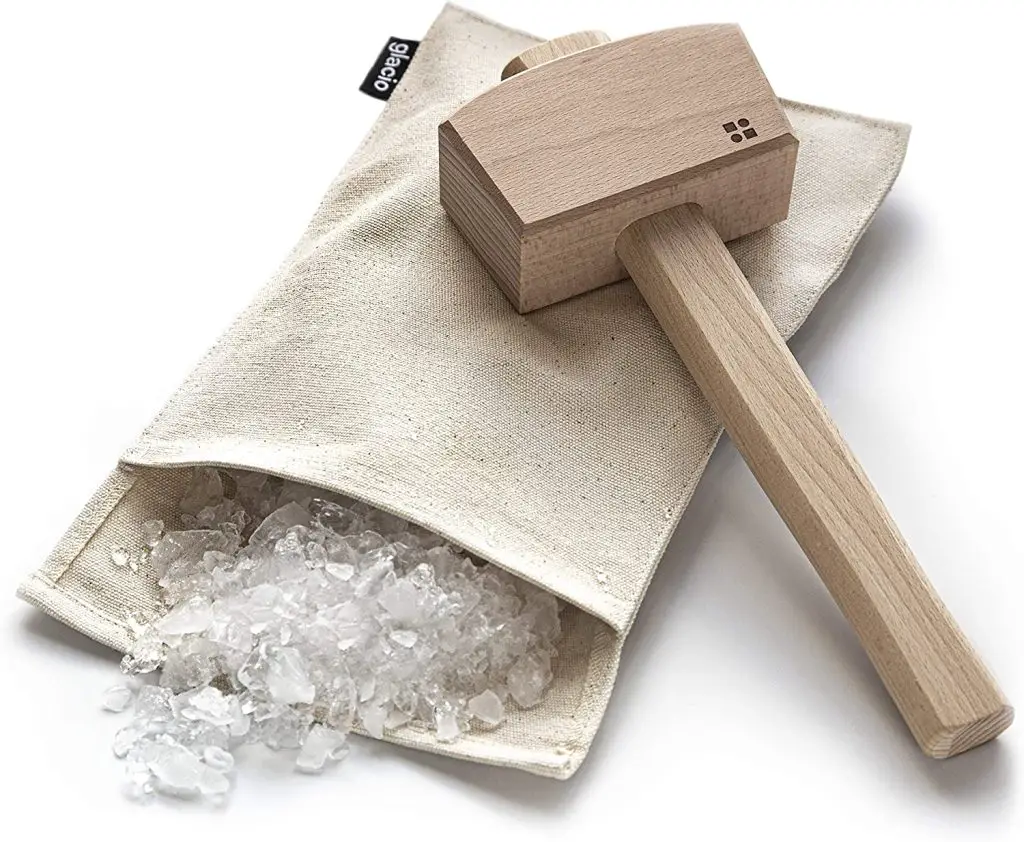 "Old school is still cool!" Yup, the Glacio mallet, and Lewis canvas bag combo are definitely the most basic and manual methods to crush your ice. It is simple, inexpensive, and eco-friendly. And personally, I find this hammer technique very satisfying. I almost feel like my own barista, crafting cocktails at my home bar. 
The crushed ice is nothing close to perfect as powdery snow texture. But, this is what gives your drink a more intimate touch and character. With this method, the concoction I create will always be something I'd like to share with my closest family and friends.
Pros
100% Beechwood mallet
Durable canvas bag
Reinforced double stitchingsEco-friendly
Ideal for home-crafted bar drinks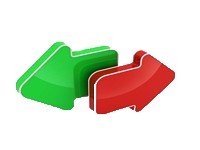 Cons
It requires some elbow grease to crush ice
You need to wash and dry the bag after each use
May leave some traces of fabric on the ice
Can you crush ice in a blender?
Yes! As long as the blender has sufficient power and durability to tackle rock-solid ice. It is best to choose blenders and other food processors with a motor that can deliver between 1000 to 1500 watts of power. The higher the wattage, the easier it will be for the machine. 
Aside from that, make sure to opt for high-quality cutting blades. It should be made with strong and food-grade stainless steel. This material is rust-proof and will not dull out easily.
If you are looking for a suggestion, my favorite ice-crushing blender is the Ninja BL660 Professional Blender. Check the Link Below for it.
Final Words:
Whether you have a manual, electric, or multi-function blender, you should always think about the quality, quantity, and performance efficiency of your ice crusher machine. Remember that solid ice is tougher to crush and so you need durability and strong motor power to deliver your expected outcome – smoothly crushed ice that is sure to keep you chill and refreshed!