Last Updated on May 2, 2022 by Share My Kitchen
It's typical autumn in Bulgaria, where we live, meaning you can smell roasted peppers literally everywhere, such as our stuffed roasted peppers. No kidding, Bulgarians are really into making many different sorts of fruit and vegetable preserves and in regards to vegetables, peppers have a special status, since they are the key ingredient for the famous Bulgarian liutenitsa, the roasted peppers with garlic, or kyopolou, among the many others.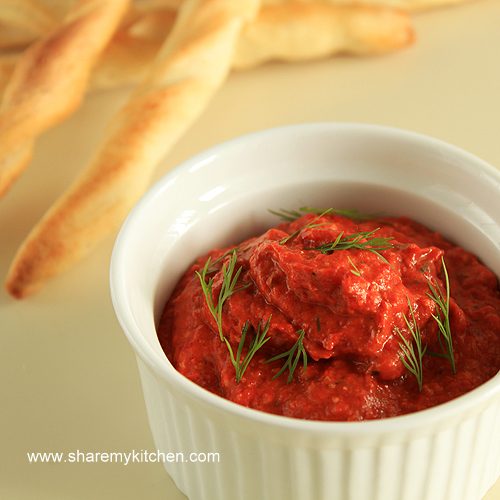 We too love peppers in all their variations but wanted to have something different and new. And here it is – roast red peppers& walnut dip from the Susannah Blake's book "500 appetizers". It 's really a great dip – rich from the walnuts and sweet from the red peppers, perfect for barbecues or to take on a picnic with some grissini.
How To Make Easy Roasted Red Pepper And Walnut Dip
Serves: makes around 350g (1,5 cup or 12oz)
Preparation time: 1o minutes (plus 45 to 55 minutes to roast and peel the peppers)
Ingredients:
10 large red peppers 100g (3,5oz) walnuts,
chopped 2 cloves of garlic,
crushed 1 tsp paprika
½ tsp ground ginger
Pinch of cayenne pepper
4 tbsp olive oil
2 tbsp white balsamic vinegar
2 tsp fresh mint, chopped
Pinch of salt
Method:
First of all you have to roast the peppers. Preheat the oven to 230C ͦ/450F/Gas mark 8. Place the peppers on a baking sheet, covered with bakery paper and roast them for about 20 minutes.
Perfect Roasted Peppers
When they start getting black spots, turn them on the other side. Put the peppers hot from the oven in a bowl, and cover with clink foil. This way you'll pill of the skins easier later.
Leave the peppers to stay for about 30 minutes, until they are cool enough to handle.
Peel and seed the peppers, then put the flesh in a food processor with the paprika, ginger, cayenne pepper, garlic, oil and vinegar. Season with salt and process to a smooth puree. Add the finely chopped walnuts at this point, so they can make the dip a bit chunky.
Transfer the dip into a bowl and adjust the seasoning. Leave to cool, then stir in the mint and serve at room temperature.