Last Updated on May 2, 2022 by Share My Kitchen
Kyopolou is typical for the Bulgarian cuisine starter or relishes, popular under different names and variations throughout the Balkans, particularly in Turkey. Kyopolou can be consumed as a bread spread, a condiment, or as a salad. It could be prepared with a help of a mixer or in an old-fashioned way, that is using just a knife. This appetizer could be consumed freshly made or as a winter preserve.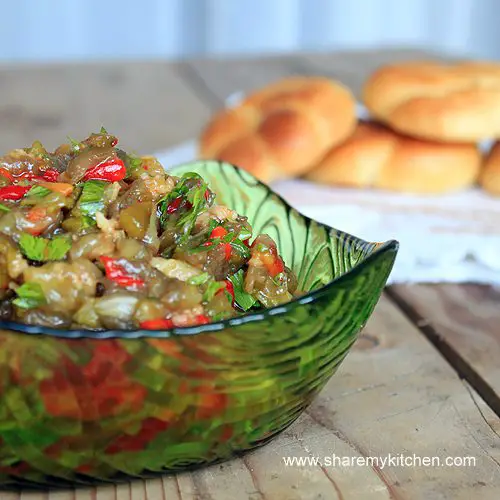 It's better to prepare a day ahead (or at least a few hours) so that the flavors can properly mix. Otherwise, the garlic will be too sharp. If you simply must serve this dish right away, use less garlic.
How To Cook Bulgarian Kyopolou
Serves: 4
Preparation time: 60 minutes
Ingredients:
3 aubergines(eggplants), medium size
4 red bell peppers
2-5 cloves garlic (depending on your taste) fresh parsley, to taste
1-2 tbsp red wine vinegar olive oil, to taste
salt & pepper, to taste
Method:
Rinse aubergines and peppers and poke holes in the aubergines. Bake in the oven for about 40 minutes at 180C (350F) until skins of peppers blister on all sides. Take it out of the oven and put it in a container you can cover.
Leave covered for about 10 minutes. That will make vegetables easier to peel and will also make them release their juices. Be sure to drain off the extra juices – they will make the relish too watery.
Peel the aubergines and peppers skins, take out the seeds and chop them into small pieces. Season with salt and add a splash of vinegar to brighten the flavors up. Crush the garlic and add to the mixture. Throw in a handful of chopped parsley and drizzle in a little olive oil. Mix well and put in the fridge for the next day.