Last Updated on February 18, 2022 by Share My Kitchen
To say the truth, we were hesitating whether this creation of ours is a spread or a side dish. We eventually decided to call it a spinach walnut spread but this comfort vegetable dish is equally good as a snack, as well as a side dish.
I just love it over a slice of toasted homemade bread, but it's also good with poached salmon or other poached fish, steamed or baked chicken.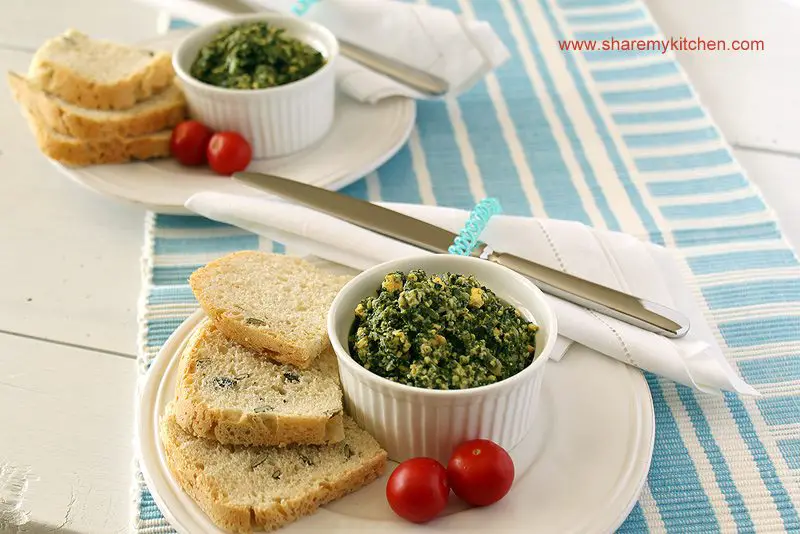 Can You Make Spinach Walnut Spread?
The recipe is not particularly seasonal because you can prepare it with frozen spinach, and the rest of the ingredients are easily available all year round. It is also a good way to use some leftover boiled eggs, and I used to prepare it in the early spring afternoons, and serve it warm. But as I later found, it is perfect for the summer – you can whip it up in a few minutes, without too much fuzz around the stove.
Easy Spinach Walnut Spread Recipe
Serves: 4 (as a side dish), 6 (as a snack)
Prep and cooking time: 20 minutes
Ingredients:
1 large yellow onion, peeled and finely chopped 1 large garlic clove, peeled and minced 1 tbsp butter or vegetable oil 200-250g spinach leaves, fresh or frozen 2-3 tbsp cream 2 hard-cooked eggs, peeled and quartered ½ cup walnuts ½ tsp salt
¼ tsp freshly ground pepper
Optional:
2-3 tbsp freshly grated Parmesan cheese or Cheddar
Some freshly grated nutmeg
How To Make Spinach Walnut Spread?
In a large sauté pan over medium heat, saute onion and garlic, until soft, but not browned.  Add spinach – if using fresh one, rinse it thoroughly and chop roughly first. Add frozen spinach as it is, right from the freezer. Cover and cook for 8-10 minutes, until spinach is soft and tender. Season with salt and pepper. I also love adding some grated nutmeg at this point. Add the cream and give the mixture a nice stir and take it off the heat to cool down a bit.
Meanwhile in the bowl of a food processor or in the blender place boiled eggs and walnuts, and pulse for few times until minced. Add the spinach mixture, and process for about 5 -10 seconds, until everything is well combined. Mix in the grated cheese, if using.
Pour into serving bowl, or individual bowls. If you serving this dish in the summer, you can cover with plastic wrap (touching the top of the pate), and refrigerate for few hours, letting the flavors set together. Allow to sit at room temperature for at least 30 minutes before serving. Serve with your choice of crackers, or toasted bread rounds or warm quick crusty bread.