Last Updated on October 26, 2022 by Share My Kitchen
Last Updated on May 2, 2022 by Share My Kitchen
To all the vegetarians and bean lovers around the world, the best electric pressure cooker has made its way to the shelves. Tedious time spent soaking and preparing your favorite food is behind you.
The EZ Bean Cooker EB-CM10 Electric Pressure Cooker is the master of cooking beans and other vegetables within the hour. Accompanied by a display panel that is simple and easy to read, the variety of menus is endless. So many people put off cooking beans because of the time factor, but this shouldn't be a problem anymore. From Indian to Mexican style, anything is possible.
EZ Bean Cooker EB-CM10 Electric Pressure Cooker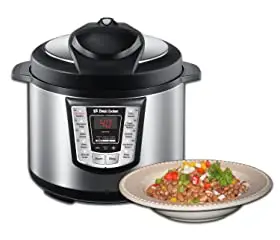 Safety Features
The safety features include a silicone gasket that seals and combines the lid with the pot. If for any reason it doesn't seal properly the EZ Bean Cooker will not turn on the pressurizing function. You can never be too safe, so make sure everything is closed and sealed correctly.
Another intelligent built in precaution is the release valve that automatically detects dangerous levels and releases pressure once this happens. You can even set a limit that will trigger the release valve. Underneath the lid you will find an anti-blocking shield that prevents the valve from getting clogged up.
2 Pressure Settings
There are two options for setting the pressure, either high or low for every pound per square inch.
1 Pressure Release Method
One pressure releasing feature is at your disposal by turning the release valve to open vent. In order for all pressure to be released it takes about 3 minutes.
3 Handles
The three handles make the EZ Bean Cooker practical and easy to operate. One resides on the lid while the other two are situated at the sides of the pot.
Easy To Clean and Use
Given that pressure cookers do make a lot of people feel unsafe, this one is as safe as can be. There is nothing to fear when using this product. Apart from safety, easily operating and cleaning is guaranteed. Cooking a pot of beans or rice is as easy as:
1. Just add the vegetables or beans you want to cook
2. Then choose the preparation style from the menu
3. And push the start button.
The display control is somewhat of artificial intelligence. It can tell you how long the beans are going to cook and even describe what different types of beans there are in each menu option. Some types include lentils, navy beans, pinto beans, kidney beans, and black beans, just to name a few.
You can choose whether you want to manually put in the time of cooking or let it choose automatically. It all depends on how you like it. After the timer goes off it switches to a mode that keeps the food warm for up to 90 minutes.
The best way to clean is warm soap water and a soft cloth. You don't want to risk scratching the non-stick surface. Don't forget to use wooden or plastic utensils when cooking.
As far as reviewing goes this has been one of the most satisfying electric pressure cooker reviews done. The sheer practicality along with time and effort saving qualities make for a great meal that can be cooked more frequently.
Specifications:
1. Product Capacity: 5-quart capacity inner cooking pot.
2. Product Dimensions: 12.6 x 12.6 x 13 inches.
3. Product Weight: 13 pounds.
4. External Vessel Material: Brushed stainless steel with black housing.
5. Inner Cooking Pot: Inner cooking pot is made of non-stick material that prevents beans or rice from sticking and easy to clean as well.
Customer Ratings: 4.7 out of 5 stars
Out of 29 reviews on Amazon, 24 people gave it a five-star rating, 4 people gave it a four-star rating and only 1 customer gave it a one-star rating.
Pros
It's easy to use, I can make wonderful healthy meals for my family in less than one hour without any effort.
The display panel is very easy to read and allows users to cook tons of beans by pushing only a few buttons.
It's a perfect tool in kitchen to cook all sorts of beans, simply and efficiently.
Two pressure settings in six and ten psi contribute to different pressure cooking recipes.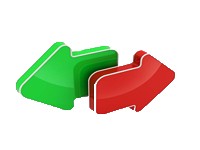 Cons
The cooking pressure can't reach 15 psi. However, you can compensate the it by setting up longer cooking time.
Only 90 days warranty.
Currently Unavailable at Amazon
Warranty
The warranty period provided by EZ Bean Cooker is only 90 days, it's much shorter than a year as other electric pressure cookers.