These Chinese pumpkin soup recipes will help you make delicious, home-cooked meals.
Pumpkin is a fruit that originated on the American continent. However, it is now very popular in Asia due to 2 main reasons.
Reasons why Pumpkins are Popular in Asia
1. It is nutritious and large enough to feed a big family.
Pumpkin is high in fiber, iron, calcium, magnesium, potassium, beta-carotene, and vitamins B and C. It is also known to avoid the hardening of the arteries, and it is anti-inflammatory.
Recent scientific studies have shown that pumpkin contains elements similar to female hormones, which could be helpful for women who are going through menopause.
Pumpkin is low in sugar, and it also aids in insulin production, which is good news for diabetics.
It is, however, high in carotenoids, so excessive consumption could lead to jaundice. Remember that moderation is the best approach to food consumption.
2. Can be prepared in many different ways.
It can be roasted, stewed, baked, and simmered in soups.
In addition, pumpkins can come in many sizes, shapes, and colors. So, you can cook it in various ways. Roasting is quite popular and adding them to pies and creamy soups. However, pumpkin can be eaten in clear soup or pumpkin rice porridge, which are healthier ways to eat it.
Habakkuk (pumpkin porridge), is a Korean dish that consists of steamed pumpkin puree with glutinous rice flour, red beans, kidney beans, and glutinous rice balls. A pureed pumpkin soup with rice or rice flour added as thickener would be considered a soup, depending on its consistency. In Southern China, it is commonly prepared in small pieces in rice congee rather than pureed.
There are rarely large orange varieties used in America to decorate during Halloween and make pumpkin pies in Southeast Asia. The most common type in the area is the one with green splotchy brownish skin. Although it is small, the flesh is large, and it is rich in seeds right in the center. Also, the flesh is firm.
Did you know that pumpkin vines and flowers can be eaten as well?
8 Chinese Pumpkin Soups You Should Try
Chinese pumpkin soup is a classic recipe that will remind you of your childhood. Now that you know a little more about pumpkin, let us check out some Chinese pumpkin soup recipes!
1. Chinese Pumpkin Soup with Seafood (Fresh Fish, Shrimp, and Scallop) Recipe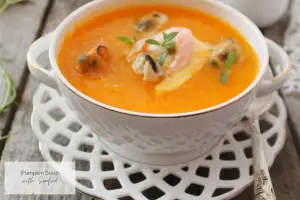 Ingredients
500g pumpkin flesh

75g fresh fish filet

75g fresh shrimp

75g fresh scallop

800ml fish stock

Salt and pepper
Instructions
If necessary, remove the pumpkin skin

Make big cubes of the pumpkin.

Bring the fish stock to boil, then add the pumpkin cubes.

Allow the pumpkin to simmer in the stock for approximately 30 minutes

Then, add in the seafood and cook until it is done.

Season with salt & pepper.

Serve.
2. Summer Soup with Pumpkin and Mung Beans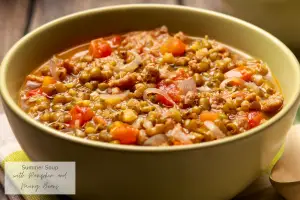 Mung beans are a favorite ingredient in summer dishes. It is hydrating and detoxifying. People who feel weak due to summer heat can add pumpkin to increase their nutrient intake.
Ingredients
50g mung beans

500g pumpkin

1 tsp salt

500ml water or sufficient water to cover the pumpkin
Instructions
First, wash and rinse the mung beans.

Drain, then mix the salt in a bowl.

Allow the beans to stand in the saltwater for 5 minutes.

If necessary, remove the pumpkin skin

Make small cubes of the pumpkin.

Bring the water to boil.

Then, drain the mung beans and add them to the boiling water. Boil the beans for about 5-6 minutes.

Add the pumpkin cubes.

Reduce the heat, cover, and simmer the beans for 30 minutes or until they split.

Salt your dish before you serve.
Chinese Pumpkin Soup Recipe with Seaweed
This soup is good for the liver and kidneys.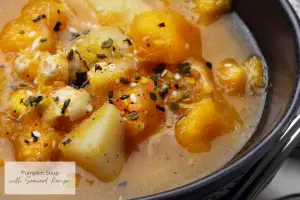 Ingredients
100g pumpkin

10g laver seaweed (zi cai)

20g dried shrimps (xia mi)

1 egg

Dark soy sauce

Cooking oil

Cooking wine

Dark vinegar

Salt

300ml water
Instructions
Let the laver seaweed soak until it becomes soft. Then, drain and set aside.

In a small bowl, beat the egg.

Soak dried shrimps in a bit of cooking wine.

Take off the pumpkin skin and cut the pumpkin into small cubes.

In a saucepan, heat the oil.

Then, add the dark soy sauce and fry fast.

Add the 300 ml water, the soaked dried shrimps, and the pumpkin cubes.

Let the soup simmer for approximately 30 minutes.

Stir in the seaweed and continue to simmer for 10 minutes.

Then, add the beaten egg and take the saucepan from the heat.

Let the egg cook in the residual heat.

Season with vinegar and salt to taste.
Chinese Pumpkin Soup Recipe with Pig's Liver
This soup is meant to be a great natural remedy for night blindness caused by nutritional deficiencies.
Ingredients
250g pumpkin

250g pig's liver

Salt and pepper

Sesame seed oil

1 liter soup stock
Instructions
If necessary, remove the pumpkin skins and seeds.

Cut the pumpkin into bite-sized pieces.

Rinse your liver and cut thinly.

Then, blanch the liver slices for one minute in boiling water.

Bring 1 liter of soup stock to boil.

Put in the pumpkin pieces and let them cook until soft.

Add the liver slices, then cook for 2-3 minutes more or until the liver is cooked.

Season with salt, and drizzle with a little sesame oil.
Pumpkin Soup Recipe with Pork Ribs
This recipe is great for pregnant women and those recovering from illness.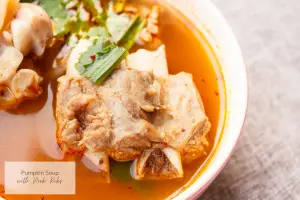 Ingredients
500g pork ribs

1 kg pumpkin

50g red beans (chi xiao dou)

5g honey dates (mi zao)

5g dried tangerine peel (chen pi)

Soup stock

Salt and pepper
Instructions
Rinse and parboil your pork ribs.

Wash the pumpkin and remove the seeds and skin. Then, cut into large pieces.

Wash the honey dates, red beans, and tangerine peel.

Add all the ingredients into a soup pot.

Make sure you have enough water in the soup stock to cover all ingredients.

Bring the soup stock to boil. Then, reduce heat to a simmer.

Allow to simmer for approximately 1 to 1.5 hours, or until the pumpkin and the ribs are soft.

Sprinkle salt and pepper to taste.
All of the pumpkin soup recipes are clear soups or broths. The next soup is creamy.
Creamy Pumpkin Soup
Cream or milk is not used in this soup. Instead, it's made creamy with rice. This soup is perfect for those with lactose intolerance.
Ingredients
350g pumpkin, peeled and cut into cubes

1 yellow onion

2 tbsp cooking oil

1/4 cup of white rice

1 liter soup stock

Salt and pepper
Equipment 
Instructions
First, peel and chop the garlic and onions.

In a deep stock pot, heat the oil.

Fry the garlic and onions until soft.

Then, add the pumpkin cubes in a pan and fry for 10-15 minutes.

Add the rice and stir-fry it for a couple of minutes.

Add the soup stock and allow it to boil.

Reduce the heat to a simmer and cook the pumpkin until soft and the rice is broken and ready for blending.

Blend the soup until you achieve your desired consistency. If you need more bites, remove any pumpkin chunks.

Sprinkle some salt and pepper to taste.

Then, return the pumpkin chunks back to the soup.

Continue to cook the soup on low heat for 5 more minutes.
Pumpkin Rice Porridge
Rice congee is a great source of carbohydrates. It is easy to digest and gentle on the stomach. It can be used as a carrier for other nutritious ingredients, such as sweet pumpkin.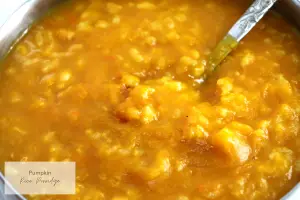 Basic Pumpkin Congee
Ingredients
Half a cup of white rice

Half a cup of brown rice

12 cups of soup stock

600g pumpkin, peeled and cut into cubes
Instructions (for rice cooker)
Put rice, soup stock, and pumpkin cubes into the rice cooker. Then, press cook.

To prevent any boil-over, leave the cover slightly open.

If you have a rice cooker with a rice congee setting, place all the ingredients in the cooker, and press the button. Then, leave it alone to cook.
You can also make rice on the stovetop with a stock pot if you don't have a rice cooker.
Fried Pumpkin Rice Porridge
Ingredients
1 cup rice

10 cups soup stock

200g pumpkin

1 stalk spring onion

1/2 tsp salt

2 tbsp cooking oil
Instructions (for rice cooker)
First, rinse the rice and let it soak for at least 30 minutes (optional).

Put rice and soup stock in the rice cooker, then press cook.

Wash the pumpkin and cut it into small pieces while the congee is cooking.

In a wok, heat the cooking oil and fry the pieces of pumpkin until the outside is crispy.

Once the porridge is cooked, add the pieces of pumpkin. Then, stir the congee and the pumpkin pieces.

Allow it to cook for a few minutes more.

Next, wash and chop the spring onions finely.

Before serving, season with salt and sprinkle spring onions.