Last Updated on May 2, 2022 by Share My Kitchen
This recipe is one of my go-to side dishes, it also goes great with Musaka! This simple, traditional Bulgarian salad is packed with vitamins and fibre!
Zelena Salata, Traditional Bulgarian Salad Name
Zelena salata is translated into English as Green salad. This Bulgarian salad is one of the simplest salads, yet very popular. It's especially popular in the spring and summer months. It is a very universal salad that goes well with many types of food. On top of this, it's easy and quick to prepare and the ingredients are available throughout the year.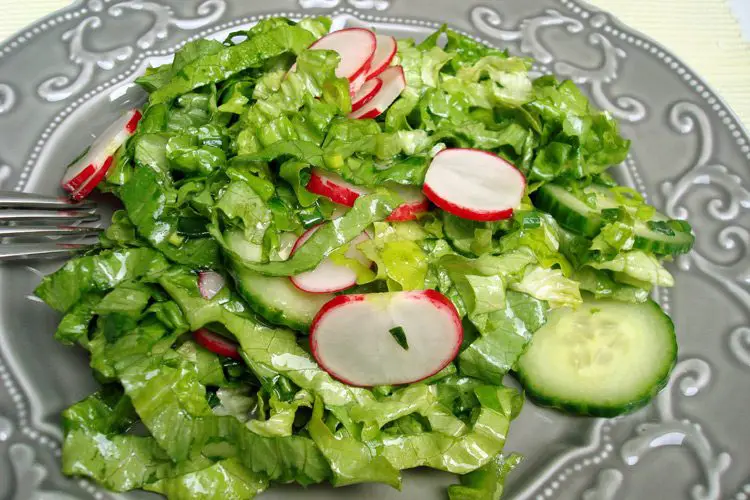 How To Make Bulgarian Salad, Zelena Salata
Preparation time: 15 minutes
Serves: 4
Ingredients:
One head of lettuce, washed, drained and cut into thin strips A bunch of radishes, sliced as thin as possible One medium size cucumber, sliced as thin as possible ½  bunch of spring onions (scallion), green part only, chopped 2 tbsp of white vinegar (or juice from half lemon) 20 ml of sunflower oil (or olive oil)
Salt to taste
Method:
Wash, drain and cut lettuce into thin strips. Slice the cucumber and radishes as thin as possible, and chop the green part of spring onions. In a large bowl mix all ingredients together, add the vinegar and oil, and season with salt to taste.
Serve immediately.