Last Updated on May 2, 2022 by Share My Kitchen
Mliako s oriz or the Bulgarian Rice pudding is another traditional Bulgarian dessert. It most probably comes directly from our Turkish neighbours and it's called "Sütlaç" in Turkey, and a bunch of other Balkan countries, our research shows.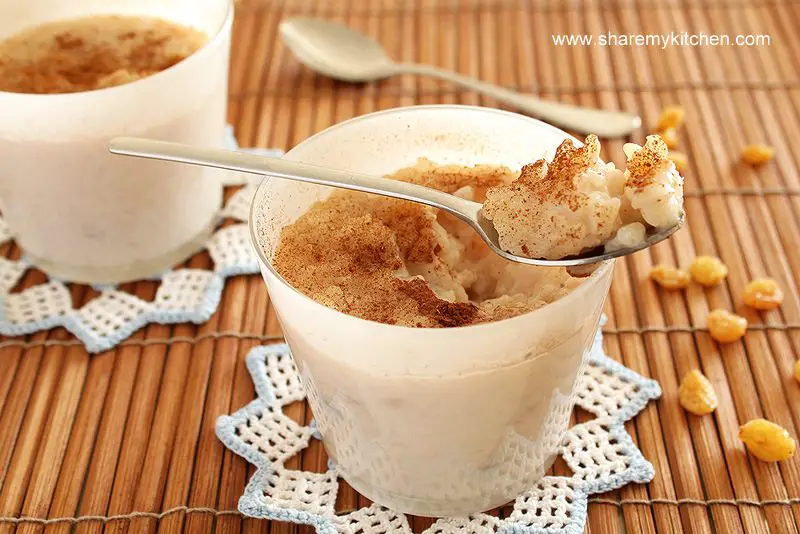 Bulgarian Rice Pudding
The Bulgarian rice pudding is usually boiled, cooled, and eaten cold. The list of ingredients is much simpler and usually don't includes butter, eggs, nuts, dry fruits, cream, zest, jam or anything more than rice, milk, sugar and cinnamon. As it was a kindergarten staple, there are many grownups that refuse even to give it second chance and others like me, to whom this genuine dessert brings nice childhood memories from the first spoon.
The rice, used for rice pudding is round and short, and when cooked produces a creamier consistency than the other types, but any short grain rice can be used as a substitute.
Bulgarian Rice Pudding Dessert
Recipe:
Serves: 4
Preparation time: 20-25 minutes
Ingredients:
200g (1 cup) round grain rice 400ml water 300ml whole milk 6 tbsp sugar
1 tsp cinnamon powder
Optional: generous handful raisins
Method:
Put the rice (without rinsing it) in a heavy-based saucepan, cover with the water and cook over low heat for about 10-15 minutes, or until the water is almost absorbed. Stir from time to time.
When the water is absorbed, add milk and cook for 5 more minutes. Then add sugar and half of the cinnamon and stir continuously cook for 5 more minutes, until the sugar is melted and the mix is creamy. Be careful not to overcook the rice, you need the mixture to be pourable and the rice – slightly al dente.
Pour the mixture into four glasses and sprinkle the rest of the cinnamon on top. If you decide to use raisins, mix them into the ready Bulgarian rice pudding before distributing in the serving glasses. Chill well before serving.