Last Updated on May 2, 2022 by Share My Kitchen
This one is yet another Bulgarian classic and it's amongst the most popular traditional Bulgarian recipes. Almost every home has their own version, using their own set of herbs and spices. The name could be translated as meatballs alla Chirpan, indicating the recipe comes from the southern Bulgarian town Chirpan. The region around Chirpan traditionally produced many vegetables, so no wonder the sauce uses lots of them.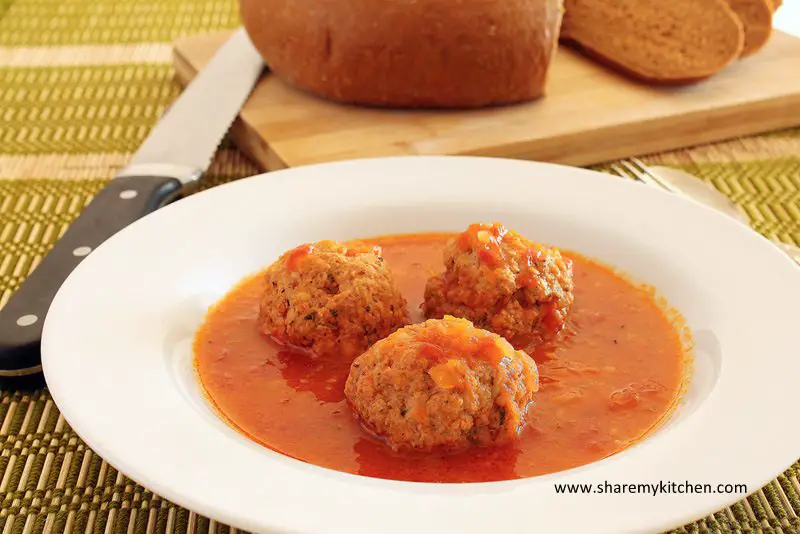 How To Make Bulgarian Meatball In Tomato Sauce
Serves: 6
Preparation time: 15-20 minutes
Cooking time: 20 minutes
Ingredients:
For the meatballs:
600g minced meat *
1 medium onion, finely chopped
1 egg handful fresh parsley leaves,
chopped 2 tsp savoury**
1 tsp cumin Salt Freshly ground black pepper
2-3 tbsp all-purpose flour
For the sauce:
3 tbsp sunflower oil
1 onion, finely chopped
1 clove of garlic
2 big tomatoes, peeled and
diced 1 small celeriac, peeled and diced
2 tsp sweet paprika
1 tbsp fresh parsley leaves, chopped
1 tbsp fresh celery leaves, chopped
Optional:
2 potatoes, diced
1 green sweet pepper, diced
*The classic recipe calls for mixed minced meat, typically 60% pork and 40%beef.
**Better use fresh savoury, if available, but dry is also good.
Method:
First prepare the meatballs – add to the meat onion, egg and all the spices. Mix everything well and with wet hands form balls – usually they are the size of a ping pong ball.
Roll them in flour, so they are thoroughly covered. According to our culinary tradition, if the minced meat mix is too sticky at this point, you can add some bread crumbs – for this quantity a slice of bread will be enough.
Making Tomato Sauce
In a big heavy-based saucepan heat the oil over medium heat. First add onion and garlic and gently fry them until just wilted, for about 2 minutes. Add diced pepper, stir and fry for 2-3 more minutes. Take off the fire, add paprika and stir well – this is made to avoid burning the paprika.
Pour in the hot stock, add celeriac and potatoes, if used and return on medium heat.
In another saucepan heat salted water. When hot, but not vigorously boiling add the meatballs and boil for just  5 minutes and take them out with a slotted spoon. When the potatoes are almost done, in about 7-8 minutes, add meatballs and tomatoes and cook for 10 more minutes.
Before serving add fresh herbs. Serve warm.