Last Updated on May 2, 2022 by Share My Kitchen
These sesame cookies go perfectly with pre-dinner drinks and, it goes without saying, perfect for a party, as our experience shows, no one can resist them. We kind of prefer the simple version of these sesame seed crackers but you could make them herbal (adding just 1 tsp fresh thyme leaves to the dough, for example) or hot and spicy, substituting the black pepper for dried chili flakes.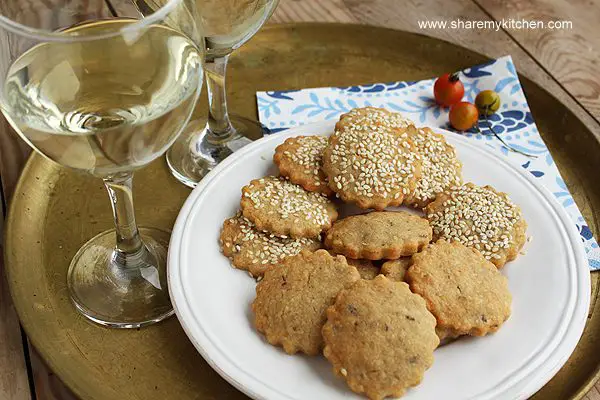 Homemade Sesame Cookies Recipe
Makes 36 crackers
Preparation and baking time: 20 minutes
Ingredients:
130g plain flour 60g freshly grated Parmesan cheese 20g anchovy fillets in oil 2 tbsp olive oil of your choice (I used the oil from the anchovies) 60g butter ¼ tsp freshly ground black pepper
1 tbsp sesame seeds
Method:
Process the anchovies with the oil in a food processor first. When the fish fillets turn into a creamy mixture with no lumps, add the rest of the ingredients. Dice or grate the chilled butter before adding it. Process until the mixture comes together into a soft dough.
Press the dough into a ball, wrap it in clink foil and chill for 20 minutes, until it has firmed up slightly.
Meanwhile preheat the oven to 200°C/400°F/Gas mark 6. Lightly grease two baking sheets or line them with baking parchment. (TIP: You can also reuse parchment paper so after the cookies save it for the next batch!)
Roll out the dough on a lightly floured surface to about 3mm (¼ inch) thick and cut into rounds using 3cm (1¼ inch) cookie cutter. Press the dough trimmings together and re-roll to make more rounds.
Sprinkle over the crackers some sesame seeds, if you like.
Arrange the rounds on the baking sheets and bake for about 6 to 8 minutes, until golden. Leave the crackers for few minutes on the baking sheets, and then transfer to a wire rack to cool.