Last Updated on August 3, 2023 by Share My Kitchen
Last month Epicurious published their annual Food Trend Predictions for 2011. And I don't think Tanya Steel has to be Nostradamus, to predict this one right – the sweet potatoes are trendy – and this is a pretty obvious tendency. Thank God it's not some kind of rare or exotic vegetable that's worth its weight in gold!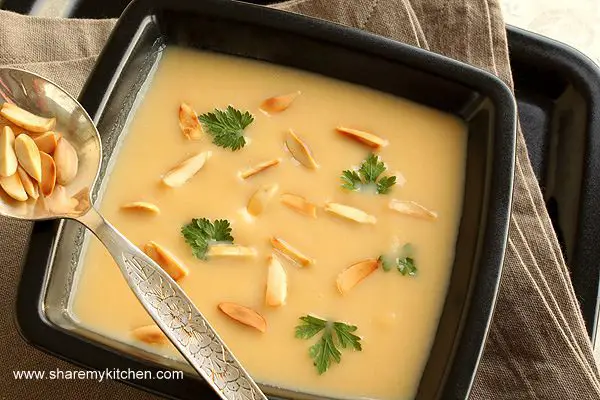 I was thinking of the reason why are sweet potatoes getting more popular by the day. There should be a few, but probably the most important among them is: they are healthy! It is a vegetable rich in beta carotene and fibers; has lots of protein (rather unusual for vegetables), and has also complex carbohydrates that don't spike insulin, but on the contrary – sweet potatoes help stabilize blood sugar levels.
Is This Sweet Potato and Celeriac Soup Good For Diabetes
So it's not strange it's popular with diabetics and people wishing to lose weight. And even if you don't have that kind of issues, and for you it is just another vegetable, you have to admit it's a tasty one!
But coming back to our tables – we decided to celebrate the sweet potatoes' popularity with a simple, heartwarming soup, which we hope will comply with your New Year Resolutions.
Sweet Potato and Celeriac Soup Recipe
Preparation time: 15-20 minutes
Serves: 4
Ingredients:
2 big (450-500g) orange-fleshed sweet potatoes
1 medium (150-200g) celeriac
2 onions (80-100g)*
2 cloves garlic
½ tsp fresh ground ginger
4 tbsp vegetable oil
0,5l vegetable stock
1 can (400ml) coconut milk (or coconut cream)
Salt and freshly ground black pepper to taste
Optional: a handful of blanched almonds, roughly chopped
some fresh, flat-leaves parsley
*You can substitute the onions with leeks (the white part of the stalk only) for a milder taste.
Method:
Prepare the vegetables – peel and dice the sweet potatoes and celeriac, slice the onions.
Heat the oil in a saucepan over medium heat and sauté the garlic and onions for 2-3 minutes, until softened.
Add the ginger, celeriac, and sweet potatoes and cook for 2-3 more minutes. Pour over the hot stock and the coconut milk and bring to boil. Reduce the heat and leave to simmer for 10 minutes.
Remove from the heat and allow to slightly cool. Meantime chop the almonds and toast them in a hot dry skillet. Stir occasionally but don't go away because they can easily burn black.
When the soup is cooled enough, pour into a food processor (or use a hand blender) and puree until smooth. Season to taste with salt and freshly ground black pepper.
To serve, pour the soup into the bowls and garnish with the roasted almonds and fresh parsley.