Last Updated on November 2, 2022 by Share My Kitchen
Nothing can be grander than the warm, spicy and healthy blend of garam masala. This versatile spice is used to add a distinct kick to the palate. From curries to soups, almost no Indian dish can do without it. 
Garam masala is basically composed of fennel, clove, bay leaves, peppercorns, cinnamon, cardamom, cumin, coriander, chili powder, and more.
Nevertheless, different regions have their own takes on this mixture. So, it is not unusual to find certain differences depending on the brand and the origin of the garam masala.
In this article, we have collated the best of the best-tasting garam masala spice blends in the market. We have gladly tested them out for you so you will only get the premium choice. Ready to get spicy? Let's begin, shall we…
How Did We Choose The Best Garam Masala Brand?
Availability
We chose brands that are easily accessible right from your local supermarkets or online platforms like Amazon.  Needless to say, it would be kind of useless to recommend products that are far beyond your reach. Right?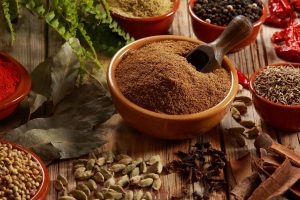 Brand Credibility
Some brands have long been serving the food industry for decades They are usually the ones that have gone through a lot of research to achieve high-quality food standards.
Nevertheless, we are also very fair to consider home-grown brands that are newly emerging in the market.
Customer Feedback
There is no better way to get to know the product than its actual users themselves. The customer's feedback will tell you the pros and cons based on their personal experiences. The results can be widely varied yet still valid. 
Actual Testing Of Garam Masala
Of course, we also did our own testing of the products. We evaluated them according to three essential factors – color, taste, and aroma.
As for the color, garam masala tends to have deeper earthy undertones. This is usually attributed to the presence of cinnamon, nutmeg, cardamom, and cloves. Adding this blend should be able to give the dishes a rich color and more palatable appeal. 
In terms of taste, the garam masala naturally has a warm, sweet, spicy, and toasty flavor. Thus, a good balance of these elements must be able to complement the dish and impart an authentic taste to it. 
To complete the testing with our senses, we also factored in the aroma of the product. Garam masala is usually a mixture of at least 5 spices and as many as 10 or more. This creates a very complex smell depending on varying ratios of spices. 
Nevertheless, a good quality garam masala should be able to acquire a distinct nutmeg base note. It should also give off a hint of cloves, cinnamon, black and white peppercorns. These are often the main ingredients and so they must be able to exude such aroma easily.
10 Best Garam Masala Brands Reviewed
RANI GARAM MASALA NORTH INDIAN SPICE BLEND
The Rani Garam Masala is an all-natural spice blend consisting of 11 different spices. It does not contain any fillers or enhancers to amp up the flavor and aroma. Hence, you are well assured to get the most authentic North Indian taste in every dash of this powder.
Key Features:
Authentic recipe of North Indian origin
No preservatives added
Non-GMO and Non-ETO
No added salt, sugar, MSG, or coloring
Gluten-friendly
Vegan-friendly
McCORMICK GOURMET GARAM MASALA BLEND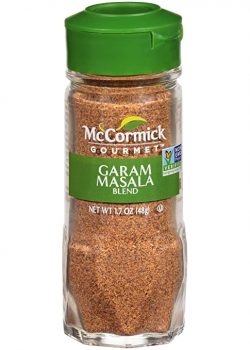 When it comes to spices, we couldn't help but mention McCormick. This global brand created this classic Indian seasoning featuring coriander, black pepper, cumin, cardamom, and cinnamon. Thus, offering its consumers a mild-tasting blend of garam masala.
Key Features:
All-natural ingredients
No preservatives added
Gluten-free
Sugar-free
Certified circle U Kosher
Flavor-sealed for freshness
MARSHALLS CREEK SPICES GARAM MASALA BLEND
Marshalls Creek Spices is a well-known importer and reseller of a wide array of herbs and spices. They ensure to prepare and pack their garam masala powders to always deliver a fresh batch. This 8-spice blend is all-natural and is prepared in a nut-free environment.
Key Features:
Uses natural ingredients
Contains no fillers
No MSG added
Gluten-free
Does not contain nor exposed to nuts
Keto and Paleo-friendly
Kosher 
THE SPICE HUNTER GARAM MASALA BLEND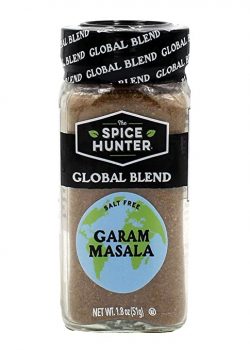 The Spice Hunter garam masala blend is crafted using cumin, black pepper, cinnamon, cloves, coriander, and cardamom. It imparts a deeply warm and slightly sweet flavor with a minimal heat profile. Thus, it is a perfect choice for those who have a fairly low tolerance to the spicy kick in most Indian seasonings.
Key Features:
No additives
Salt and sugar-free
Kosher certified
Non-GMO project verified
Prepared in a nut-free facility
Vacuum-sealed for freshness
MORTON & BASSETT GARAM MASALA BLEND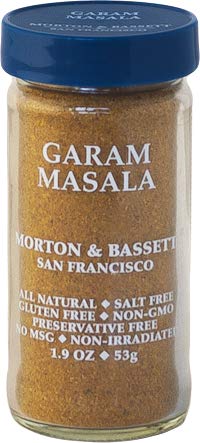 This garam masala blend from Morton and Bassett highlights a more unique flavor profile. It gives off distinct cumin and red pepper with less cinnamon taste.
This is a great option for those who prefer more warmth but are less fond of the woody punch of cinnamon.
Key Features:
All-natural ingredients 
No preservatives added
Salt and MSG-free
Gluten-free
Non-GMO
Non-irradiated
LAXMI GOURMET TRADITIONAL GARAM MASALA SPICE BLEND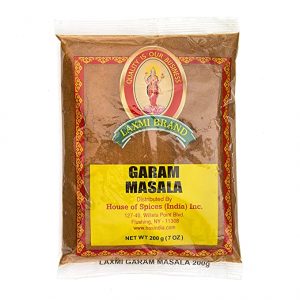 This 7-spice garam masala blend offers the perfect proportions of coriander, cumin, ginger, red chili, cloves, cinnamon, and bay leaves. Just the right ratio of everything to create a traditional Indian taste.
It makes the dishes savory without being overpowering. 
Key Features:
Uses only natural and pure ingredients
Vegan-friendly
Guaranteed fresh
The 7-ounce bag is an ideal size for home cooking
Affordable price point
FRONTIER ORGANIC GARAM MASALA SEASONING
This is a certified organic garam masala spice blend. It features a sharp kick of clove and cinnamon.
Both spices create an Indian-inspired dish with slightly sweeter notes than the typical garam masala blend.
Key Features:
Certified USDA organic
Non-GMO verified
Non-ETO
Kosher
Non-irradiated
Gluten-free
SPICELY ORGANICS ORGANIC GARAM MASALA SEASONING
This garam masala uses 7 organic spices including fennel. This blend ensures to deliver only pure and unadulterated ingredients. Allergens are kept strictly at bay by eliminating the presence of wheat, eggs, nuts, dairy, and crustacean products.
Key Features:
USDA organic
Non-GMO
Salt and sugar-free
No additives and artificial coloring added
Non-irradiated
Gluten-friendly
Vegan-friendly
DEEP PREMIUM SPICES GARAM MASALA POWDER
The Deep garam masala blend is composed of a well-balanced combination of 14 spices.
This gives your dishes a good depth in flavor minus the saltiness from added salts. The complexity of the recipe allows it to resemble a homemade taste.
Key Features:
Includes 14 spices
Contains 0% salt
Sugar-free
Potent flavor – a little goes a long way
Good value for money
SIMPLY ORGANIC GARAM MASALA
The Simply Organic garam masala blend contains 6 organic spices. This simple seasoning creates a perfect base for cooking Northern Indian-inspired dishes. It gives the right burst of warm flavor and aroma without being too spicy on the palate.
Key Features:
USDA organic
Gluten-free
Salt-free
Non-ETO
Non-irradiated
Kosher 
I% of product sales is used to fund organic farming and education
Garam Masala vs Curry Powder: What's the difference?
Is it very common for people to mistake garam masala and curry powder to be the same thing. Although they sure have similarities, there is also a big difference between the two of them. 
Origin
Let's start with the origin. The garam masala originated from Northern India. Meanwhile, the curry powder is actually a concoction created by the British to mimic the taste of Indian cuisine. 
Spices
As for the spices involved, yes there are similarities in the list. But, one thing is for sure, garam masala does not contain turmeric. Turmeric is essential in curry powder as this is what basically gives it its rich yellow color.
Taste
Taste-wise, the curry powder has a milder, sweeter and more subtle flavor. On the other hand, the garam masala has a sharper, stronger, and more robust profile. 
Cooking with curry powder vs garam masala powder
When it comes to cooking, curry powder is used to impart a distinct curry flavor and is usually added in the earlier part of the cooking process. Meanwhile, the garam masala is rather used as a seasoning to enhance the flavor of the dish. They can be added either during or towards the later end of cooking. 
Can You Replace Curry Powder With Garam Masala?
You can replace garam masala with curry powder when cooking curry. Nevertheless, be aware of their differences most especially in the taste and aroma. As mentioned, garam masala has a stronger and warmer flavor profile.
If you are wondering if you can use curry powder as a substitute for garam masala, then the answer is YES!
Taste Difference In Curry 
However, curry powder can be a decent alternative to garam masala. The flavour is rich and versatile enough to impart an Indian-inspired taste to your dish. Not exactly the same, but already acceptable enough if you are not so particular. Not to mention, curry powders are also more accessible in local markets.
Which is the best garam masala brand in 2023?
There is not one perfect recipe for the garam masala spice blend. Every brand has its own unique version. Nevertheless, the Rani Garam Masala blend instantly took our palates to India with its traditional flavor and aroma. 
It has a good balance of warmth and spiciness with just the right hint of sweetness and heat. It marries incredibly well with any dish from veggies to meat, soup to grill. This Rani garam masala is all you ever need to add a nice touch of authenticity to Indian cuisine.