Last Updated on February 18, 2022 by Share My Kitchen
We first tried this salad after reading the recipe in Jennifer Locklin's food blog – janedeereblog.blogspot.com. We just loved it! The second time we decided to simplify it a little and the result is great, again.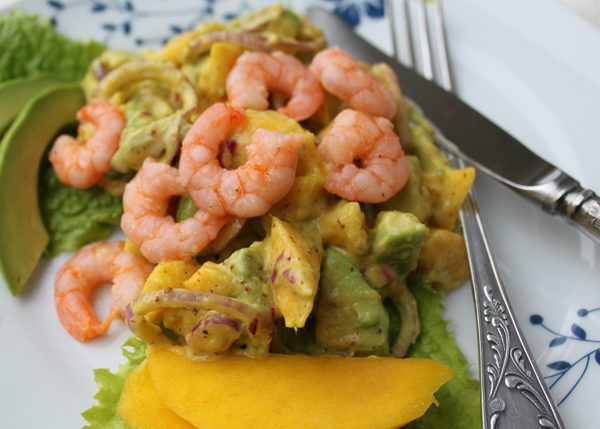 Avocado And Mango Salad With Prawns
Preparation time: 20 minutes
Serves: 4
Ingredients:
500 g large prawns (shrimps), shelled and deveined
2 avocados, pitted, peeled & cubed
1 mango, peeled and diced
Green leaves, for serving
1/2 red onion, thinly sliced
Dressing:
1 mango, peeled and finely diced 1/4 cup red wine vinegar 2 tablespoons fresh lime juice 1 tablespoons fresh ginger, grated 2 tablespoons sugar 1 teaspoon Dijon mustard 1/2 cup olive oil
Salt and freshly ground black pepper
Make the dressing: Combine all dressing ingredients (except oil) in a blender and blend until smooth. While blender is running, remove lid and pour in oil in a steady stream. Continue blending for several seconds, then remove and set aside.
Boil the prawns in slightly salted water for 3-5 minutes. Strain well; squeeze over juice of half lemon and season with salt and freshly ground black pepper. Heat some olive oil in a frying pan and fry the shrimps for another 3-5 minutes.
In a large bowl, combine mango,avocado and red onions, add dressing to taste; toss lightly and transfer into serving plates, over green leaves. Top with prawns and serve.