Last Updated on February 18, 2022 by Share My Kitchen
This is probably one of the most generous ways of enjoying asparagus. But as the asparagus season is not that long, a little of something naughty every now and then will not harm you.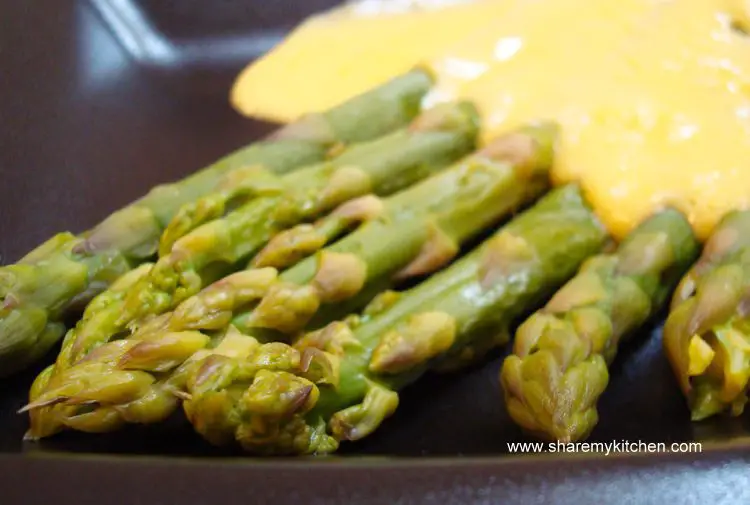 Asparagus with homemade Hollandaise sauce
Serves: 4
Preparation time: 20 minutes
Ingredients:
A Bunch of asparagus spears( about 500g) 2 egg yolks 2 teaspoons lemon juice 100g butter 1 tablespoon water
Salt & pepper to taste
Method:
For the asparagus:
Wash the asparagus spears thoroughly  to make sure any grit has been removed from the flower head at the top. Break off tough ends of stalks then use a vegetable peeler to peel tough skin from lower part of stalks (it can be used in stocks later).
Add some boiling water to a saucepan and add the salt. Bring to a boil, add the asparagus and boil uncovered for 5 minutes. Let the asparagus sit in the pan for few more minutes off the heat, if you preffer them softer. With tongs, remove asparagus to a hot serving dish.
For the Hollandaise Sauce:
Put the egg yolks, water and half the lemon juice into the bowl. Whisk until the egg yolks start to thicken.
Melt the butter in a saucepan, until golden and bubbly but not browned. Now start adding the hot butter to the mixture a little at a time, whisking  well each time. Then add the remaining lemon juice, a little of hot water and season with salt and pepper to taste.
Return into the hot saucepan and on very low heat continue to stir until the sauce will gradually continue to thicken and becomes silky and homogeneous.
Arrange the asparagus spears on individual plates and drizzle the sauce over the top.