Last Updated on February 18, 2022 by Share My Kitchen
We know that dishes similar to mish-mash exist in almost all Middle East & Mediterranean countries. Still, we include it in our Traditional Bulgarian collection, just because every Bulgarian knows what mish-mash is and because of its popularity in Bulgaria.
What's Bulgarian Style Mish-Mash?
The word mish-mash refers to a collection containing a variety of miscellaneous things, and this is exactly what it is: a simple and quick summer dish, containing many seasonal ingredients (such as tomatoes, sweet peppers, parsley, etc.), mixed and cooked in a matter of minutes. Our grandmothers use to prepare every few days during the summer, so for us it actually smells like summer.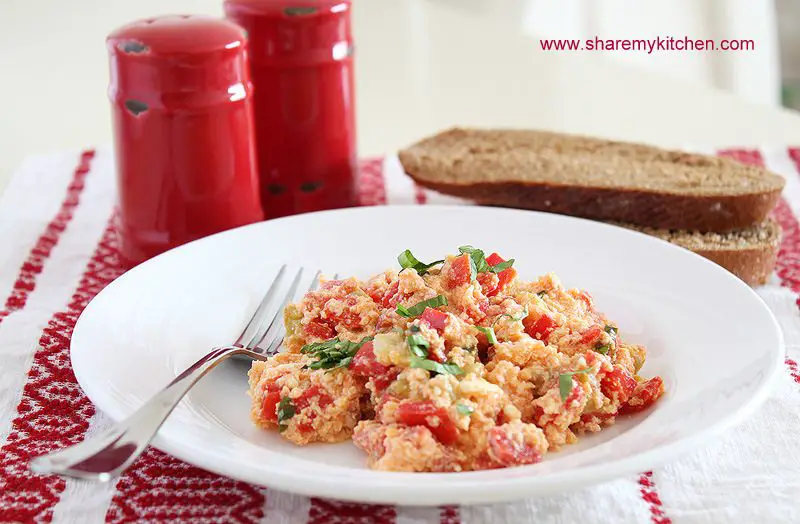 There is a winter version of this dish, using already roasted and peeled peppers, which probably every Bulgarian home has in the freezer.  Anyway, the original calls for fresh ones, and we definitely prefer it. Some of the recipes also include onions and even garlic that we usually omit, but it is just a matter of taste, so our advice will be to try both variations of this dish.
Easy Bulgarian Style Mish-Mash Recipe
Serves: 4
Prep time: 20 minutes
Ingredients:
2 tbsp vegetable oil
2 sweet red peppers
2 green peppers
2 middle-sized tomatoes
400g white brine cheese (or feta)
4 eggs small handful brunch fresh parsley
some salt
Optional:
1 small onion
2 cloves garlic
How To Make Mish-Mash Like A Bulgarian
Start by preparing your vegetables – if using fresh peppers you may want to peel them first, making the dish much easily digestible this way. Dice the peppers roughly, peel also the tomatoes and chop them finely.
In a big heavy-bottomed pan heat the vegetable oil over medium heat. Add first the chopped onions and garlic, if you decided to include them in the recipe, and cook for about 2 minutes, until the onions are soft, but not completely cooked. Add the peppers, give the mixture a nice stir, cover and cook for about 5-7 minutes or less in case you prefer the vegetables to be slightly crunchy.
Add the chopped tomatoes, stir and cook, until the tomatoes are cooked and the mixture is almost dry. At that point add the white cheese, diced or chopped in small pieces and stir. It will start to melt, so don't be late with the eggs. Pour them over the mixture and stir continuously, until they are done and the mixture is not too liquid. (But keep in mind it will get a bit more solid when slightly cooled). Add the finely chopped parsley leaves, give a nice stir once again and take off the heat.
Serve warm, with few slices of crusty homemade bread.
Share it now!