Last Updated on February 18, 2022 by Share My Kitchen
I recently learned there are many meatballs soup varieties – Mexican, Italian and even Indonesian. However, the one I am describing below – supa topcheta – is very popular in Bulgaria. It's a classic cooked at almost every Bulgarian home and a school canteen staple. Yes, it brings back vivid memories from my childhood (and I guess it has the same effect on many of my friends' too).
So without saying that meatballs soup is a Bulgarian invention, we decided to include it in our traditional Bulgarian recipes – it's that popular in Bulgaria.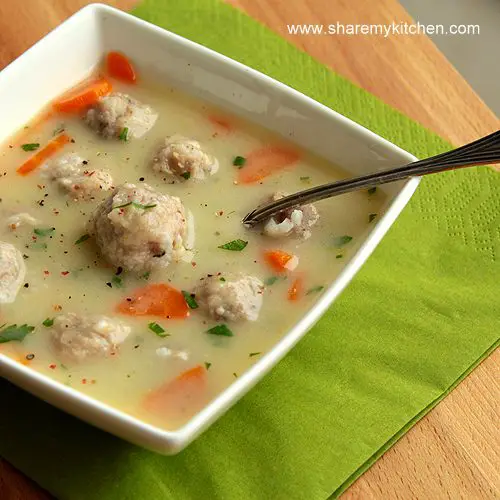 How To Make Traditional Bulgarian Supa Topcheta?
Serves: 4
Preparation time: 50 minutes
Ingredients:
For the meatballs: 150g ground meat (beef or mixed beef and pork) 50g onions, finely chopped 80g white rice (40g for the meatballs, the rest goes directly into the soup) 1 egg 50g all-purpose flour few leaves spearmint, chopped
Salt and freshly ground black pepper
For the soup: 3 carrots (around 100g), peeled and diced 50g celery roots, peeled and diced Juice of ¼ lemon 100ml yogurt 2 egg yolk 20ml olive oil
2 tbsp flat leaves parsley, chopped
Method:
First you need to prepare the meat balls. In a bowl mix together the ground meat, onions, spearmint, half of the rice, pinch of salt, some ground black pepper and the egg. Leave it aside for few minutes, so the mixture can absorb better the aromas.
Pinch some of the ground meat mixture and with both hands roll a small ball (bigger than a nutmeg, smaller than a walnut). If you prefer, you can use a teaspoon as a measure and as a tool for rolling. Roll the meatballs in flour and shake off any excess. Proceed this way with the rest of the meat.
Meantime in a big saucepan heat 1,5l of water till boiling. Add a pinch of salt and when wildly boiling begin to add the meatballs in batches. When all the meatballs are in the water, add the rest of the rice, carrots and celery. Reduce the heat and leave to simmer for 20-25 minutes, or till the carrots are tender and the rice is ready.
How To Thicken The Supa Topcheta?
When rice is cooked it's time to thicken the soup.  Beat the egg yolk in a bowl, add the yogurt and lemon juice, beat well again and then start adding in a little of the hot soup, with a thin stream and constant stirring. Finally, add the thickener into the soup and sprinkle over the chopped parsley.
Share it now!