Last Updated on February 18, 2022 by Share My Kitchen
I also wanted to use the occasion to bake my own cookies with lots of almonds (as Sergey loves them a lot). At the end I based my creations on a recipe I recently tried from Smitten Kitchen.
We found the original blondies a bit gooey and chewy but after modifying the recipe and the method, whoa . . . what a result! Crunchy and slightly chewy from the outside, but soft inside, with a deep almond banana flavor, and not too sweet.
I prepared a rather large batch of these almond-banana cookies for Valentine's morning, but I think they'll also be a good afternoon snack or even evening sweet.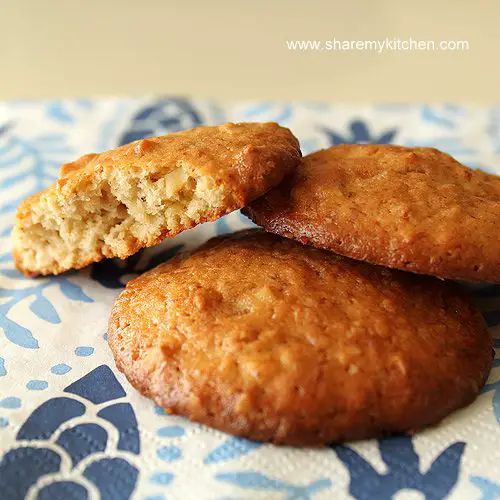 Best Almond Banana Cookies Recipe
Makes 36 cookies
Preparation and baking time: 40 minutes
Ingredients:
110g/8 tbsp butter melted
200g/1 cup brown sugar
1 egg
1/2 to ¾ cup mashed very ripe bananas*
1/2 tsp almond extract (or vanilla extract)
A splash of amaretto (I used Disaronno)**
200g/2 cups all-purpose flour
1 tsp baking powder
¼ tsp salt
100g/ 1 cup chopped almonds, lightly toasted
*That is 1 large or two small bananas. I used ½ cup, but the next time I bake these cookies I'll definitely increase the quantity – this way the dough will be a bit more spreadable.
**It was a perfect addition to my cookies, but if you're going to offer them to kids, it's better to skip over the liquor.
Method:
Preheat the oven to 180C/350F. Line two baking sheets with parchment paper.
In a large bowl mix melted butter and brown sugar.
Beat until smooth and then beat in the egg.
Add the mashed bananas, almond extract and a splash of Amaretto.
In a small bowl mix together flour, baking powder, and salt and add to the sugar mixture. Mix until just combined. Stir the chopped almonds into the mixture.
Using a tablespoon as a measure, start dropping equal amounts of the sticky dough onto the parchment-lined baking sheets. With the back of another (wet) spoon try to spread the dough a little bit. Don't worry if the shape is not perfectly round – the cookies will spread and flatten, just leave some space in between them (around 2 cm/1 inch).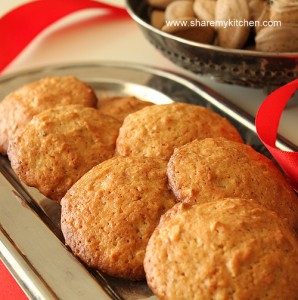 Bake Almond Cookies
Bake for 13-15 minutes, or until firm and golden brown. Depending on your oven, you may need to shift the two baking sheet in the middle of the process. Let them cool completely on a rack.
You can store these cookies in an air-tight container for few days, and if you're going to do so, make sure you separate the layers with waxed paper, to avoid sticking.