Last Updated on February 18, 2022 by Share My Kitchen
You can stuff mushrooms with many different ingredients like cheese, ham, spinach, bread-herb filling, and many more. These tasty stuffed mushrooms are always our favorite party appetizer, and here why: they are completely vegetarian (thus suitable for all diets), easy to prepare (so you can concentrate on other kitchen tasks) and because stuffed mushrooms tend to be offered by good restaurants (and not in the ready-made meals section of your local supermarket) your party menu will look a bit more special.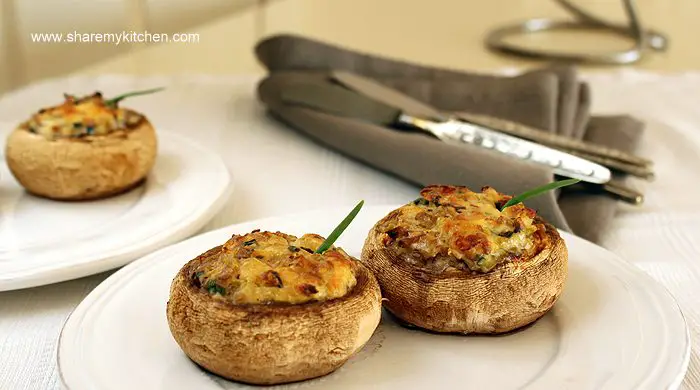 We actually decided to try this humble hors d'oeuvre because of a family member, who is a vegetarian and to be frank we didn't expect much from it.
But, as our experience showed, everybody likes them so much that these stuffed mushrooms are among the first things to finish at any party.
In a few words: simple, effortless, and totally addictive.
Stuffed Mushrooms With Vegetables And Cream Recipe
Makes: a starter for 8 persons
Preparation and baking time: 30-35 minutes
Ingredients:
8 (2 to 2 1/2 inches in diameter) white mushrooms
(1 lb) 4-5 spring onion stems
1 big potato 1 clove of garlic
200ml cream
30g (2 tbsp) butter
Salt
Freshly ground black pepper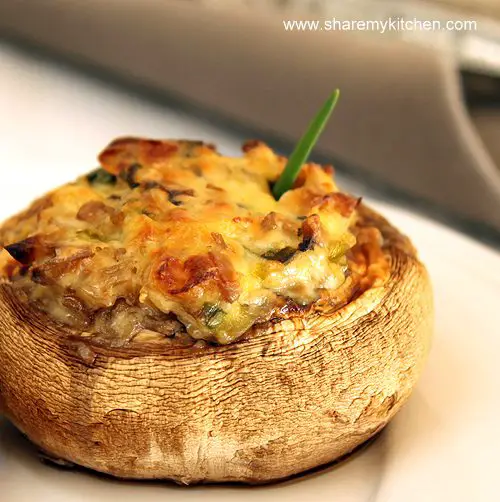 Method:
Preheat the oven to 180C/360F.
Rinse the mushrooms thoroughly under running tab water without submerging them, and pat dry immediately.
Carefully hollow the inside of the caps of the mushrooms, saving the stems.
Slightly salt the caps and put a small dice of butter in every cap (saving 1tbsp of it).
Place them in a baking dish and bake for 10 minutes.
Meantime chop finely the spring onions, garlic and mushroom stems.
Peel and shred the potato. In a frying pan over medium heat melt the rest of the butter and add the vegetables. Season with some salt and pepper.
Let them sweat for 10-15 minutes, stirring occasionally until the potatoes are almost cooked and all the vegetables are soft.
Stirring, add the cream, and leave for just one minute.
Remove the vegetable filling from heat and allow cooling for 5 minutes.
Take of the mushroom caps and cool them slightly too. When the vegetable mixture has cooled enough check the seasoning and carefully spoon into every mushroom cap.
Return the stuffed mushrooms in the oven for 10-15 more minutes, until the filling is golden.
Let the mushrooms cool slightly before serving.