Last Updated on February 18, 2022 by Share My Kitchen
When we talk about the bread we bake ourselves at home, we actually mean wholemeal bread by default. It's not that we don't like white bread but since we've been careful what we eat, we don't think it is healthy enough. Plus the only real difference we see is that homemade bread is fresher and hotter than the store-bought one.
Is Wholemeal Olive Oil Bread Recipe Healthy
So we are in constant search of interesting, tested (and working) recipes for wholemeal and wheatmeal breads.  And this recipe for double-proved bread is our favorite new find – a variation of a recipe found at The Mother Huddle. We made little changes to the original recipe, which itself was quite good, but we wanted a somewhat healthier everyday bread with a nice crust and fine, soft intern.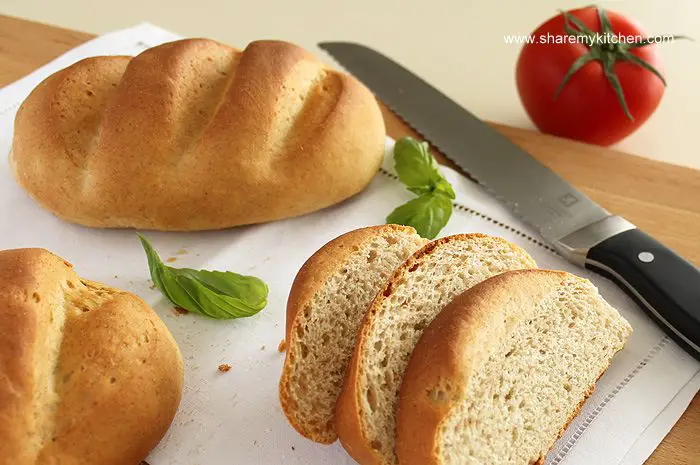 Is it Difficult Wholemeal Olive Oil Bread
These small breads are easy to prepare even without bread maker and mixer, and are entirely handmade, making them even more special.
How To Make Wholemeal Oil Bread
Makes 6 loaves around 20cm/8 inches long
Prep and baking time: 1,5 – 2 hours
Ingredients:
3½ cups (360g) all purpose flour 2 cups (260g) whole wheat flour 1 tsp salt ¼ cup (40g) sugar 1 ½ tbsp active dry yeast 1 cup (230ml) milk 3/4 cup (180ml) water
1/4 cup (60ml) olive oil
Method To Make Wholemeal Oil Bread
In a large bowl sift 1 cup whole wheat flour, sugar and yeast.
Mix milk and water and heat the mixture lightly, until slightly warm. Add the warm liquid to dry ingredients, stir and add olive oil. Mix for 2 minutes with a whisk or using a mixer on medium speed.
Sift over the bowl the remaining whole wheat flour and salt. Continue to add the remaining all-purpose flour, sifting it over the mixture one cup at a time. After a while you'll need to continue mixing the dough with a wooden spoon or using your fingers.
What's The Difference Between Making Wholemeal Bread vs White Bread
The wheatmeal dough is weaker than the usual white bread dough, as the bran particles break up the gluten bonds in the bread dough. So to prevent it from collapsing when it rises, this dough will need more kneading, in order to develop the glutens as much as it's possible (without using additives). So scrape the dough onto a lightly floured surface and knead it for around 5 minutes. Add some flour, if the dough is too sticky and continue kneading. Of course, if you prefer, let the mixer do the kneading.
How To Knead A Wholemeal Dough
After 5 (or more) minutes of kneading, when the dough is soft and elastic, form a ball and grease it lightly with olive oil. Place it in a bowl and let rise for 30 minutes, until it doubles in size.
When the dough is raised, pinch it to knock out the air. Transfer it on a lightly floured surface and knead again for few minutes. Add some sifted white flour, if needed.
Divide the dough in 6 balls and place them on a lightly greased baking sheet. Cover (I use two domes for the task) and let rise again, this time for 15 minutes. Meanwhile preheat the oven to 50 C/120F.
When the dough rises for second time, knead every ball just for about 30 seconds, greasing your hands with olive oil. Form every ball into an elongated cylindrical shape and arrange them over the baking sheet with a good distance in between (around 10cm/3 or 4 inches). With a sharp knife cut 3 or 4 shallow slits over every mini loaf. Put in the warm oven to rise for third time, for around 10 minutes. Increase the temperature to 180C/350F and bake for 15-20 minutes, until loafs have nice golden color.
Baking Wholemeal bread
The breads are ready, when tapping the bottom with a finger produces a hollow sound. If you're not sure the bread is well baked inside, decrease the temperature (to 120C/240F) and leave it in the oven for 5-10 more minutes. Cool on a rack.