Last Updated on February 18, 2022 by Share My Kitchen
Just recently we said in one of our posts that­­­­­­­­­­­­­­­­­­­­­­­­­­­­­­­­­­­­­­­­­­­­­­­­­­­­­­­­­­­­­­­­­­­­­­­­­­­­ there are no reasons to bake bread at home if it's going to be a white one. ­­­­­­­­­­­­­­­­­­­­­­­­­­­­We still argue that whole-wheat bread is better, or at least it's better for us and this is what we prefer to eat.
However, we give in to temptations such as white bread from time to time. And these fluffy and flavorful cuties are indeed a serious temptation.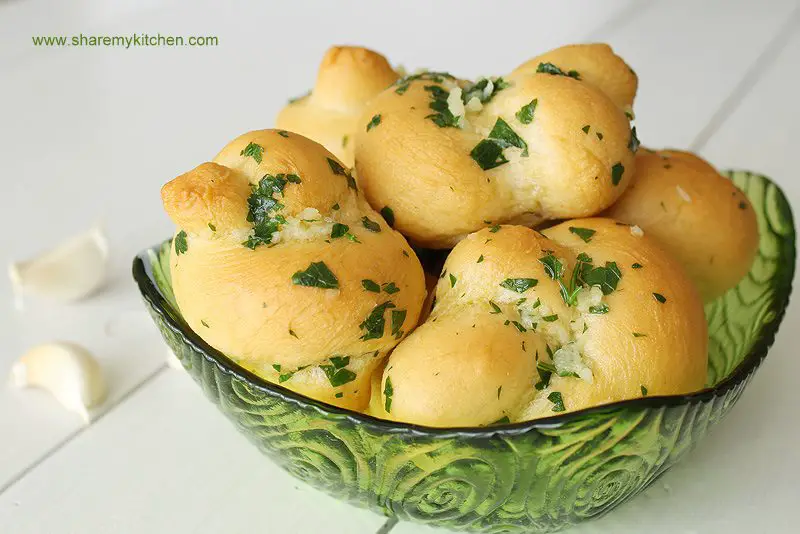 After seeing many different styles of garlic knots during the last few mounts it was clear we will sooner or later surrender to the allurement. So to try making them as good as possible from the first time, I chose a source we trust a lot – White on Rice Couple.
This recipe makes incredibly soft and light texture without need of kneading. In short, the garlic knots are simple, fast to make but there is also another practical reason that makes them attractive: there is very little to wash afterward.
Easy & Delicious Garlic Knots Recipe
Makes 36 garlic knotsPrep and baking time: 2 – 2 ½ hours in total
Ingredients:
For the dough: 1¾ cup (415ml)
lukewarm water
¼ cup (55g) olive oil
1 tsp (5g) sea salt
1 tbsp (15g) sugar
1½ tbsp active dry yeast
approx. 4½ cups (650 – 700g) all-purpose flour
For the gаrlic coating:
1/8 cup (30ml) olive oil
2 tbsp (30g) unsalted butter
4 cloves of garlic,
finely crushed
¼ cup finely chopped fresh parsley
sea salt to taste
extra olive oil and flour for the preparation itself
Instruction For Easy Garlic Knots
Combine water, salt, sugar and active dry yeast in a large bowl (a resealable container will be appropriate too). Mix to dissolve yeast, than add olive oil and mix well again.
Add sifted flour in few additions. Mix to incorporate it, cover, and set in a warm place to rise until it doubles in volume. It can take from an hour to 2 or 3 hours, depending on initial temperature of all the ingredients and the temperature of the place it's set.
You can chill the dough for few minutes, to make it easier to handle, but it is not a necessary step.
Prepare your knotting mise en place – a large wooden cutting board (generously oiled according to the source tips, but I prefer a good flour dusting, and it works well for me), a rolling pin, a pizza cutter (or something similar to slice dough in strips), a container of flour and some oil within easy reach. Line several sheet pans with parchment paper or silpats and place within easy reach.
How To Work The Dough For Easy Knots
Work the dough only with generously oiled hands – this way it won't stick to them. Divide the dough in three parts to make it easier to handle. Take the first third and flatten it onto the board. Spread it into an even rectangle using the oiled rolling pin, or with hands. Slice into 12 strips. Dust with flour and roll every strip back and forth to form an even rope. Tie into a loosen knot – it won't stick to itself if sprinkled with enough flour.
Arrange the knots over the baking pans, around 4 cm (1 ½ inches) apart. After each baking pan fills up, cover with dry sack towel (or whatever you use for the purpose). Place the pans in a warm, draft-free spot to rise.
How Long Should You Bake Garlic Knots
Preheat oven to 200°C /400° F. When knots have risen (probably after 20-30 minutes) bake for 12-15 minutes, or until golden. Switch position of baking pans halfway through baking.
While knots are baking, make garlic coating. This is how: slightly warm olive oil, butter and garlic in a small saucepan. If you prefer the garlic a bit milder, cook it for few minutes, until softened. Add chopped parsley and remove from heat.
After removing the knots from oven, until they are still warm, we brush with garlic coating. There is apparently quicker way to coat them (although it can create a real mess) , is to place the knots in a large bowl and toss them with the coating.