Last Updated on May 2, 2022 by Share My Kitchen
Not many things can beat a homemade soup on a cold winter day. And in Bulgaria, one of most popular soups during the winter is beef soup. Locally called Teleshko vareno, this is one of the easiest soups, yet it fully reflects the idea of slow food.
This Bulgarian beef soup recipe is made from shin but other cuts can be used such as brisket, chuck or neck. Simmering these cuts of meats for 3 to 4 hours tenderizes the meat and allows the vegetables to absorb the flavor of the beef.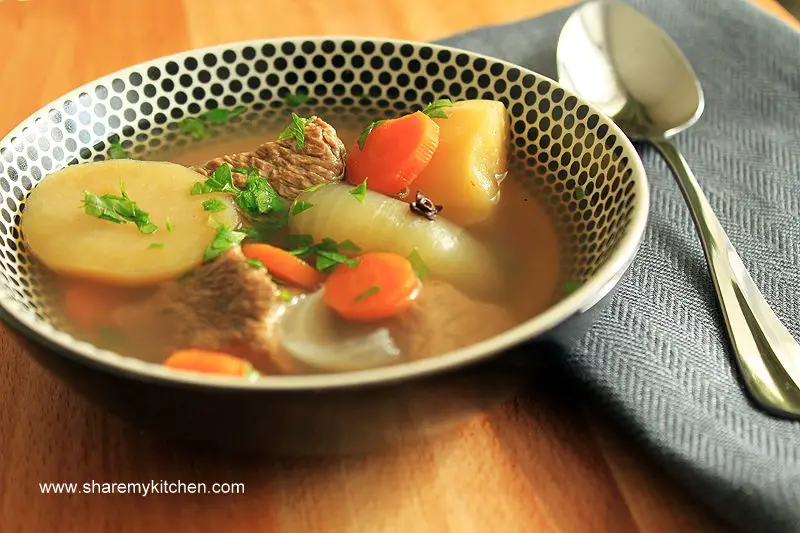 Bulgarian Beef Soup Recipe
Serves: 4
Preparation time: 4 hours
Ingredients:
400-500g beef shin, cut into large pieces
200g carrots, cut into large pieces 1 onion,
quartered 3-4 medium-sized potatoes, halved 1 stick of celery,
chopped 2 bay leaves
1 tsp salt
1/8 tsp pepper 2 cloves
Some fresh flat leave parsley, chopped
Method:
In frying pan, brown beef, drain and transfer to large saucepan with water. Add the beef, bay leaves and cloves, season with salt and pepper and cook for 3 hours on low heat. Add the carrots, celery and potatoes, and cook for another 50-60 minutes. Serve hot in bowls, sprinkled with some fresh parsley.