Last Updated on April 18, 2022 by Share My Kitchen
I have to admit when I first saw a recipe for salmorejo I was a bit sceptical – a bunch of basic ingredients with no actual cooking involved, no herbs or spices…I couldn't imagine how can this be tasty. But I'm happy I gave it a chance – since then I love to have a jug of salmorejo in the fridge. And I think until the end of September we'll be happy to have it almost every day. Of course, as with all simple recipes, to have a delicious result use the highest quality ingredients you can get your hands on.
What is Salmorejo
The salmorejo (pronounced sal-mo-re-cho) is a simple tomato cold soup, originating from Spanish southern town of Cordoba. It is (strangely and unfairly) less popular than the famous gazpacho. Compared to its close cousin this smooth straightforward dish is easier to mix up, and avoiding ingredients like raw onions and peppers makes it much easier to digest.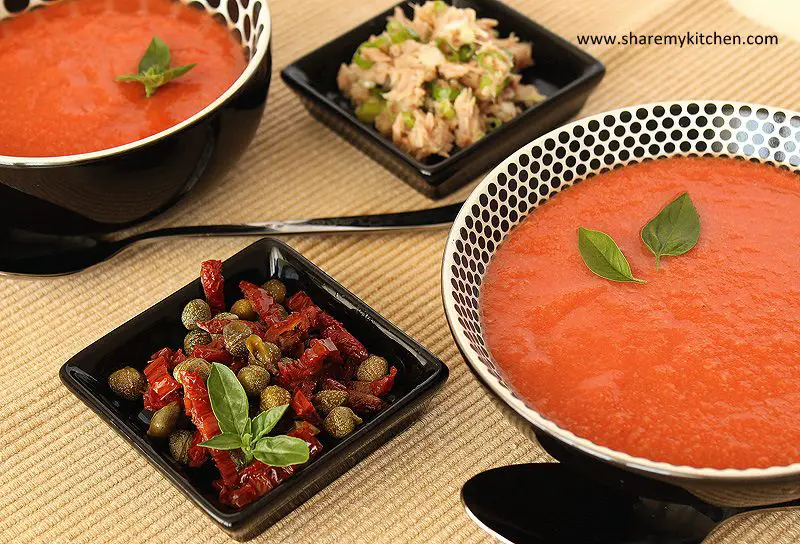 How to serve salmorejo?
It's traditionally served very cold, sometimes with ice cubes and usually topped with diced Jamon Serrano and diced or sliced hard-boiled eggs.
These additions are not obligatory – we actually found out we prefer to top our salmorejo with a bit of whole or chopped capers, chopped fresh basil or julienned sun-dried tomatoes, a mix of those or canned tuna flakes, mixed with finely sliced spring onions.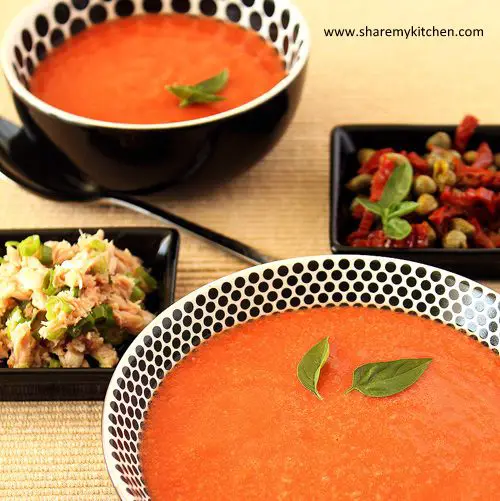 How To Make The Spanish Tomato Soup, Salmorejo
Serves: 4
Prep time: 10-15 minutes
Ingredients:
8-6 medium ripe tomatoes
2 cloves garlic
2-3 slices of old bread* 1 tsp white vinegar (or apple cider vinegar)
½ cup extra virgin olive oil
A pinch of salt
To finish:
A can of tuna in olive oil 2 stems of spring onion Or 3 tbsp of capers 4 slices sun-dried tomatoes
Some fresh basil
*You can probably use any type of white or whole wheat bread, with or without the crust. I prefer 2 thick slices of country-style bread.
Method:
Tear the bread into pieces and soak with some water for about 5-10 minutes.
Meanwhile, peel and chop the tomatoes. Peel the garlic, remove the middle part and crush it using a garlic press. Transfer tomatoes and garlic to an electric blender and puree the mix.  Add the olive oil, some salt to taste and the soaked bread, and whiz again until smooth.
Refrigerate the salmorejo for at least 2 hours before serving.
Serve in bowls topped with diced ham and hard-boiled eggs, tuna with sliced spring onions or a mix of chopped capers, sun-dried tomatoes and some fresh basil.