Last Updated on April 18, 2022 by Share My Kitchen
This simple creamy spring onion soup is our latest discovery – from the moment we tried it first (two weeks ago) we've already had it 3 times. It makes the perfect light lunch at the end of the winter.
We lately buy lots of spring onions maybe because the first sunny days remind us of the coming spring or perhaps because at this time of the year we naturally crave fresh vegetables, this spring onion intense soup feels just right.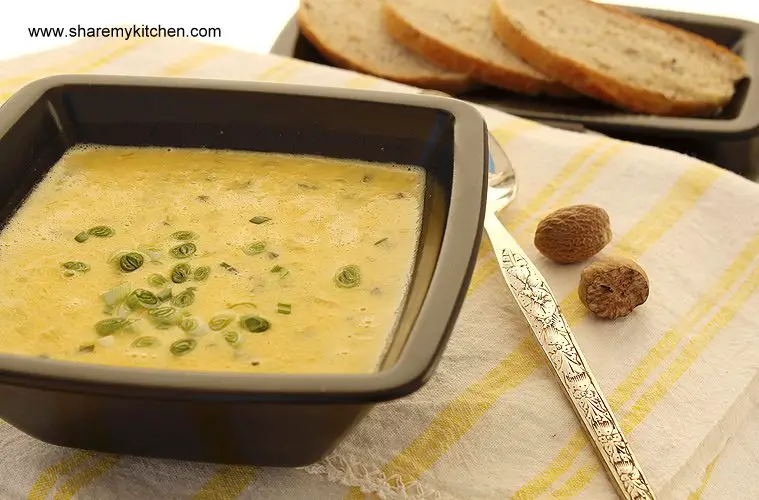 We found the recipe in one of our cookbooks – The Little Big Vegetarian Book (McRae Books Srl 2005). The butter, milk and egg yolks make it rich and nutritious, the spring onions give it its own character, while the cornmeal makes it creamy – we just love it!
Creamy Spring Onion Soup Recipe
Serves: 4
Preparation and cooking time: 40-45 minutes
Ingredients:
8-10 stems spring onion, finely chopped*
1 tbsp butter
750ml/3 cups vegetable stock,
hot 250ml/1 cup milk,
hot 2 ½ tbsp cornmeal (medium)
Salt to taste
¼ tsp freshly ground nutmeg
1 tbsp chopped flat-leave parsley
2 egg yolks
Optional: 4 tbsp grated Parmesan
*Reserve 1 tbsp of chopped spring onions for garnish, if you like the idea
Method:
In a heavy-based saucepan over medium to low heat melt the butter. Add the finely chopped onions and stir well to coat with butter. Let the onions sweat for 8-10 minutes, until soft, stirring occasionally.
When the spring onions are soft, add the cornmeal and stir well. Start adding slowly the stock, stirring continuously to avoid lumps. Add milk and flavour with salt and freshly grated nutmeg.
Leave the soup to simmer over low heat for 15-20 minutes, stirring rather often.
In a bowl whisk the egg yolks and add them to the soup, stirring vigorously. Add finely chopped parsley, and grated Parmesan, if you choose to use it.
Turn off the heat and leave the soup for 5 more minutes. Garnish with chopped spring onion and serve hot.