Last Updated on August 3, 2023 by Share My Kitchen
Fried zucchini is a very popular dish in Bulgaria and it can be a side dish as well as a starter. This dish is often prepared a few hours in advance and left in the fridge to cool.
What Are The Different Fried Zucchini Varieties
The variations of the dish differ depending on the region and tastes – some love them soft and completely done, some – not too cooked, leaving them a little crunchy. And some, like us, coat them in flour and fry in well-heated oil in order to give them a crispy shell on the outside, while cooked nicely and soft inside. But, honestly, the fried courgettes (zucchini) are nothing too special on their own. They only turn into an incredibly refreshing and satisfying summer dish once topped with the yogurt-dill sauce.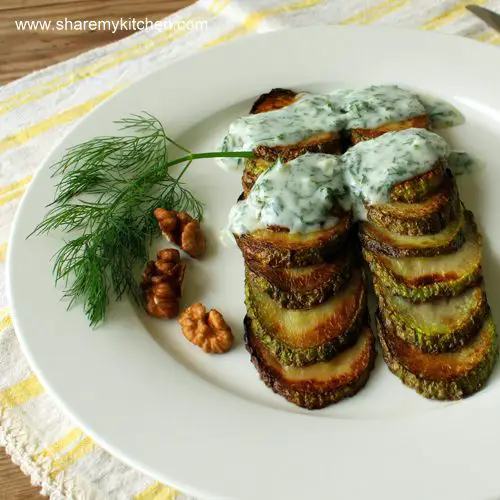 Fried zucchini with dill garlic yoghurt Recipe
Serves: 4
Preparation time: 25 minutes
Ingredients:
4 courgettes, medium size, thinly sliced on diagonal
500 ml Greek-style yoghurt
A bunch of fresh dill, chopped 2 cloves of garlic,
pressed 1 cup all-purpose flour
salt, to taste
Method:
Combine garlic and chopped dill with 1 teaspoon salt in small bowl. Mix in yogurt.
Pour little oil into heavy saucepan and heat to 180⁰C (350°F). Place the flour in medium bowl. Working in batches, pat dry the zucchini slices, add to flour in bowl and toss, separating slices to coat well. Fry in small batches until golden, about 2-3 minutes per side. Transfer to paper towels and pat dry.
Place yogurt in center of large platter and surround with zucchini or just pour it over like you see it on the picture. Serve hot or cold.