Last Updated on February 18, 2022 by Share My Kitchen
This salad takes a little bit more preparation than most other salads but the best part is that you can do all of it in advance and then just assemble.
It wasn't my first time making caramelized onions and was looking forward to seeing how they'll match with the rocket. I read a recipe somewhere whose main two ingredients were goat's cheese and candied walnuts. So I decided to add some candied nuts too, in my case walnuts and almonds.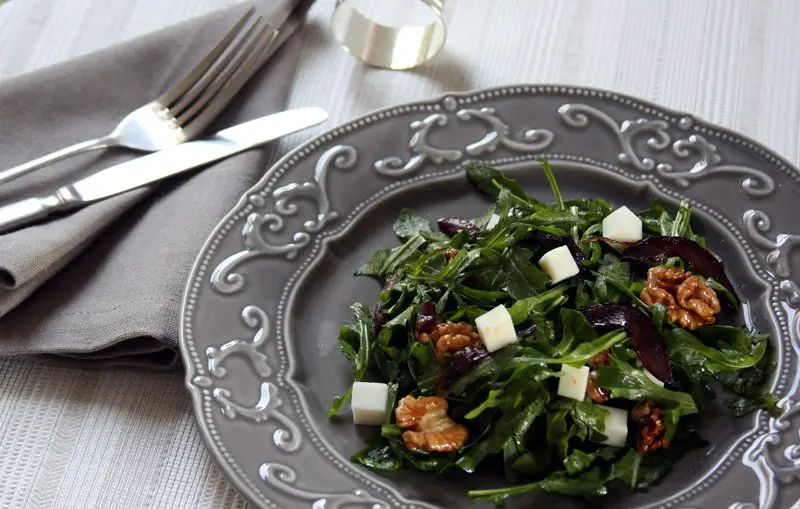 photo by: Antonya Kostova
Rocket Salad With Caramelized Onions Taste
Talking about the taste I knew that the sweetness of the onions and nuts will pair well with the tangy goat cheese but wasn't so sure about the peppery rocket salad. And it was a success, totally delicious combination.
Rocket Salad With Caramelized Onion And Cheese Recipe
Serves: 4
Preparation time: 20+20 minutes
Ingredients:
Caramelized onions:
2 tablespoons olive oil
300 g red onions, thinly sliced
few drops of balsamic reduction ( or 2 tablespoons of ordinary balsamic vinegar
Candied walnuts:
100 g brown sugar
50 ml water
2 tablespoons butter two pinches of salt
150 g walnut halves (quarters will do also) and almonds
Salad:
4 tablespoons extra-virgin olive oil
2 tablespoons balsamic vinegar
1 bunch (package) baby rocket salad
150 g hard goat cheese, cut into cubes (substitute with soft goat cheese if you like it more)
Method:
For caramelized onions:
Heat oil in heavy large frying pan over medium-high heat. Add onions and lower the heat. Sauté until brown, about 20 minutes. Remove from heat. Sprinkle with vinegar; stir to blend. Season with salt and pepper.
For candied nuts:
Combine the sugar, water, butter and salt in another frying pan. Bring to boil, while constantly stirring. When the mixture has thickened, add the nuts and stir well to make sure nuts are glazed properly. Transfer nuts to a sheet of foil and quickly separate them with a fork to avoid sticking together. And then just set aside and let them cool.
For salad:
Whisk oil and vinegar in a small bowl. Season dressing with salt and pepper.
Place the rocket salad in a large bowl. Add in onions, tossing to distribute evenly. Add nuts and goat cheese. Toss with enough dressing to coat lightly.