Last Updated on February 18, 2022 by Share My Kitchen
This simple snack has an absolutely sinful look, and the taste is even more sinful, for sure. But it's quite the contrary – these cute potato sticks are oven-baked, and there are no fats in the recipe (except for the cheese).
The only problem with these cuties is the ones you try them, you can't stop!  They are the ideal snacks to have in front of the TV, and definitely a crowd-pleaser.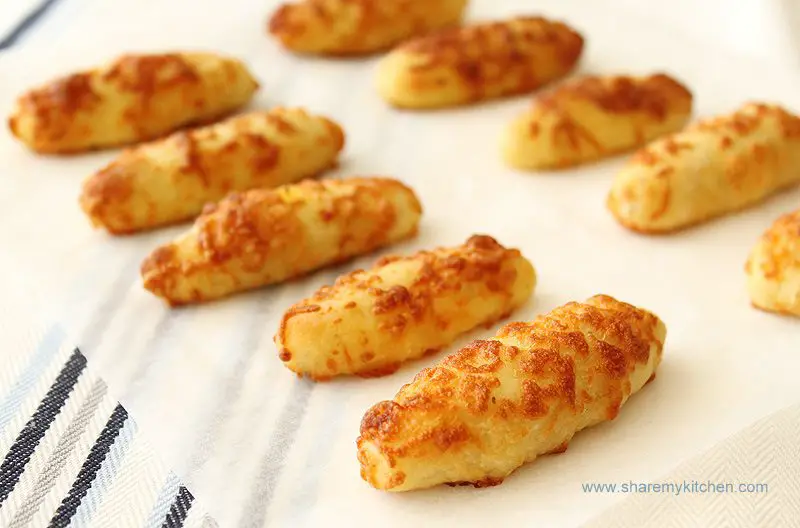 The bellow listed ingredients will produce quite a number of finger sized bites, but make no mistake – if you have more than 5 guests these cheese potato sticks will finish in a matter of minutes.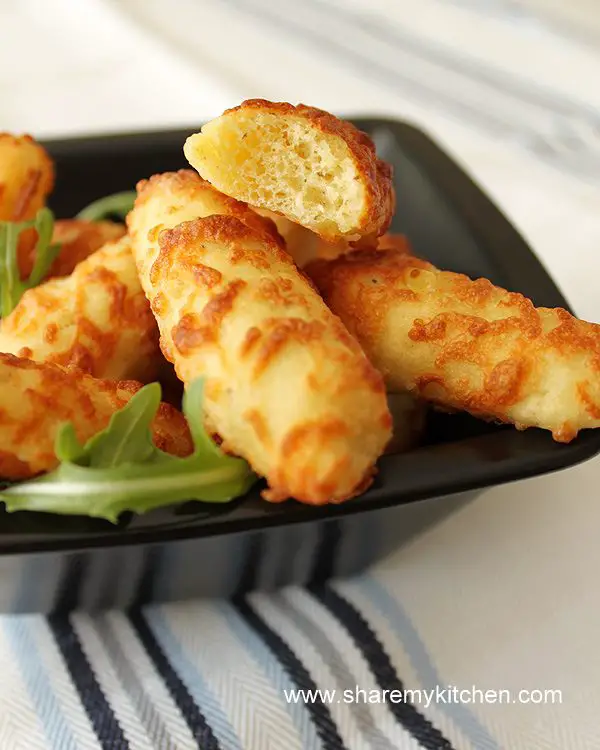 How To Make Cheesy Potato Sticks
Makes 80-90 finger size sticks
Preparation time: less than 2 hours in total
Ingredients:
225g boiled potatoes
225-250g durum wheat semolina (fine)
100ml lukewarm water
½ tsp salt
1 tsp grind fenugreek seeds (or methi)*
1 tsp active dry yeast
200g finely grated cheese like Leicester, Emmental or Fontina
some extra semolina for shaping the sticks
*We like this spice very much and find it perfect match for the potatoes, but you can easily substitute it for dry savory, cumin or any spice you like (just don't add too much of it).
Method:
In a bowl mash, the lightly cooled boiled potatoes using a potato masher.
Add the semolina, yeast, and grind fenugreek, followed by water and salt.
Mix well with a fork or use a food processor for a few minutes.
Depending on the potatoes (and their water content) you may need to add a bit more semolina in order to form the dough in a soft boll.
Cover the bowl and leave to rise for about an hour.
After an hour or so (depending on the room temperature), when the dough rises, transfer it over a lightly floured (with the semolina) surface and knead it for just a minute.
Oil your hands or dust them with some semolina from time to time as the dough is soft and quite sticky.
Form The Sticks
Form long thin ropes, 1cm (1/3″) in diameter, and cut them in 5cm (2″) long pieces. I have actually tried bigger sized sticks too, but I'm afraid they don't keep the nice form while baking, so I'll stick to the small size.
Roll every piece in the finely grated cheese and arrange on a baking tray lined with parchment paper.
Cover and let rise again for 25-30 minutes.
Bake The Cheesy Sticks
Preheat the oven to 200°C/400°F and when the cheesy sticks are raised, bake for 12-15 minutes, until golden.
Serve warm or at room temperature.
Recipe adopted from Dulcis in Furno.