Last Updated on February 18, 2022 by Share My Kitchen
The combination of watermelon and white (brine) cheese is one of those things that can't leave you indifferent. Adored by many and disliked by some, it's a traditional summer snack in many regions of Bulgaria.
Watermelon and white cheese – Dinya Sas Sirene
"Dinya sas sirene" (watermelon & cheese) is found in many shapes around the country – as a starter, with olives and white bread, or served plain – just slices of vibrant red watermelon along with some sirene cheese. Lately, however, the watermelon white cheese combination has been gaining popularity in many other counties, especially in hot summer salads.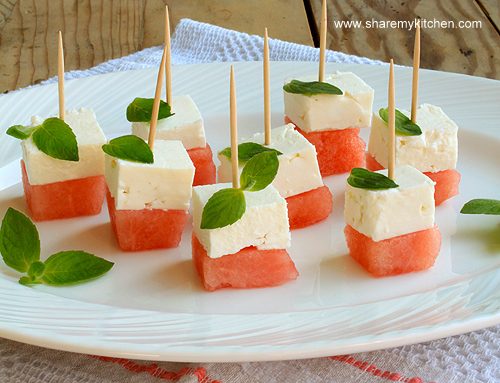 These refreshing, salty little mouthfuls, are our variation of the traditional Balkan dish. They are perfect for whetting the appetite before a meal on a hot summer afternoon or evening.
How To Make Watermelon and white cheese (Dinya Sas Sirene)
Serves: Makes 24 skewers
Preparation time: 10-15 minutes
Ingredients:
A small wedge of watermelon (about 450g/1lb),
chilled 200g (7oz) sirene cheese (feta),
chilled A little lime juice
Fresh mint leaves
Preparation:
Peel the watermelon and remove the black seeds. Cut the flesh into 24 bite-size chunks. Cut the cheese into 24 bite-size cubes.
Skewer a cube of cheese and a cube of watermelon on each 24 cocktail sticks. Squeeze a little lime juice and distribute the mint leaves over the skewers and serve.