Last Updated on February 18, 2022 by Share My Kitchen
This soup fully covers my understanding of good slow food – seasonal products, simple technique, all preserving the real taste and flavor. It also provides you with the perfect way to benefit from one of the most popular products – tomatoes, when they are in season. You can also freeze and keep it for many weeks, thus taking the summer taste with you for when the summer is long past.
It takes time to prepare, but believe me – it's worth it!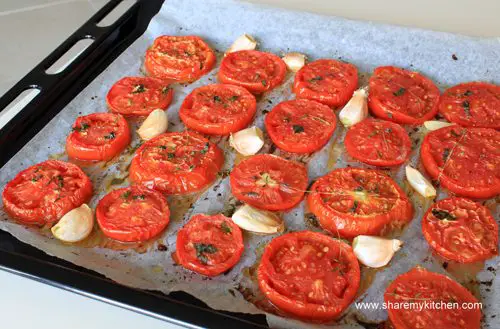 Roasted tomato soup
Preparation time: 50 minutes
Serves: 4
Ingredients:
1,5kg tomatoes
2 heads of garlic
4 tbsp olive oil
1 tsp sea salt
2 tsp fresh thyme
2 tsp fresh basil
150ml crème fraîche (optional)
Method:
Preheat the oven to 160⁰C (around 320⁰F).
Prepare and Bake The Tomatoes
Cut the tomatoes into half-inch-thick discs.
Arrange them over a baking sheet(s), covered with baking parchment.
The baking parchment not only saves you some rubbing after baking, but it also helps you easily transfer the tomato juice released during the process.
I don't remove the tomato seeds, but if there are any blemishes, cut them off before baking.
As for the peels, it's much easier to remove them after baking.
Cooking & Roasting
Do not peel the garlic, but cut each clove from the top, at an angle, so you can later easily squeeze the content, and put them between the tomatoes.
Drizzle over with olive oil, salt, and finely chopped herbs.
Adding the herbs before baking gives you a fantastic smell during the process, but a milder flavor at the end. Vice versa, if you add them later when you blend the ingredients, the soup itself will have stronger herb flavour.
Roast for 40 minutes.
Leave the tomatoes for a few minutes to cool, and simply tear the peels off.
Squeeze the roasted garlic cloves straight into a saucepan and transfer the peeled tomatoes together with the juice.
With a hand blender whizz the ingredients. Stir in the crème fraîche and if needed add more salt.