Last Updated on February 18, 2022 by Share My Kitchen
This is a salad to serve as a healthy appetizer before a meal, a quick lunch, or a late-night snack, whatever your soul desires. Like most salads, it's simple, super easy to make, and in no time you have a healthy, nutrient-filled addition to your daily diet.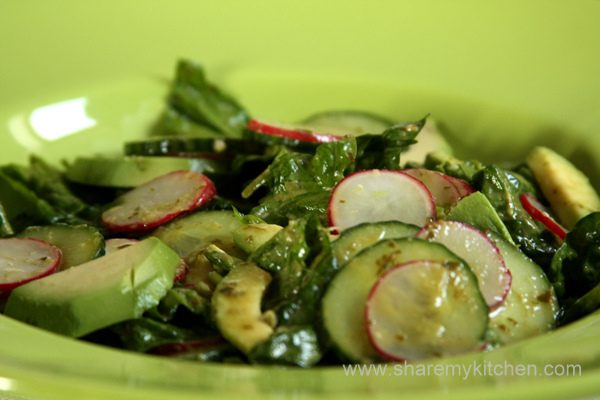 The lemon caper sauce is a simple but elegant sauce that too, is made in no time. You can however substitute it with any other dressing, such as parsley or vinaigrette – it's your choice.
Preparation time: 20 minutes
Serves: 4
Ingredients:
Salad:
1-pound baby spinach, washed, drained, and torn into bite size pieces
2 fresh cucumbers, sliced
A bunch of radishes, thinly sliced 1 whole ripe avocado, cut into slices
Lemon caper sauce:
2 teaspoon capers, drained and rinsed
4 tablespoons olive oil
1 small clove garlic, finely minced
2 tablespoons lemon juice
1 teaspoon lemon zest
Salt to taste
Method:
Lemon caper sauce:
If capers are large, chop. Combine all ingredients in a food processor and whizz until smooth.
Salad:
Wash baby spinach, radishes, and cucumbers and dry the well.
Cut up the cucumbers and radishes into thin slices.
Cut up the avocado into cubes or slices.
In a large salad bowl combine baby spinach, cucumbers, radishes, and avocados. Add the dressing and gently mix once again. Divide and plate the salad into 4 plates and you're done. It really couldn't be any easier than that!