Last Updated on March 1, 2022 by Share My Kitchen
I searched for a suitable recipe and that's how I stumbled upon these mini pear pies – and they seemed to be just what I wanted. They can be easily prepared even if you're a beginner in the kitchen. They go very well with a glass of white wine, and are as delicious warm, as cooled, making them perfect even for your picnic basket or lunch box.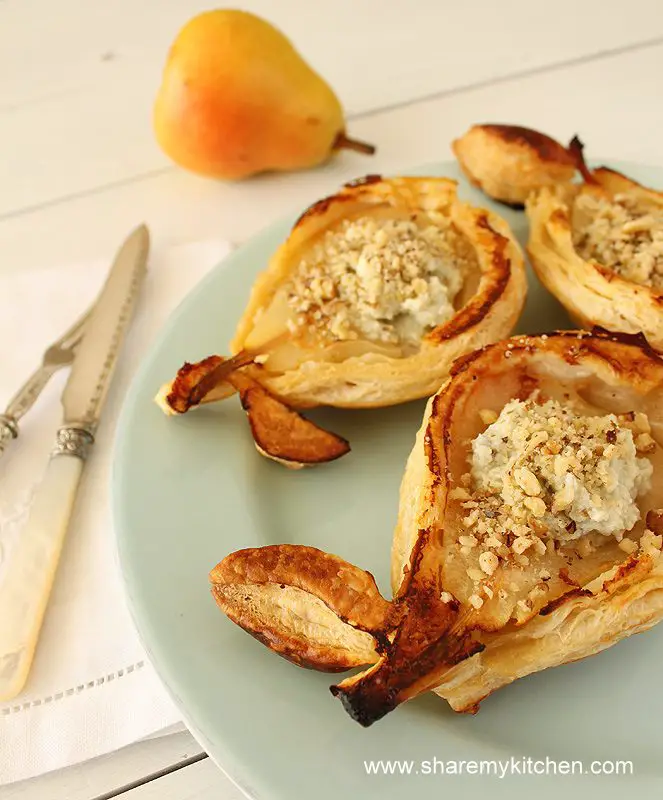 How To Make Easy Homemade Mini Pear Pies
Serves: 3 (for dinner), 6 (for starter)
Preparation and baking time: 30-35 minutes
Ingredients For The Pies:
For the pies:
3 medium-sized, firm pears half a lemon, juice only
200g ready-made puff pastry, thawed
2-3 tbsp milk
For the filling:
150-200g Fontina, finely grated
* 80-100g blue cheese
1 tbsp brandy
50g walnuts, crushed
*If you can't find Fontina where you live (or you don't like it) substitute for any semi-soft, rich and buttery cheese, like Emmental or Gruyere.
Method:
Peel the pears, cut them in halves and remove the seeds (leaving the stem). Scrape of the interior using a teaspoon, in order to form a wider notch to fill later. Save the carved pulp. Brush the pears with lemon juice from inside and outside.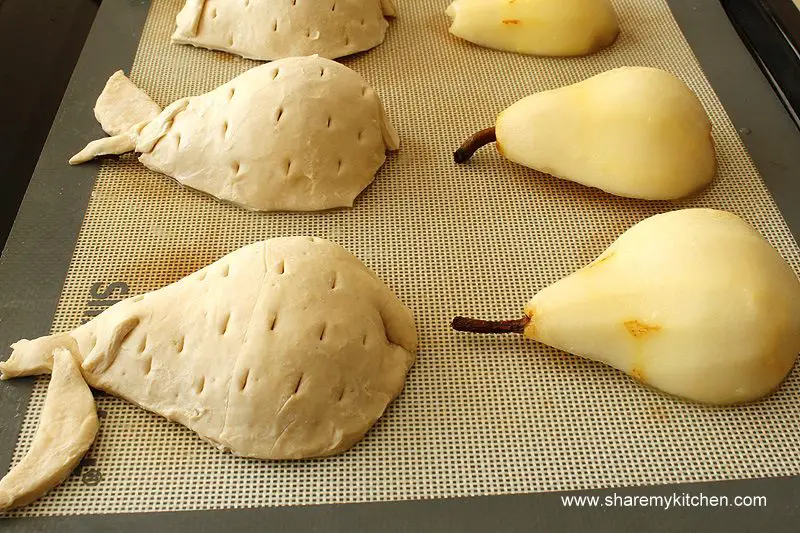 Line a baking pan with parchment paper or Silpat and arrange the pear halves, cavities facing down.
From the well-thawed puff pastry cut 6 rectangles, just a bit larger than the pears. Cover every pear with a piece of pastry and using a sharp knife cut the excess, leaving a well-covered fruit. Well, this may sound a bit tricky, but it is easier to make, than to describe.  Pierce here and there with a sharp knife and brush with milk.
From the puff pastry trimmings cut leaves and "clue" them with the milk.
How Long Should You Bake The Mini Pear Pies
Bake in preheated oven (200°С/400°F) for 15-20 minutes or until golden. Take of the oven and leave to cool in the pan for few minutes.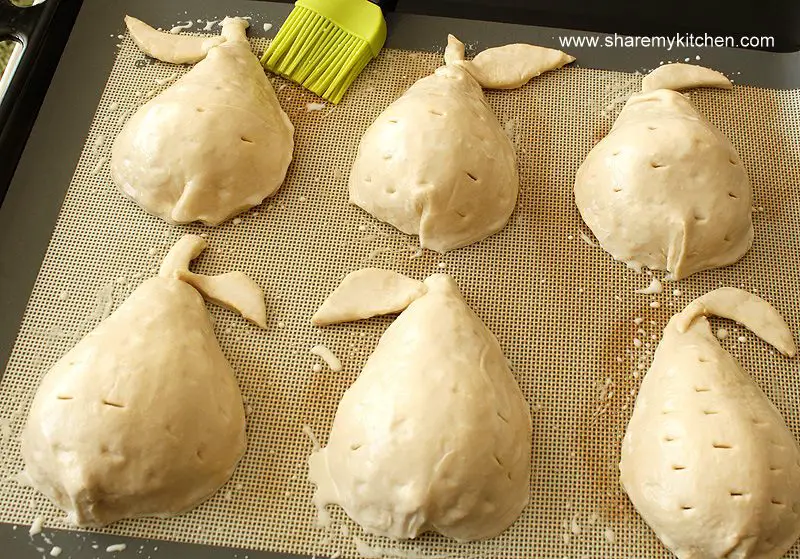 While the pies are baking prepare the filling – mix the finely grated cheeses with the brandy and the pureed pear pulp. Add half of the walnuts and stir until well combined. Leave aside.
Serving The Mini Pies
When the pies are slightly cooled, remove from the baking pan (you may need to use tongs) and arrange over large serving dish. Fill the cavity with the filling, sprinkle with the rest of the walnuts and serve.