Last Updated on March 16, 2022 by Share My Kitchen
Due to its simplicity and deliciousness, it is probably the single most popular and common dish in Bulgarian cuisine. The Bob Chorba (or Bean soup), has been served for centuries as the main food, especially in rural regions.
Just like all Bulgarian soups, this one is a number one go-to recipe.
Why is Bulgarian Bean Soup (Bob Chorba) Popular
The popularity of the bean soup is due to the many varieties of beans available in Bulgaria, as well as the nutritional value of the dish, which is eaten as a main course in the common case.
Pot to use for Bulgarian bean soup (Bob Chorba)
Here we try to stick to the original recipe of Bob Chorba, but there can be dozens of variations. It's cooked in a large earthenware pot, but if you don't have one, that should not put you off, just use an ordinary large saucepan.
Bulgarian Bean Soup, Bob Chorba Recipe
Preparation and cooking time: 2 hours
Serves: 6
Ingredients:
200 g beans 1.5 litres water
2 carrots
1-2 bell peppers,
sliced 2 tomatoes,
grated or pureed 2 onions, finely chopped
1 chili pepper (optional)
4-5 sprigs of fresh mint (use dried if you don't have fresh)
2 tbsp oil
1 tsp paprika
salt to taste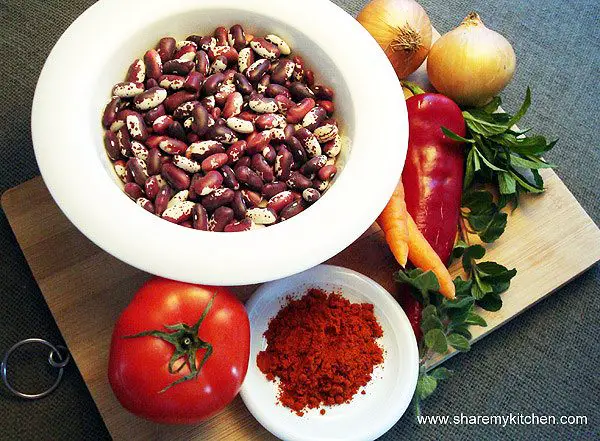 Prepare the bean soup:
Soak the beans in the water overnight. Next morning drain off the water, add the same amount and bring to boil. If you don't want to wait one day to get this done, you can simply boil the beans for an hour, then discard the water, add water again and bring to a boil again.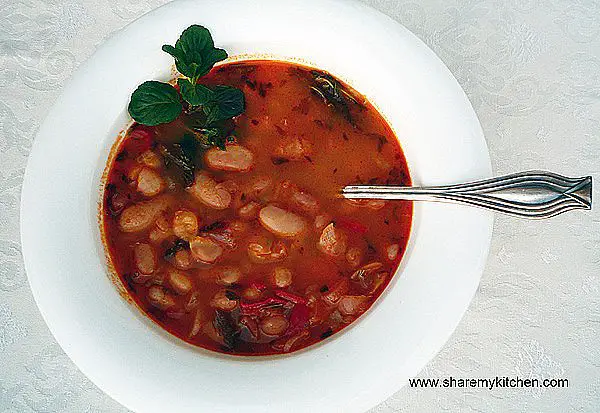 Simmer gently for about an hour or until the beans soften. In an earthenware pot sauté onion and carrot with oil for 5-10 min.
Add the peppers and paprika and cook for 1 more min, then add the beans and water.
Add the tomatoes and mint sprigs to the soup and season with salt. Leave the soup to simmer on a low heat for about 20 minutes.