Last Updated on March 1, 2022 by Share My Kitchen
To have something quick and easy to prepare, also as healthy as possible, we thought about sweet potatoes. Because even fried they are healthier than the ordinary potato. Today they are offered in many fancy restaurants as a side dish, and many parents, whose children demand fries for nearly every meal, manage to do the trick with them.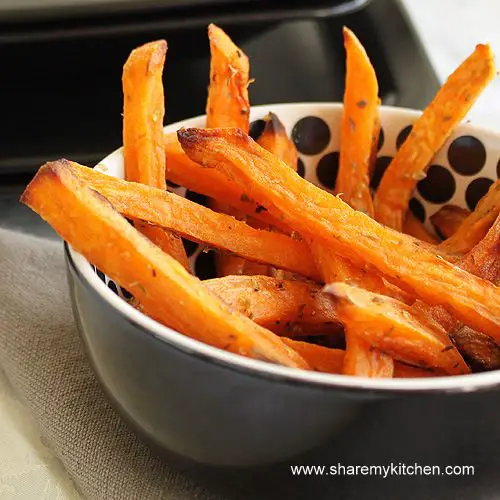 Baked Sweet Potato Wedges As A Healthy Alternatives
These baked sweet potato wedges are a tasty alternative to regular fried ones, packed with daily dose of vitamin A and a good portion of antioxidants, anti-inflammatory nutrients, and blood sugar-regulating nutrients. On top of these I promise your kinds will never guess they are not actually fried.
The sweet potato wedges are crispy on the outside, and soft and creamy inside. They are a good side dish for meat or fish, and make a satisfying and flavorful snack.
Favorite Time To Eat Sweet Potato Wedges
After the end of Christmas holiday season we definitely crave some fresher and lighter food. Generally speaking, it's a craving that shouldn't be difficult to satisfy, you'll say. But the thing is that in Bulgaria the first few days of January are still celebration days – and these are name days for some of the most popular names – Yordan and Ivan. This means lengthy and heavy dinners with family or friends, again.
Sweet Potato Wedges Recipe
Serves: 4
Preparation and baking time: 30-35 minutes
Ingredients:
4 sweet potatoes, peeled and sliced lengthwise into wedges*
6 tbsp olive oil
2 tbsp dry oregano
½ tsp sea salt
¼ tsp freshly ground black pepper
*As the flesh of sweet potatoes will darken upon contact with the air, you should cook them immediately after peeling and cutting them, or keep them in a bowl covered completely with water until you are ready to cook them.
Method:
Preheat the oven to 200C/400F/Gas 6. Line a baking tray with baking parchment.
In a large bowl, mix olive oil, oregano, salt and freshly ground black pepper. Add sweet potato, and toss well to coat. Place on the prepared baking tray.
Roast in the oven for 10 minutes, until lightly browned. Turn once, using large tongues, to expose the bottom side, and bake for 10 more minutes.
Serve in a warm bowl.