Last Updated on February 18, 2022 by Share My Kitchen
Pumpkin is one of those products that could be used during most of autumn and winter because it last for many months. Also, chances are that the pumpkin you buy from your market is locally produced and the price you pay for it is modest compared to the other fruits and vegetables.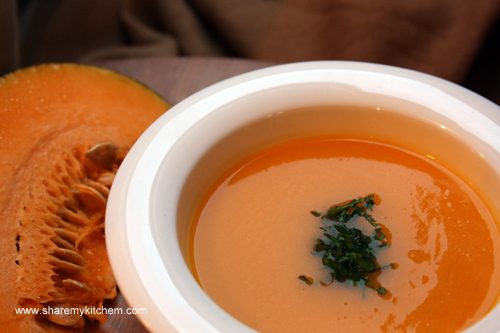 Photo by: Antonya Kostova
Is Pumpkin Soup Healthy?
More, its structure and natural resistance to parasites and diseases, means that the plant requires the least or even no treatment with agricultural chemicals, making the pumpkin one of the most organic products you can get.
Pumpkin's nutritional qualities are also remarkable. It's rich in fibers, vitamins, and minerals.
So this recipe will show you how to preserve most of these valuable ingredients while making a healthy soup that's delicious and quick to make.
Creamy Pumpkin Soup Recipe
Serves: 4
Preparation time: 25 minutes
Ingredients:
1/4 pumpkin (600-700g)
2 tablespoons butter (could be substituted with olive oil)
1 large onion, finely chopped
600 ml vegetable stock
3-4 bay leaves
Salt and pepper
Celery leaves, chopped (optional)
Method:
Wash the pumpkin and then cut the top off to form a lid.
Remove the pulp from inside the pumpkin lid.
Cut the wedge into cubes.
Put the pumpkin cubes and the bay leaf in some salted water.
Bring to the boil and then simmer, partially covered, for about 20 minutes or until tender.
Chop the onion, put it in a large saucepan and add some of the stock from the boiled pumpkin – do not add any oil or butter.
Cook gently until transparent and tender.
Mix the boiled pumpkin cubes, onion, and butter (olive oil) and blend to a creamy consistency. Halfway through add the salt and pepper to taste.
Ladle soup into individual serving bowls and garnish with the chopped celery leaves.