Last Updated on August 3, 2023 by Share My Kitchen
I saw this recipe in a blog called themilkmanswife.wordpress.com, and I couldn't stop thinking of them. In spite of getting more experienced in baking, I have to admit, I still have moments of pure fear, when it comes to measuring ingredients by cups (as was in this recipe).
But Erin (aka – the milkman's wife) insists that the recipe is easy enough even if you're nervous about yeast. And so I gave it a go. Actually, a few times. I now can confirm that indeed, the recipe is easy, although the preparation takes time.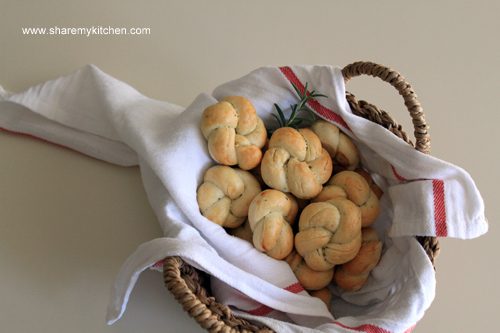 However, results won't disappoint you. These bread rolls are so irresistible, rich and flavorful, that you can eat them just on their own.
Enough praises, let's get them rolling. Below is the recipe, measured in grams, with small adjustments, based on our preferences.
Easy Homemade Rosemary Bread Rolls Recipe
Serves: makes 16 medium-sized bread rolls
Preparation & baking time: 45 minutes + 1 and half hour for rising
Ingredients:
400gr all-purpose flour + some additional for the surface
250ml milk ( I used skimmed milk)
7gr active dry yeast
80gr butter
1 egg, beaten
2 tbsp sugar
3/4 teaspoon salt
2 tbsp fresh rosemary, finely chopped
Method:
In a small saucepan warm (just to 50 C ͦ ) milk, butter, salt and rosemary, until the butter is almost melted.
Remove from heat, add the egg and the sugar, and whisk.
In a big bowl sift together half of the flour and yeast.
Add the milk mix into the bowl and beat with a mixer for a few minutes.
Then continue adding the rest of the flour, still using a mixer until the mixer can handle it.
Continue mixing with a wooden spoon until you incorporate all the flour into the dough.
Prepare The Dough
Take the dough out and put it onto a lightly floured surface and work it, using the extra flour, until it becomes smooth and elastic.
If it is too sticky, add some more flour and continue to work it. When the dough is ready, form it into a ball and oil it with an oil of your choice. Put the dough in a big bowl, cover with clink foil and put in warm place to rise.
I usually put mine in the oven on 70 C ͦ (around 160F) and it rises for about 45 minutes or so.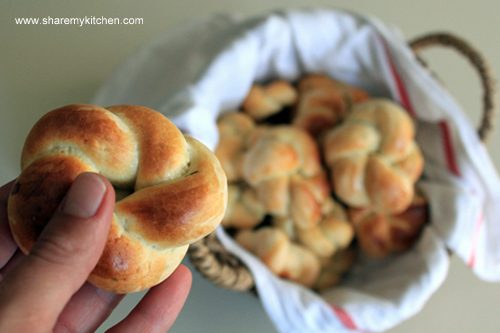 When the dough doubles in size divide it into 16 pieces or as many as you want.  The dough will lose some volume at that point but don't worry, there will be a second rise.
On a lightly floured surface, roll each piece into a 30 centimeters (12 inches) long rope. At this point, it's easier to show it than to explain it. But let's try: Tie each rope into a loose knot, leaving two long ends. Place the top end of the "rope" under the knot and then put the bottom end of the "rope" over the knot in the centre.
Bake Rosemary Bread Rolls
Arrange the rolls at least 5 centimetres apart on baking sheet (I needed two). Cover with clink foil and put them again in the oven on 70 C ͦ. Let them rise for another 45 minutes. Remove the clink foil and bake on 190 C ͦ (375F) for 15-20 minutes.
For glossier crust brush with milk, beaten egg yolk or butter before baking. Although I prefer to brush the rolls when ready and still hot with some extra virgin olive oil.