Last Updated on May 2, 2022 by Share My Kitchen
Cauliflower puree is something so easy and simple that it almost doesn't merit being called a recipe. It needs just a few simple ingredients you surely always have handy and in 20 minutes you can offer your family and guests a surprisingly creamy and satisfying side dish to accompany any meat or fish. Oh, and it is lighter and healthier compared to the majority of the popular side dishes.
If you like cauliflower, make sure you also try our mustard cauliflower side dish recipe.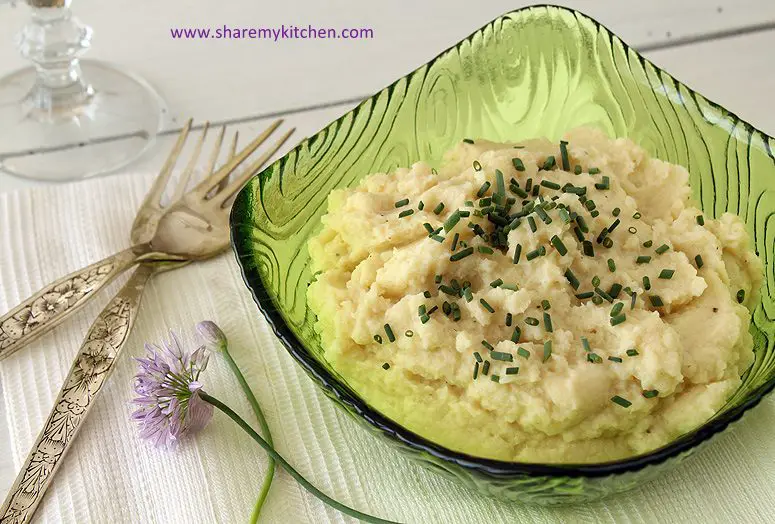 Cauliflower Puree with Fresh Chives
Serves: 4
Preparation time: 10 minutes
Cooking time: 15-20 minutes
Ingredients For Cauliflower Puree:
1 large head cauliflower
50g butter
2 cloves of garlic
1 small onion
2 tbsp  mustard
200-250ml milk freshly ground black pepper salt to taste
small bunch fresh chives, finely chopped
Method:
Rinse, core, and cut in small florets the cauliflower. Chop the onion and garlic.
In a heavy saucepan heat the butter over medium heat. Add the cauliflower and stirring frequently cook to sweat for 5 minutes. Season with salt and freshly ground pepper.
Add the chopped onion and garlic, stir and cover with the milk. Simmer until the cauliflower is fork tender –  that is for about 10 minutes.
When ready, using a slotted spoon transfer the cauliflower directly in a food processor. Add mustard and whizz until creamed, adding some of the milk to correct the consistency if necessary. Adjust the seasoning and transfer to a serving bowl. Finish with chopped chives.