Last Updated on November 2, 2022 by Share My Kitchen
Nothing screams more Mexican than hot and fresh enchiladas. It has a superb balance of meat, veggies, beans, and cheese wrapped in a soft tortilla. But what really gives this dish its signature taste is – the sauce! It has the perfect blend of chiles, tomatoes, and other spices giving the sauce a distinct flavor and kick on the palate.
Yeah, sure! Nothing can be as nostalgic as a homemade enchilada sauce. Unfortunately, not all of us have the luxury of time and even the skills to whip it from scratch. Fret not, my dear! Pre-mixed canned enchilada sauces are already available right off the shelves.
But, as we all know, each brand has its unique take on this sauce's recipe. Thus, they may taste differently from one another. And so, we took the liberty to test them all out for you and reviewed which of these brands gave the most authentic taste and feel of a traditional enchilada.
Best Canned Enchilada Sauce Reviews
LA VICTORIA TRADITIONAL RED ENCHILADA SAUCE MILD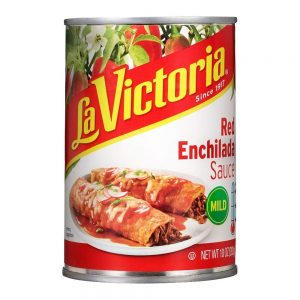 La Victoria is one of the most established food brands in the industry. This company has over 100 years of experience delivering authentic Mexican food products. Thus, you can rest assured you get only high-quality enchilada sauces.
This product is made from a recipe with only a minimal list of ingredients. It aims to produce a pure and simple taste that will satisfy any palate. Although labeled as mild, it still has that full-bodied flavor of red chilies, tomatoes, and spices.
We also detect some hint of smokiness with a slightly bitter aftertaste. It is not odd but instead adds an exciting taste. With less complexity, this sauce is versatile enough to be used on other Mexican-inspired dishes.
The sauce leans toward thinner liquid consistency. Thus, making it very easy to spread into your dish. It is primarily an advantage for those who wish to maximize the quantity and flavor of the sauce.
The La Victoria mild enchilada sauce is gluten-free and kosher certified. It also does not contain most of the major allergens. That includes milk, eggs, fish, shellfish, tree nuts, peanuts, and wheat.
Top Ingredients List:
Red Chile puree, dehydrated red Chile pepper, modified corn starch, soybean oil, distilled vinegar, garlic puree, and spices
LAS PALMAS GREEN ENCHILADA SAUCE MILD
This enchilada sauce from Las Palmas is the perfect base sauce for most Mexican staples. Aside from enchiladas, you can also use this versatile sauce for tacos and burritos. This canned sauce is also Kosher certified.
The green enchilada sauce is formulated to have a mild level of heat. It uses jalapeno peppers to give the mixture spiciness without overpowering the base flavor. Hence, the Las Palmas sauce is suitable for all ages.
Same with red enchilada sauce, the green variety also has a mild sweetness too. Although, the smokiness is more subtle. It also has a fresher green taste than the red sauce.
The consistency of the Las Palmas enchilada sauce is more watery. Hence, it is easier for the sauce to penetrate and allow the meat to soak all the goodness. In the end, this gives you a flavor-rich dish.
Unlike other canned enchilada sauces, we liked that the Las Palmas products do not have a weird metallic taste. This positive point gives your sauce a more homemade-feel and less commercial taste.
Top Ingredients List:
Water, green Chile pepper, modified corn starch, soybean oil, salt, sugar, and jalapeno pepper.
OLD EL PASO RED ENCHILADA SAUCE MEDIUM
The El Paso red enchilada sauce in medium heat has the perfect balance of savoriness with just the right amount of kick. It is not too bland. But, the level of spiciness is not too overwhelming on the palate either.
The sauce blend is so versatile that it is not only suitable for making enchiladas. They also add bold flavor to salads, casseroles, soups, and other Mexican-inspired dishes like tacos, tamales, and huevos rancheros. This flexibility makes this Old El Paso red enchilada sauce a staple ingredient in most kitchens.
A 1.22-ounce can of this sauce approximately makes up to 5 pieces of 6-inch enchiladas. Not much, but good enough to serve one to two persons.
The top ingredient on the list is water, so you can expect the consistency to be very liquidly. This red enchilada sauce has fewer calories and sodium content per serving compared to other brands. We also like that it claims to have 0% total fat. Plus, it is gluten-free too.
Top Ingredients List:
Water, tomato puree, modified corn starch, sugar, salt, chili pepper, and soybean oil.
HATCH GREEN CHILE ENCHILADA SAUCE MEDIUM
This green enchilada sauce from Hatch offers an awesome combination of freshness and spiciness. The flavor of the sauce is mainly derived from the flame-roasted green chiles. Moreover, the dried green bell peppers and jalapenos amplify the heat a notch higher. This mixture is what gives the sauce the unique profile that stands out among other commercially prepared enchilada sauces.
Unlike other canned products, the hatch sauce comes in a thicker consistency. Thus, giving you a richer and bolder flavor in every can. If you prefer something more liquidy, you can easily thin it out with water or broth. Doing so makes this green enchilada sauce easier to blend with any meat, cheeses, pasta, egg, tofu, and more.
We are also thrilled that this green enchilada sauce is certified gluten-free, verified non-GMO, and OU kosher. Aside from that, it is vegan and vegetarian-friendly too. The sauce may contain common allergens like wheat and soy. But, it is MSG-free and has net carbs of less than grams per serving.
Top Ingredients List:
Water, green Chile pepper, corn starch, canola oil, yeast, dried green bell peppers, and jalapeno peppers.
LAS PALMAS GREEN ENCHILADA SAUCE HOT
If you want to take the spiciness all the way, then this hot green enchilada sauce from Las Palmas is the best choice for your dishes. It is made with green chile and jalapeno peppers as base ingredients for the blend. You will surely get that heat without losing the rich savory flavor of the sauce.
Las Palmas is well-known for producing traditional Mexican food products. And this green enchilada sauce is no exemption. It promises to deliver authentic flavor that closely resembles the homemade versions. The sauce comes with a distinct zesty taste that complements the heat so well.
You can also use this sauce to add a bold green chile flavor to any Mexican or Spanish dishes. It has a liquid consistency that mixes very well with different types of cooking. From dips to pasta sauces, casseroles, soups, and more.
This hot green enchilada sauce is kosher certified. We love that it is cholesterol-free. However, it contains a tad bit higher sodium level. The difference is not too big compared to other products. But still, something to bear in mind when preparing a healthy meal.
Top Ingredients List:
Water, green Chile peppers, modified corn starch, soybean oil, salt, sugar, and jalapeno pepper
What can I add to canned enchilada sauce to make it better?
Each brand has its own recipes for canned enchilada sauces. Hence, it is pretty expected for these products to differ in taste, aroma, texture, consistency, and heat levels. You are always welcome to tweak the mixture to make these commercially prepared sauces suit your palate best. A dash of spice or something else can work wonders in elevating a simple canned sauce and making it taste almost like a homemade recipe. Here are some of the ways and ingredients commonly used to make enchilada sauces better.
Add Sweetener 
Most of the time, consumers might find the canned enchilada sauce to have a bitter aftertaste. If this is the case, you can try adding either of the following sweeteners – honey, sugar, or agave syrup. You can start by adding half a teaspoon first, then more until the bitterness has lessened.
Add more ingredients (Peppers)
To adjust the level of spiciness of your sauce, you can add dried red or green chile peppers to intensify the heat.
Add Citrus Juice
On the reverse end, you can neutralize the sauce's spiciness by adding an acidic element like citrus juice from lemon or lime.
Add Dairy
Alternatively, you can also mix in dairy like milk, yogurt, and butter. Make sure to add a teaspoon at a time to avoid overdoing it. 
Add Starch
Canned enchiladas also tend to have water on top of their ingredients list. Thus, the consistency of the sauce can often be very liquidy. If you wish to make the sauce less runny, you can add starches. To do so, add equal parts of corn starch or flour and cold water. Stir both thoroughly until it forms into a paste. Add the mixture one at a time to your sauce. Give it a good stir until the paste dissolves. Simmer for about a minute or two to let the sauce thicken up.
Add Water
On the other hand, if find the sauce too thick, don't worry because this is just a quick fix. All you need is some clean water to help dilute the sauce. Add it one tablespoon at a time until you achieve your desired consistency. Alternatively, you can also use broth to thin out your sauce. The broth is also great for further enhancing the flavor of your dish. 
Which tastes better? Red or green enchilada sauce?
Preferences in taste differ from person to person. Nevertheless, the red and green enchilada sauces each have distinct profiles. The red chiles are naturally sweeter. Thus, you might often find the red enchilada sauces to have milder to moderate heat levels.
On the other hand, green enchilada sauces are made from green chilies and jalapeno pepper. On that note, it tends to have a broader heat range. If you prefer your dish spicier, then you might find the green variety more apt to your taste.
Final Verdict On The Best Enchilada Sauce
Out of the 5 canned products, the La Victoria Red Enchilada Sauce made it to the very top of our list. For us, it gave the most traditional taste of enchilada sauce. It has the right balance between sweetness, zest, smokiness, spiciness, and even bitterness.
The sauce is so versatile that it allows you to use it practically on any dish you wish to add some Mexican zing. The cost of the 10-ounce can is fairly priced too. So, there's plenty of reason for you to stock up your pantry with this product.