Last Updated on February 18, 2022 by Share My Kitchen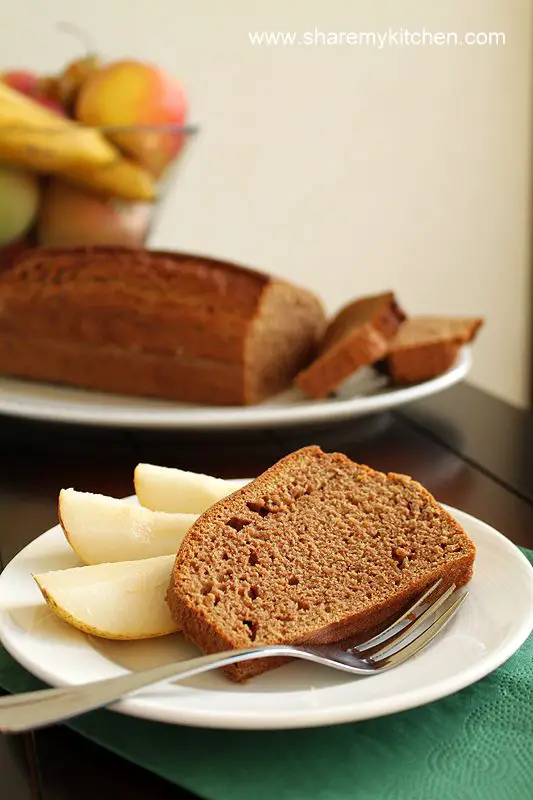 Banana Loaf Cake makes a really special breakfast – not too sweet, rich in taste and flavors, and the result is perfect every time I bake it, so I'm sure I'll cook it many more times.
There is nothing to be taken or added to the list of ingredients (well, at least I still haven't figured out how to spoil it).
I sometimes bake half of the prepared batter, and the other half, I keep in the fridge, in a loaf pan wrapped well in clink foil.
This banana loaf bread can last in the fridge for up to 3 days and it takes less time to bake. This is also the easiest way I can have a freshly baked banana cake for breakfast.
How To Make The Best Banana Loaf Cake
Makes one 23 cm (9 inch) loaf, or 2 smaller loafs
Preparation & baking time: 70 minutes
Ingredients:
250g. (2 ½ cups) all-purpose flour 2 tsp baking powder 1 tsp baking soda ½ tsp ground cinnamon 3 large egg whites 50g. ( ½ cup) sugar 50g. (½ cup) dark brown sugar 3 tbsp butter, melted 1 tsp vanilla extract
600g  mashed bananas – about 4-5 large very ripe bananas
Method:
Preheat the oven to 180 C/350 F. Have your loaf pan (23x13x8 cm./9 x 5 x 3 inch) – buttered and coated with a dusting of flour.
In a mixing bowl whisk the egg whites to break them up, then add in the two types of sugar and mix well. Whisk in the melted butter and vanilla, followed by the mashed bananas.
Mix together flour, baking powder, baking soda and cinnamon and sift them over the banana mixture. Thoroughly fold it in and scrape the batter into the prepared pan and smooth the top. I usually bake in silicone mold, so I don't have to prepare the pan in advance.
Bake the cake on a rack in the middle level of the oven for about 55 to 65 minutes, or until a toothpick inserted in the center emerges clean.
Cool the cake in the pan for 10 minutes, then unmold it and cool completely on a rack.
How do you like your banana loaf?
According to the book, the cake can be frozen for up to a month, double wrapped in plastic.
It's been a long time I wanted to bake a banana loaf cake, and a long time I wanted to try one of David Lebovitz' recipes. I found this incredibly delicious banana bread on his website, originally published in Nick Malgieri and David Joachim's book Perfect Light Desserts. I guess, the Lebovitz' recipe will have to wait for the next time.