Last Updated on November 3, 2022 by Share My Kitchen
Barbeque is a big part of our family tradition as well as BBQ dry rub. No weekend will ever be complete without the grill and smokies. So, ever since I was young, we have been trying out pretty much every kind of barbeque rub recipe out there.
After all those years of trial and error, I have come to narrow down the best of the best BBQ DRY rubs on the market. These 7 products I reviewed herein are easily accessible and guaranteed to take your barbeque game to the next level.
Yup, we did all the searching and the testing, so you don't have to waste your time and money on mediocre rubs. Most importantly, you will enjoy those tasty barbeques with your family and friends. Smokin' hot BBQ party, here we come…
How to Select the Perfect BBQ Rub?
Dry versus Wet
Before anything else, let's first layout and differentiate the various barbeque rubs. There are two main classifications of BBQ rubs—the dry and the wet.
 Dry
The dry barbeque rub is a blend of dried herbs and spices. I rub the mixture over the entire surface of the meat before cooking. The natural juice of the beef then dissolves and mixes with the dry rub, thus, imparting a smoky flavor and a crispy exterior texture to the meat when cooked.
Wet
On the other hand, the wet barbeque rub is the same dry rub mixed with cooking oil, vinegar, citrus juice, or other liquid-based seasonings. The mixture then transforms the dry rub into a more watery paste. So yes, you can quickly turn your usual dry rub into a wet one. Or, better yet, buy a specifically concocted BBQ wet rub in the store. Either way, both will work just fine.
Wet Rub versus Marinade
There is a debate about whether a wet rub is virtually the same as a marinade. My point is that this is both yes and no. No, because BBQ rubs add flavor and texture to the surface of the meat. It does not necessarily penetrate deep into the fat and muscles.
However, you can make a BBQ rub work as a marinade if you make its consistency more watery. The liquid state of the rub allows it to seep through and soak the meat better. Thus, essentially making it function the same way as marinades usually do. And that's why it is also a yes for me.
Key ingredients of BBQ Dry Rub
The barbeque rub contains different ingredients to balance the saltiness, sweetness, spiciness, smokiness, color, and texture.
Salt
Salt is a fundamental and critical component for adding saltiness, of course. Aside from that, it also helps cure and preserve the meat. Thus, it prevents it from quickly spoiling and discourages bacterial growth.
Sweeteners
To counter saltiness, brown sugar, white sugar, honey, agave, and maple syrup are the most common sweeteners. Each adds varying sweetness levels and can impart a distinct character to the rub.
Herbs and Spices
Different herbs and spices are also vital in creating the unique flavor profile of the BBQ dry rub. Garlic, onion, pepper, chili, cumin, oregano, basil, mustard, paprika, and a lot more add flavor to the ingredient mix. The blend aims to complement and enhance the natural flavor of the meat.
Aside from imparting subtle flavor, ingredients like red chili powder and paprika add a tinge of color to the meat. Thus, the BBQ looks more palatable and enticing when cooked.
Reminder
Besides the excellent stuff, looking out for the not-so-good ingredients makes sense. Especially when buying commercially prepared BBQ rubs, you should most often be cautious with high sodium content, artificial sweeteners, food coloring, and those with ambiguous descriptions like "natural ingredients." 
MSG – Good or Bad?
It is not unusual to find monosodium glutamate, or MSG, in the ingredients list of most barbeque rubs. This ingredient enhances the flavor by giving the dish "umami." It gives the meat a savory taste, minus the high sodium content.
Although this chemical compound is popularly controversial, the FDA classified MSG as Generally Recognized As Safe or GRAS. It means the FDA considers MSG safe to use as an additive to human food.
Nevertheless, the harm only comes when you carelessly use or overeat something. It applies not only to MSG but to any food.
Price point
In most cases, the critical ingredients in BBQ rubs are already available in your pantry. It's not rocket science so everyone can make DIY barbeque rubs at home. It gives you so much versatility in concocting your signature recipe. It can even be too good to pass as a family heirloom. Just like what my great granny did!
However, if you don't have the time and patience to create your own, the store-bought BBQ dry rub is your best option. The price point essentially depends on the brand, the variety, and the amount of product. But a cost of $1 per ounce of rub is a fair price to base upon.
How Long Should You Leave the BBQ Dry Rub?
There is no golden rule as to the duration of use of barbeque rubs. But, as with any other seasoning, the longer you leave it, the more product the meat absorbs. Hence, the flavor becomes more robust and more intense.
Nonetheless, be mindful that BBQ rubs contain salt. Leaving it for too long tends to suck too much moisture out of the meat, just like curing.
So for best results, I suggest leaving the dry rub overnight to allow ample time to soak up all the good flavors. But no longer than 12 hours to prevent dehydrating the meat. If using a rub along with a BBQ sauce, you can get it by marinating for about 2 hours. The liquid makes it much easier and faster for the rub to penetrate deep into the meat.
Our Top Recommendations for BBQ Dry Rub
KILLER HOGS THE BBQ RUB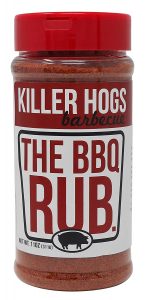 If this rub made the Killer Hogs team champions in many cooking competitions, then there is no doubt it will make you a winner in your kitchen too. Brown sugar is on top of the ingredient list, followed by another kind of sugar. Thus, expect this rub to have a distinct sweetness to it. Nevertheless, the salt and spices balance the flavor with the right amount of savories and kick.
I have tried this on pork ribs, chicken, and veggies, but it would greatly complement beef and fish. I always get better results when I layer the rub. Two to three is enough to give you a bolder flavor. If in a hurry, one layer is fine. However, make sure every inch is covered generously.
TRAEGER GRILLS RUB WITH GARLIC & CHILI PEPPER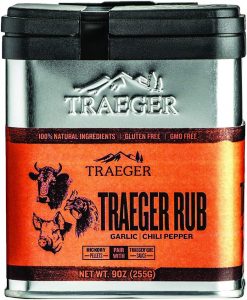 There's so much to love about Traeger rubs. They're kosher, non-GMO, and gluten-free, and they've got many flavors to choose from. But I love the Traeger rub with garlic and chili peppers the best. The taste is classic, with spiciness and zing that excites my palate.
The flavor is so rich, and it complements any meat. But, I often reach out for this when I'm grilling pork or even burger patties. This rub took a back seat to Killer Hogs because of its higher salt content, 194 mg versus 105 mg. So, remember to take it easy and add more salt to your BBQ when using this rub.
LAMBERT'S SWEET RUB O' MINE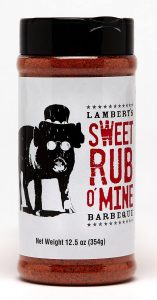 This one is another award-winning barbeque rub that I can highly recommend. It features turbinado cane sugar as its top ingredient. It gives the mixture a caramelly flavor profile. Not to forget, it provides your BBQ a sweet, crusty exterior texture too. Y-U-M-M-Y!
Sweet Rub O' Mine is an all-purpose rub and seasoning. So, that gives you good value for your money on a legit champion product. I also love that it contains only 1 gram of carbs per serving despite the sugar in the blend. A bonus is that it is gluten-free and has only 85mg of salt.
PLOWBOYS BBQ YARDBIRD BBQ DRY RUB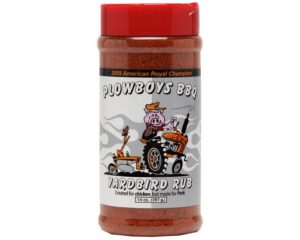 By the name itself, you guessed it right. This BBQ rub is made initially for poultry. Nevertheless, no one can stop you from using it on pork and beef. I've done that! And yes, it turned out amazingly delicious.
Yardbird has slightly lower sodium than Traeger's, and the label states it has 0% carbs. Maybe not in the literal sense since I can see sugar on the list. However, the amount and proportion might be too minimal to count. Nonetheless, if you want your chicken barbeque a bit more savory, less sweet, and with crispy, tasty skin, then you should try this rub.
MEAT CHURCH HOLY GOSPEL BBQ DRY RUB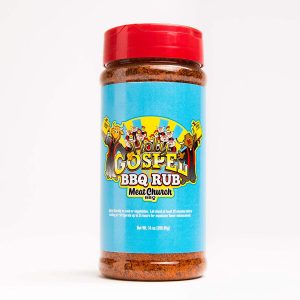 Holy smokes! This BBQ rub is fantastic. It is like a crossbreed between Meat Church's All-Purpose rub and the Holy Beef variety. With the right balance of sweetness and tanginess, with a slight kick of spice, it is an excellent complement to different types of meats. My favorite is to rub it on chicken wings and then cook it on a charcoal grill.
I also appreciate the packaging of this product. For one, you can buy it in a shaker bottle, a resealable pouch, or a big 5-pound bag. It gives you more options regarding the amount of the product and price.
PORK BARREL BBQ ALL AMERICAN SEASONING MIX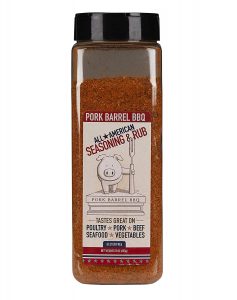 This all-purpose rub is a classic, crafted to imbibe traditional all-American BBQ flavor. It is so versatile. You can apply it to pork, beef, poultry, seafood, and veggies. Season it any way you want. I prefer mine coated first with a bit of olive oil before sprinkling the rub all over the meat. This layer allows the spices to stick and get absorbed better.
There is so much goodness in this rub. It is made from all-natural ingredients, has no preservatives, is gluten-free, and is keto and paleo-friendly. This rub also does not contain added sugar. Perfect for those who instead prefer a flavor profile that is simply smoky and savory. But hey, no one can stop you from adding brown sugar or maple syrup if you want your BBQ a little sweet.
TRADER JOE'S BBQ DRY RUB & SEASONING WITH COFFEE & GARLIC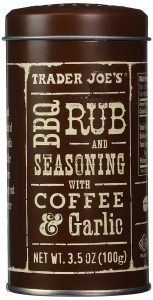 Coffee? On barbeque? That's what I thought, too, before I tried Trader Joe's Coffee and Garlic rub. I never imagined this special ingredient on my BBQ, but it works wonders!!!
Contrary to what most people think, coffee doesn't give the meat a literal "coffee" taste. Instead, its bittersweet profile complements the earthiness and savories of the herbs and spices, enhancing the overall flavor.
I love to use this on steaks and ribs and leave them overnight. It makes them flavorful and succulent every single time. Nevertheless, it works perfectly well on chicken, fish, and veggies.
BBQ Dry Rub: Final Verdict
There are so many more fantastic BBQ rubs out there. But, if I had to pick the best of the best on the list, I would choose Killer Hogs BBQ Dry Rub. I agree with a thousand other satisfied customers. This BBQ dry rub can turn a simple barbeque into an award-winning feast.
And in all my years of using this product, it has never failed to wow my family and guests. For a cost of $12 a pound, it is a price I am very willing to pay in exchange for sumptuous BBQ meals, happy tummies, and good memories.