Last Updated on November 1, 2022 by Share My Kitchen
Today, advanced innovations have enabled us to create safer and more reliable cookware, which granite cookware is best known for. We now know that cooking healthy meals is not enough. We should be mindful of the pots and pans we are using. If you have ever seen Mark Ruffalo's 2019 movie, "Dark Waters," you'll understand how terrifying cookware can be. How can a seemingly plain cooking pan cause detrimental health issues and even death? Ikr? 
For sure, you have read or heard about that too. And that is why this article is just perfect for you. We, at ShareMyKitchen, delve right through to find the best granite cookware on the market. We only want the best for our family and our readers, so we bravely put these pots and pans to the test to seek each product's strengths and weaknesses.
Ready to find out? Let's begin!
Best Granite Cookware Set Reviews
GRANITESTONE STACKMASTER NON-STICK COOKWARE SET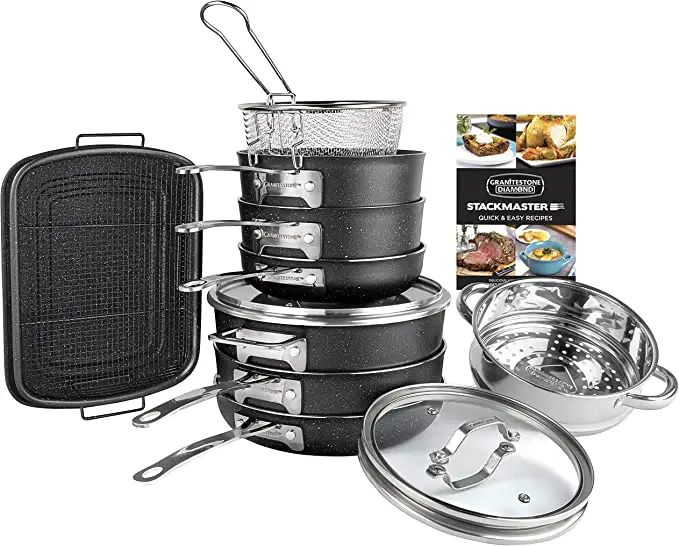 This granite-coated anodized aluminum cookware set features three sheets of non-stick coatings. This layer makes the cooking surface durable, smooth, and scratch-resistant. I've tried wiping it with a kitchen towel, and the food slides off that easy. Hooray and goodbye to harsh scrubbing. By the way, it is dishwasher-safe too!
As the name implies, stack ability is the main highlight of this granite cookware set. The unique design of these pots and pans allows them to stack perfectly. For neat-freaks like us, the ability to organize things, especially in the kitchen, is always a major plus.
Besides, we also love how versatile this cookware can be. It is compatible with all types of cooktops, including induction. Hence, you can continuously cook from stove to oven. Perfect for on-the-go cooking. No need to change pots. Just shove it directly into the oven. No problemo!
Pros
Set of 15 pieces
Made with non-toxic PFOA-free materials
Oven-safe up to 500°F
It comes with a free recipe book
10-year limited warranty
Cons
Dimensions are more petite in actual
CAROTE NON-STICK GRANITE COOKWARE SET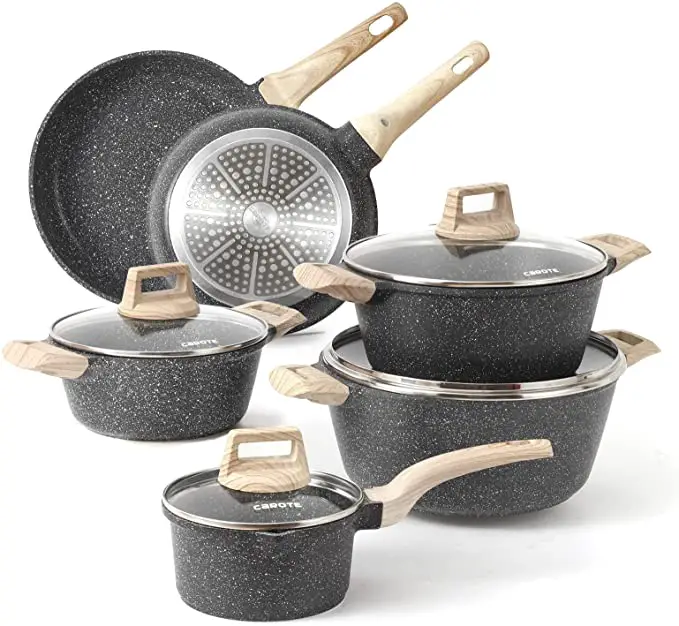 The Carote cookware set has some serious premium quality features at a reasonably affordable price point. The non-stick ILAG granitec coating, developed in Switzerland, is the primary component of this product. Moreover, this multi-layers of ceramic-reinforced coating enables the cooking surface to become ultra-durable and highly scratch-resistant. This feature alone gives me a sense of value for my money.
The bottom of the cookware has a high-magnetic conductive stainless steel base. What's more, the material allows the pots and pans to heat up quickly and distribute heat evenly. So, if you are impatient and always in haste, then this cookware set is your best bet. Less cooking time means more time for other chores. Right, moms?
We also appreciate how smooth and accommodating Carote's customer service is. Their granite cookware products come with a 100% refund or replacement policy. It is available all year round, no matter where you are.
Pros
Set of 10 pieces
Eco-friendly non-stick granite material
SGS-approved 100% free from PFOA, PFOS, cadmium, and lead
Lightweight
365-days worldwide service warranty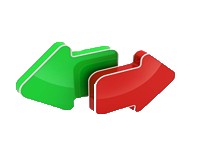 Cons
Wooden handles have low heat resistance.
MICHAELANGELO ULTRA NON-STICK STONE COOKWARE SET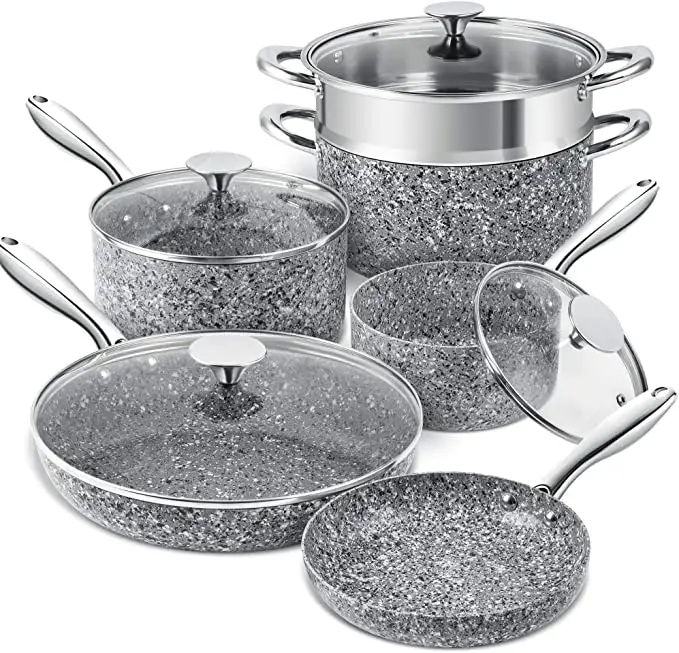 This MichaelAngelo cookware set has ultra non-stick and non-toxic granite coatings. Unlike other products, I like how they used granite for exterior and interior cooking surfaces. This design makes it virtually super easy to clean from top to bottom.
On the other hand, the central core is professional-grade aluminum alloy. This material gives the pans and pots excellent heat transfer to save you time and energy. Apart from this, the magnetic conduction bottom enables compatibility with induction cooktops and gas, ceramic, and electric stoves.
This set of 10 includes the essential cookware you need for daily cooking. The sizes are decent to prepare meals for about four people. Or, if you have a big appetite like my family, a serving for three is a feast.
Pros
Set of 10 pieces
100% free from PFOA, PTFA, lead, and cadmium
Suitable for all cooktops
Oven-safe up to 400°F
30-days return policy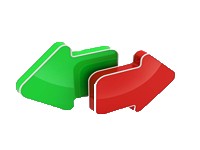 Cons
Screws and rivets tend to loosen quickly
KOCH SYSTEME CS NON-STICK RED GRANITE COOKWARE SET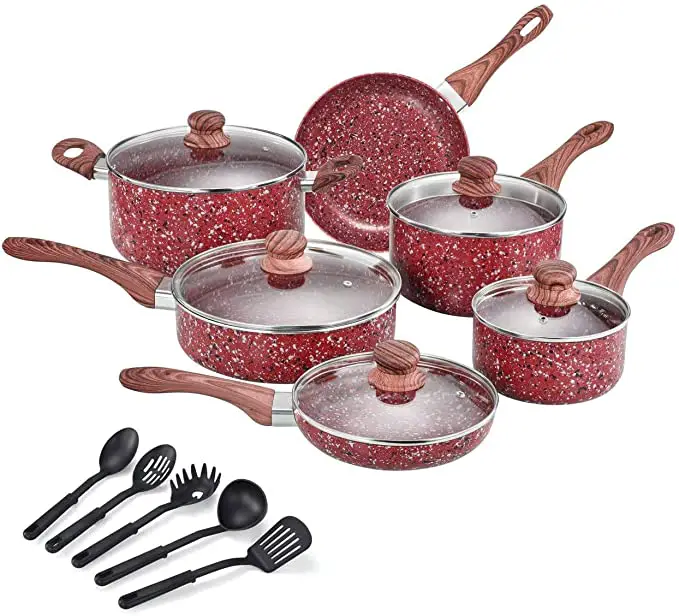 Okay, this red granite cookware is one of those we are most aesthetically attracted to. Most of the time, you see granite cookware as either black or gray. So, having it in red variation is like a cherry on top of its other great features.
This cookware has bakelite handles. Bakelite is a polymer plastic designed to withstand high heat temperatures, specifically 320°F for this product. So, unlike wood, this handle is less likely to get burnt or toasty when cooked under a gas stove. Differing from metals too, this handle stays cooler and easier to grip.
The 16-piece set includes different sizes of pans and pots plus five black nylon utensils. Absolutely, we love the completeness of this package. Everything you would likely need for day-to-day cooking is in the set. It is not the cheapest. But it is reasonably priced enough for beginners who want healthy, non-stick cookware.
Pros
Set of 16 pieces
100% free from PFOA, PFOS, and APEO
Suitable cooking temperature range from 356°F up to 428°F
Compatible with all major types of cooktops
1-year product warranty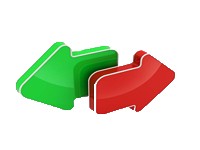 JEETEE KITCHEN NON-STICK GRANITE COATING COOKWARE SET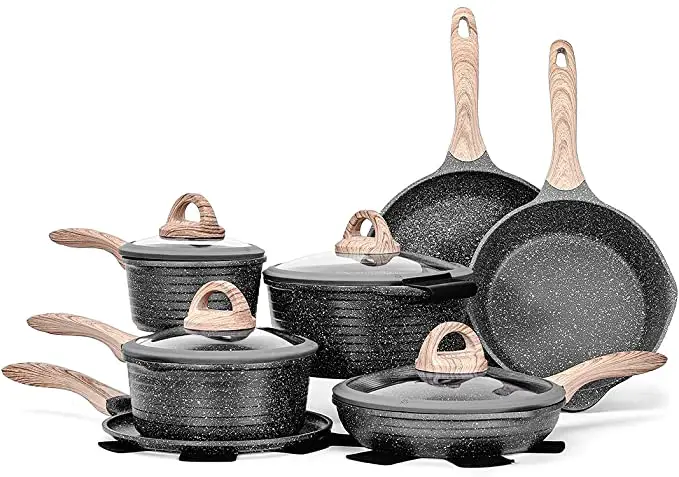 This cookware set features medical-grade granite stone coatings. Additionally, it is safe and toxin-free, as guaranteed by FDA, BSCI, and LFGB. This product has certifications to prove that, contrary to other brands' proof less claims.
The bottom of this granite cookware has a 3-mm thick magnetic conductive metal which, makes it suitable for induction, gas, electric, ceramic, and infrared stovetops. However, this cookware is not for oven and dishwasher use. That's something that saddens us the most. Don't judge! Not everyone finds handwashing dirty dishes therapeutic.
Nevertheless, this granite cookware is still a good deal for its price. The set contains 18 pieces of pots, pans, lids, utensils, and silicone potholders. Most importantly, the material ensures an authentic, healthy cooking experience. And that's what is giving us peace of mind with this product.
Pros
Set of 18 pieces
Medical-grade granite stone coating
100% free from PFOA, PFAS, cadmium, and lead
With bakelite handles
14-days no reason return policy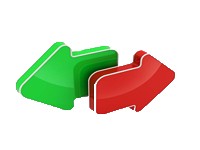 Cons
Not oven and dishwasher-safe
How safe is it to cook with granite cookware?
Granite cookware generally refers to pots and pans made with aluminum or stainless steel cores lined with durable non-stick coating. The coating usually takes after the "granite stone" color and design pattern. This very appearance is what classifies it as granite cookware.
The non-stick coating on granite pans and pots is usually from vitreous enamel or Teflon. Yes, you heard it right – Teflon! But don't lose your mind yet.
We know how much controversy is associated with this name. However, the Teflon manufactured nowadays is already completely free from PFOA since 2013. Perfluorooctanoic acid or PFOA is a chemical compound used to make Teflon coating in cookware productions earlier than 2012.
PFOA is scientifically proven associated with congenital disabilities, cancers, and vital organ damage. The effects of exposure to high levels are not solely limited to humans. It is equally hazardous to animals as it contaminates the environment.
Drastic changes in the cookware industry have taken place since then. You can now relax and be confident that the modern granite cookware is relatively safe and healthy for us to use today.
Which is the best granite stone cookware?
The best granite cookware should tick the following features:
Durable material and construction
Non-stick cooking surface
Certified safe and non-toxic materials
Fast heating with even heat distribution
Ergonomic design
Aesthetic value
Appropriate size and capacity
Versatility in functions
Value for money
Good aftersales services and warranty
Not all of these features may be present in one single product. But, the cookware you choose should at least contain the majority of which. As an end-user, take time to weigh out which of these characteristics are on top of your priorities. Doing so would make it easier for you to compromise and narrow down your choices.
For instance, you may be willing to forego aesthetics if the pans and pots are ultra-durable. Another, you may not require the cookware to be induction-ready. But, it should be oven-safe. Considerations based on your actual needs and preferences should serve as your primary basis for finding the best granite cookware that would work for you.
Our Top Pick 
Out of all the five products we included in our top list, we fell in love the most with GraniteStone StackMaster Non-Stick Granite Cookware Set. This product delivers almost perfectly the characteristics we require in reliable granite cookware. Not to mention, its stackability feature stole our hearts. The ability to be organized is efficient and convenient.
StackMaster's overall quality and performance truly exceeded our expectations. To the point that we decided to keep one set for each of us. We are looking forward to using these granite pots and pans for more healthy cooking years. And, trust us, so should you too!