Last Updated on November 2, 2022 by Share My Kitchen
The 3-in-1 breakfast station is a lifesaver! A proper breakfast is usually comprised of coffee, toast, an egg, and perhaps a sausage or two. In most cases, this meal is usually enough to get us through a busy day. It is a no-brainer to prepare, making it perfect for an on-the-go morning routine.
Nevertheless, "easy" doesn't always translate to "convenient." It can be quite cumbersome to switch between a frying pan, toaster, and coffee maker. Not to mention, multiple appliances would also imply more dishes to wash and clean afterward.
Don't you ever wish a single appliance could do all those tasks for you every morning? 
Thank heavens the industry already figured out that dilemma and came up with the 3-in-1 breakfast station machine. Of course, ShareMyKitchen dares not miss the wonders of this multi-function product.
We sorted and tested out five of the best-selling 3-in-1 breakfast machines on Amazon. We'll discuss how each product performs and what awesome features it can offer. So, if you want to know which breakfast machines are worth adding to your shopping carts, so, stick around and read 'til the end of this article.
The Best 3-in-1 Breakfast Stations
NOSTALGIA BST3RR FAMILY SIZE 3-IN-1 BREAKFAST STATION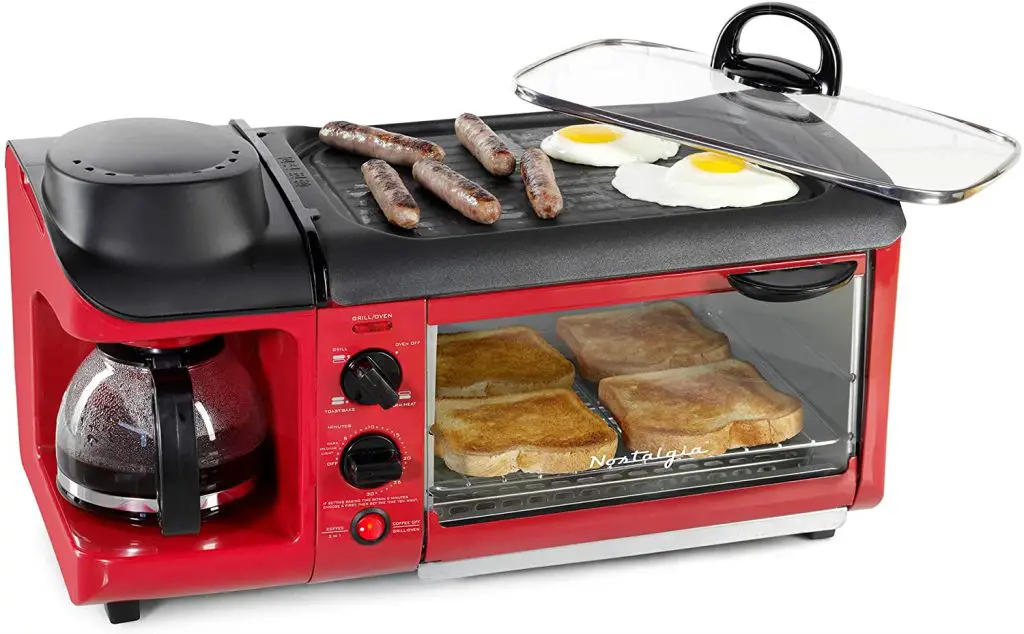 The Nostalgia BST3RR is one of the best-selling breakfast makers on Amazon. It features basic stations, including the coffee maker, an oven toaster, and a large griddle pan. This machine is suitable for preparing meals suitable for a family. However, I find the dimensions more suitable for two hungry adults.
I like how convenient the coffee station is. The glass carafe is large enough to accommodate three 8-ounce cups. Plus, the package already includes a reusable filter and a coffee scoop.
The griddle is probably my favorite station in this model. The large size is indeed enough to fry about 4 eggs simultaneously. A perfect match for the mini-oven, which can also toast up to four slices of bread. All that's left to prepare are the avocados, and my family's toast is ready to be served in just a few minutes.
ELITE GOURMET AMERICANA, 2-SLICE BREAKFAST STATION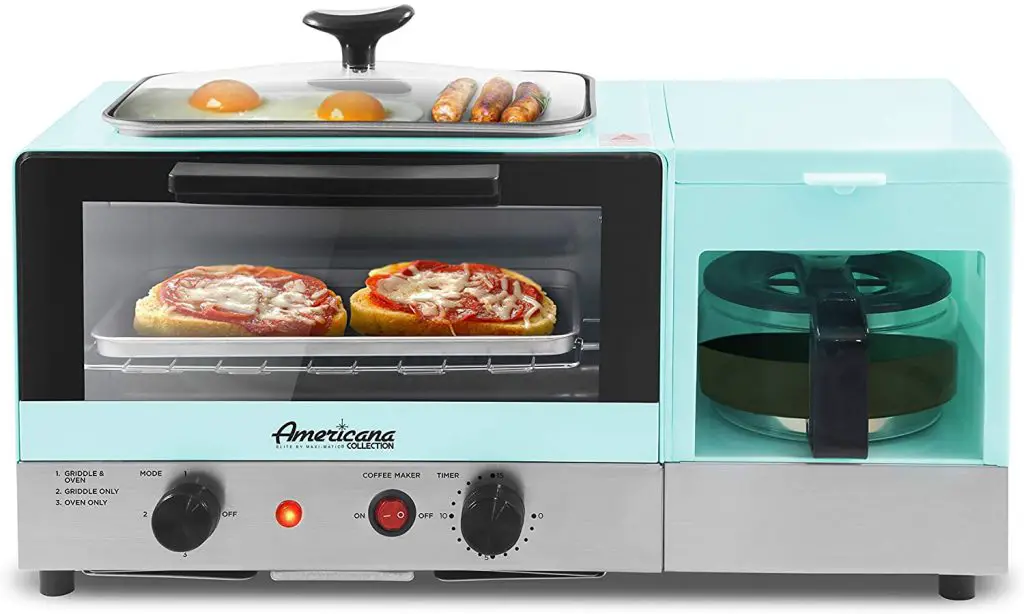 The Elite Gourmet Americana is perfect for preparing breakfast for one to two servings. Unlike the Nostalgia model, the oven station can only fit two slices of bread. Nevertheless, it works well for heating up or baking in small batches.
The coffee maker station is marketed with a 4-cup capacity. But in actuality, it can only hold about 500 ml of liquid. It may be short of its claims, but it is still enough to serve a dose of caffeine for up to two cups.
The griddle has a dimension of 9.5 inches. It is pretty tiny but surprisingly good. I tried frying bacon and sausages, but it did not stick. Clean up is relatively easy too.
SUNPENTOWN STAINLESS STEEL 3-IN-1 BREAKFAST MAKER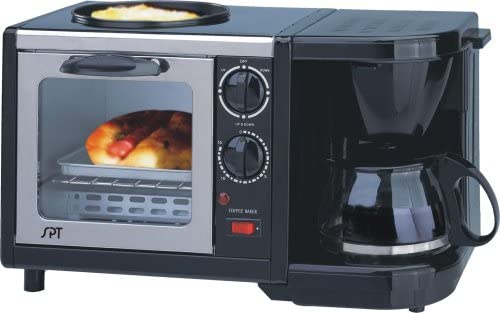 The Sunpentown 3-in-1 station is very compact and ideal for preparing a solo breakfast. This model essentially highlights its stainless steel construction. This material is bound to be more durable and less prone to rust and corrosion.
Instead of a rectangular griddle, this model features a circular egg cooker. It is small but non-stick and can cook a perfectly shaped egg sunny side up. I also tried heating slices of pre-cooked ham, which worked just fine.
The oven toasts single slices of bread. I love that it comes with a 15-minute timer. So, I can feel at ease doing the rest of my morning routine while cooking my meal.
The 4-cup coffee maker for me can well serve two. I drink one while eating and pour the rest into my to-go tumbler.
GOHEED 3-IN-1 BREAKFAST STATION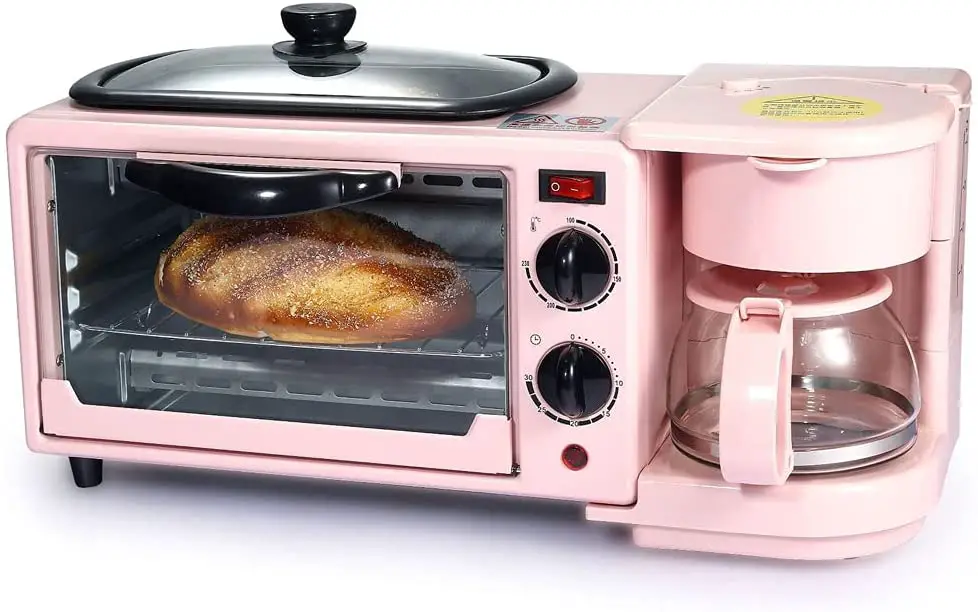 is not for the faint of heart. The distinct pastel pink color is not everyone's cup of tea. Nevertheless, function-wise, it can brew, bake, and fry like other multi-function breakfast stations. It is a perfect gift, I should say, for teens, college students, and very girly ladies.
I love the coffee maker station on this model. It has a capacity of up to 600 millimeters and is just the perfect size for sharing with dorm mates. The on and off buttons are also very straightforward to operate.
The toaster oven is super cool. I tried baking a mini pizza for my cheat-day Friday, and it worked well. It melted the cheese toppings and toasted the edges to give it a crunch.
The fry pan on top is non-stick and has two textures. The skillet is perfect for frying meats. Also, the plain surface is best for cooking eggs.
WEST BEND 78500 2-SLICE BREAKFAST STATION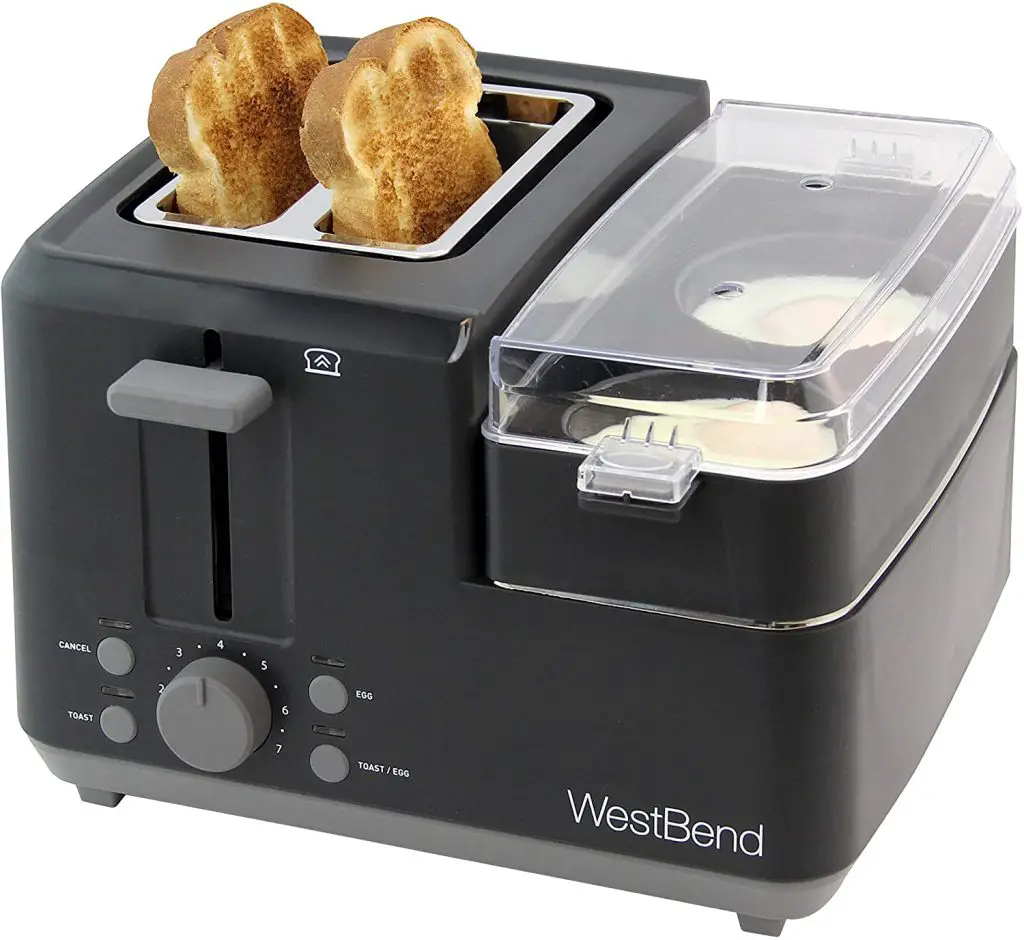 The West Bend 78500 model is not for coffee drinkers. Unlike other models we featured here, this does not come with a coffee maker station. Instead, it has an egg cooker, meat warmer, and a two-slice pop-up toaster. Thus, this appliance is best for those who want a tasty breakfast sandwich with a perfect egg.
The egg cooker can cook up to eight soft or hard-boiled eggs. Or two poached or scrambled eggs in just about four minutes. I also love how it comes with a separate tray for steaming veggies or heating meats. This layering makes it very hygienic.
The machine promotes healthier cooking by using steam for cooking rather than frying. I like steamed broccoli, asparagus, and tomatoes as side dishes to my egg sandwich. For meats, make sure to use the pre-cooked ones for safety.
The pop-up toaster is so retro too. It can fit two wide slices of bread. But I sometimes switch it up with bagels or croissants too. The toaster comes with a knob to control how light or dark you want your toast to be.
What are the benefits of using a 3-in-1 breakfast station?
Convenience
Convenience is essentially the main selling point of breakfast station machines. Having a multi-function product enables you to do more with a single kitchen appliance. There's no need to jump from pan to toaster to coffee maker.
Practicality
Why spend on three different appliances when you can get all functionality in one product, right? Depending on the brand and model, this is an excellent way to cut down on your expenses.
Space-saver
Aside from saving money, having a 3-in-1 appliance allows you to consume less space in your kitchen. It is a perfect choice for those living in RVs, college dorms, and tiny houses.
Portability
This machine is very compact, and you can take it anywhere with ease. This idea is perfect, especially if you want to make your breakfast outdoors once in a while. Think of Sunday brunch with your family in the garden.
Aesthetics
Come on, let's admit it. This breakfast maker looks so retro it's freakin' cute. You can even find some models in pastel colors like pink and teal. Aesthetic-wise, it is definitely IG-worthy.
How to choose the best 3-in-1 breakfast station?
Capacity
Given that the breakfast station is a multi-function product, you can expect that it is pretty smaller than individual full-size appliances. That said, you should take into consideration the capacity of the device. How many cups can the coffee maker brew? How many sausages, bacon, and eggs can you fry on the griddle? How many slices of bread can you toast at the same time?
Questions like that will help you determine how big or small your capacity will likely be. Often, breakfast station machines cater to cooking for one to two people only. Nevertheless, some models are designed to prepare family-sized meals. This capacity should well accommodate food for three to four people.
Cooking Power
Toasting, frying, and brewing simultaneously can be quite a lot to handle on a single device. Thus, you must ensure the machine is powerful enough to deliver the right amount of heat to cook your meal. No half bakes! What good is a coffee maker anyway if the water is not boiling? A toast without a crunch? Or an egg that is all goopy?
Features
Additional features like temperature control, timer, light indicators, removable rack and crumb tray, heat-resistant glass cover, and reusable filter are just a few things worth having in your machine. They might seem minor for some, but they make a big difference in further promoting convenience.
Warranty
A product warranty with good coverage will always be an advantage to you as a consumer. It gives you peace of mind knowing that you can get support and assistance should you encounter issues with your breakfast station.
Budget
The prices for breakfast stations usually range from $40 to $280. There are a lot of factors that contribute to the price difference. Nevertheless, it is best to know how much money you are willing to spend. Do your research and find which among the machines can fit your requirements best.
Our Top Pick:
If all boils down to just one, I'd pick the Nostalgia BST3RR breakfast machine. It is equipped with all the basic stations I need to get through a busy morning fast and easy. Among all the products, the BST3RR model got the biggest capacity. This gives me more room to adjust my servings for one, two, or three persons. Price-wise, it is in the mid-range and I think it is reasonable considering the quality and the functionality it can offer.