Last Updated on February 18, 2022 by Share My Kitchen
Tikvenik is a simple sweet pastry with a filling, made of only a few ingredients – pumpkin, crushed walnut kernels, sugar, some oil, and cinnamon. There are lots of variations of how these ingredients are mixed, depending on the region or the ingenuity of your host.
When Do People Eat Tikvenik in Bulgaria
Tikvenik is the traditional dessert on Christmas Eve dinner for the Bulgarians. The tradition says an odd number of Lenten dishes have to be served (i.e. no dish on the table can contain any eggs, dairy products, meats, or fish in compliance with the rules of the Orthodox church). In short, it is a festive vegan table from the beginning to the end.
What's The Best Tikvenik
Generally tikvenik is a sweet banitsa – it can be prepared totally from scratch, making your own thin phyllo sheets or using ready-made ones. It is not so difficult to roll up the phyllo at home, but it takes time (lots of time, actually). We're planning to make a separate post on how to prepare homemade phyllo pastry sheets, so for this recipe we used a ready-made phylo.
Your tikvenik should be crispy on the outside, soft and creamy inside with some crunchiness coming from the walnuts.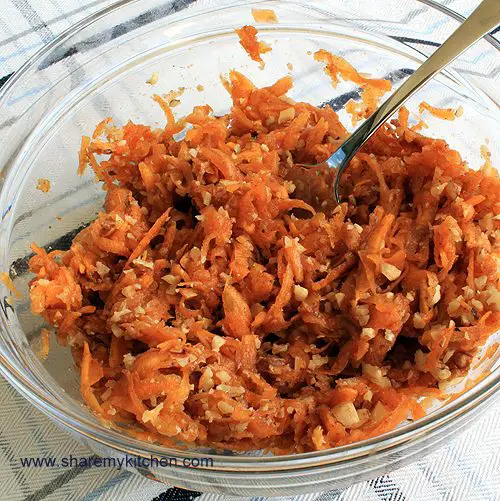 Tikvenik Recipe
Makes 24 pieces
Preparation and baking time: 35-40 minutes
Ingredients:
A pack (400g) of ready-made phyllo (filo) dough 350g pumpkin*, grated 1 cup (120g) walnuts, coarsely chopped 1/3 cup (70g) caster sugar 4 tbsp sunflower oil 2 tsp ground cinnamon
Some powdered sugar for dusting
*You can use heirloom or sweet pumpkin, or any type of winter squash or substitute it with canned pumpkin (NOT pumpkin pie filling).
Method:
Basic rules regarding the handling of phyllo dough: Once opened, the phylo sheets must be kept covered with a slightly damp towel (or they will quickly dry and become crispy).
As a delicate product, they should be handled gently; don't use too much filling; use a brush to oil the sheets. It's not difficult, just follow the above guidance.
I always use fresh pumpkin and prepare the filling without steaming it. After 20 minutes in the oven I find it perfectly done, soft and creamy.
Anyway, if you prefer you can steam the pumpkin in advance – but don't overcook it – few minutes should be enough.
Just remember to drain it after steaming – the filling doesn't have to be too moist (the phyllo sheets will easily spoil with too much liquid).
Mash the steamed and drained pumpkin with a fork or potato masher.
Preheat the oven to 180C/350F. Slightly grease the bottom of a baking pan.
In a bowl mix together pumpkin, sugar, cinnamon and crushed walnuts.
On a clean surface line one of the phyllo sheets, oil it slightly and place one table spoon of the filling. Unfortunately I didn't take photos of this stage, so here is a detailed explanation:
How To Assemble Tikvenik
Imaginarily divide it into three equal parts (so you get three medium-wide stripes) and put the filling on the right-hand side of the middle 1/3. Enfold the top and bottom parts of the sheet. Now you should have a long triple stripe of phyllo, with the filling placed inside on one end of the stripe. Oil with the brush this surface and then roll it to the opposite end of the stripe into a slightly loosen roll, trying to distribute the filling evenly. Place the roll on the baking pan and give it a last brush with oil on top.
If during the rolling some phyllo sheet breaks just patch it. Just try keeping the filling inside the roll.
Roll the rest of the phyllo sheets in the same way, arranging them on the baking tray with small distance (1cm will be enough).
How To Bake Tikvenik
Bake for 20 minutes, until the rolls are golden brown. Let them cool slightly in the pan, then transfer in a serving plate and dust with the powdered sugar.
Tikvenik is equally delicious warm or cool. You can keep it in a refrigerator for 4-5 days in a box (just leave it to cool completely before covering, otherwise it will lose its crispiness).