Last Updated on November 3, 2022 by Share My Kitchen
How can you tell which avocado oil is best for you when many are on the market nowadays? Is it healthy? Authentic?
I understand your confusion very well. There are tons of options out there. However, in this article, I want to focus on the brands that stood out among the rest.
Avocado oil is well considered by many as a superfood for a long list of reasons. However, it is an excellent choice for high-temperature cooking.
Refined avocado oil has a high smoke point, making it ideal for frying, searing, broiling, grilling, and even baking. In addition to being rich in healthy fats, fiber, and vitamins, it is also a good source of antioxidants. By using this oil, you are not only cooking your food but also enhancing its nutritional value.
There's more to learn about this oil.
What are its health benefits?
Is a certain brand good?
Which ones to avoid?
Are the products worth adding to your cart?
So, read until the end to get the full details.
Nutritional Benefits of Avocado Oil
It reduces harmful cholesterol levels.
Avocado oil is rich in monounsaturated fats. This fatty acid is known to help reduce the LDL cholesterol level. LDL, or "the bad" cholesterol, is linked to strokes and other cardiovascular diseases.
It lowers blood pressure.
Like olive oil, this oil also contains high amounts of oleic acid. Oleic acid is another type of fatty acid that aids in lowering cholesterol and reducing inflammation. It also makes the cell membranes more receptive to signals. Hence, effectively lowering the blood pressure in the vessels.
It supports eye health.
The oil is rich in carotenoids called lutein which is essential for eye health. It helps to reduce the development of age-related eye diseases like macular degeneration and cataract.
Unfortunately, our body does not produce lutein on its own. So, incorporating avocado oil into your diet would be an excellent source.
To promote skin health and wound healing.
On a side note, avocado oil can also be used as a topical remedy to improve skin health. It is a good source of vitamins A, E, and omega fatty acids, which help in enhancing moisture and strengthening the skin barrier. The oil itself efficiently penetrates deep within the dermis. In turn effectively relieves sunburns, eczema, psoriasis, dandruff, and other dry and irritating skin conditions.
It prevents and combats cancer.
It is a rich source of omega-3. This group of polyunsaturated fatty acids is known to be anti-carcinogenic. Omega 3 primarily targets slowing down cancer cells, particularly those that cause colon and breast cancers.
Fight free radicals.
The oil is rich in antioxidants such as carotenoids, tocopherols, and plant sterols. These antioxidants aid our body in fighting free radicals. "Free radicals" are those unstable compounds that damage our cells. Hence, this eventually leads to oxidative stress. Several studies have linked "free radicals" to the development of cancer, heart diseases, and type-2 diabetes.
Boost absorption of nutrients.
Certain nutrients require fat to be absorbed by the body. Fat-soluble nutrients, including vitamins A, D, E, and K, are best utilized if we add healthy fats like avocado oil into our diet.
How can you tell if avocado oil is authentic?
Color
Avocados are rich in chlorophyll. Hence, you should expect pure avocado oil to be naturally green in color. Nevertheless, it is more common to see the light yellow to almost transparent varieties in the market. These oils are already refined, thus losing the green pigment.
Taste
Just like the fruit, authentic avocado oil should taste grassy and buttery. Others even say the flavor is similar to that of mushrooms.
Smell
A pure avocado has a subtle scent of fresh avocado fruit. But, once it oxidizes, it gives off a stale smell.
Our Top 5 Picks for the Best Avocado Oils
CHOSEN FOODS 100% PURE AVOCADO OIL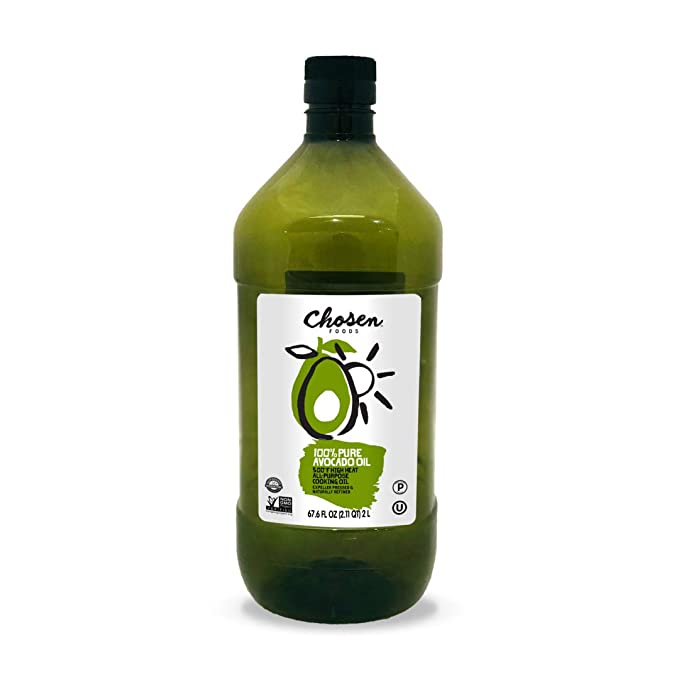 The Chosen Food avocado oil uses 100% pure avocado grown on the volcanic soil in Central Mexico. It is undiluted and not mixed with soy oil, canola oil, or other additives. This all-purpose oil can withstand high temperatures as much as 500 °F.
The manufacturer extracts the oil using an expeller-pressed method. Hence, no excessive heat or chemicals are used, retaining all the best flavors and nutrients intact.
The company then uses dark green glass bottles to pack the oil. The dimness helps protect the oil from light and prevents it from oxidizing. However, the larger bottles are instead contained in BPA-free plastics to offset the weight and the packaging cost.
Features:
Gluten-free
Vegan
Non-GMO
Certified Kosher
Certified Paleo
Glyphosphosate residue-free
PRIMAL KITCHEN PURE AVOCADO OIL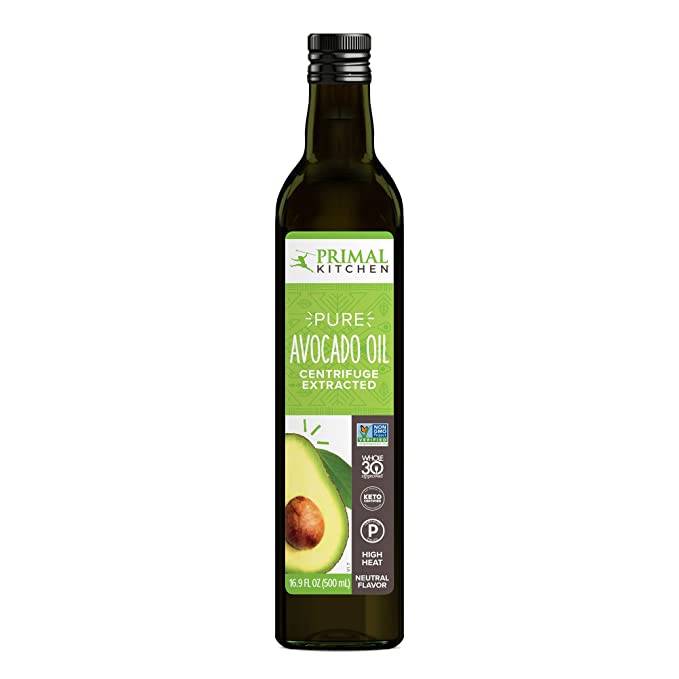 The Primal Kitchen avocado oil comes from the freshly harvested avocados in California, which are initially cold-pressed. It goes through several processes to extract only the best and purest batch. The manufacturer uses the centrifugal method to refine it. This method makes sure that no hexane or other chemicals will be present during the extraction process.
This avocado oil is ideal for high-heat cooking up to 520°F. It is heat and light stable. Nevertheless, packaging it in a dark glass bottle is the best option for extra protection. It is available in 500ml and 750ml.
Features:
Whole 30 approved
Certified Paleo
Keto certified
Non-GMO project verified
NUTIVA ORGANIC AVOCADO OIL

Nutiva Organic avocado oil is the epitome of compassionate and guilt-free cooking oil. It partners with independent Ethiopian farmers to help grow and harvest fully traceable organic avocados. Nutiva strictly adheres to USDA standards to produce only the purest and most sustainable avocado oils. The makers of this avocado oil extract it through the steam-refined method.
To further broaden its advocacy, the company allocates 1% of its sales to regenerative agriculture. The conscious practice of regenerative farming aims to offset the carbon emissions from the production of avocado oils and other food products.
Features:
USDA organic
NON-GMO project-verified
Gluten-free
Whole 30-approved
Vegan
Keto-friendly
Paleo-approved
Zero waste certified
LA TOURANGELLE DELICATE AVOCADO OIL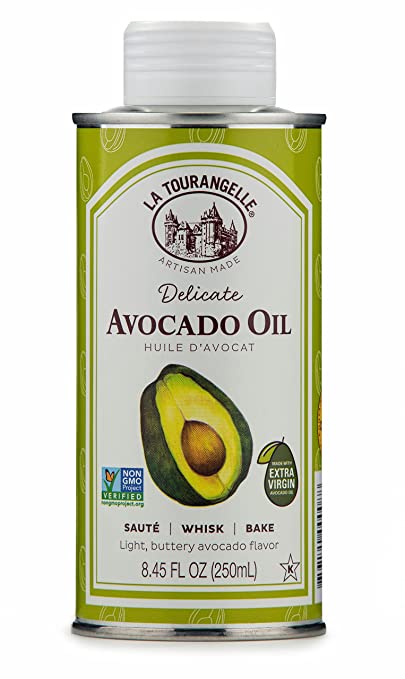 The La Tourangelle is all-natural artisanal avocado oil. Local California farmers in Santa Barbara grow the premium non-GMO avocado fruit, which is then handcrafted. It uses the expeller-pressed method to extract pure virgin avocado oil and blend it with refined oil to create a good balance. Refined avocado oil allows the product to retain the natural nutrients and impart a buttery flavor. At the same time, it maintains the oil's high smoke point.
The company also commits to sustainability. It supports regenerative agriculture, utilizes green energy, and is mindful of its carbon and packaging footprints.
Features:
Non-GMO project verified
Gluten-free
Sodium-free
Kosher certified
Vegan
BPA-free
Abalone-free
TROPICAL PLANTATION 100% PURE AVOCADO OIL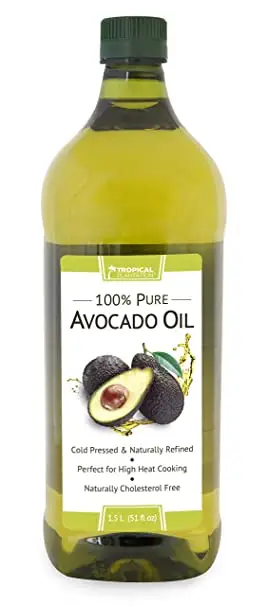 The Tropical Plantation avocado oil comes from an avocado cultivar called Hass. This variety is well-loved for its rich, creamy texture and buttery, nutty flavor. It only uses non-GMO avocados naturally grown with zero pesticides.
Then, it undergoes a proprietary heating process to remove impurities that can affect the quality and lower the oil's smoke point.
Features:
Non-GMO
Pesticide-free
Cholesterol-free
Available in a 51-ounce size
Must be consumed within 4 to 6 months after opening
Affordable price point
The avocado fruits are initially cold-pressed and go through natural refinement to extract the oil.
Avocado Oils to Avoid
Honestly, the freshest and the purest oil is quite hard to come by. In most cases, manufacturers "refine" the product to effectively remove impurities that can lower the smoke point. Refinement also helps to neutralize the taste and smell of the oil, which some customers might find rather unappealing.
However, refinement also means stripping the oil of its natural flavor and essential nutrients. You will often find these refined oils lighter, almost transparent in color. It is odorless, tasteless, and poor in nutrients already.
This situation also implies that you will not get the intended benefits of the "real" avocado oil. And that, to me, sounds like a red flag.
Another thing most consumers should avoid is buying poor-quality oil. Some brands may claim that their products derive from 100% avocado. That may be true, but is it really of premium quality?
Avocado oils with inferior quality tend to go bad pretty fast. The oil can become rancid in just a few months or so. It would taste and smell awful, almost unedible. You don't want any of it to go near your food.
Some brands may claim to be pure. It is already blended with other oils like soybean and canola to lower the cost. So, always read the label and run through the ingredients list one by one.
Cooking With Your Best Avocado Oil
Here are a few essential recipes you can quickly whip up with avocado oil:
Keto Paleo Mayo Recipe
Ingredients: Egg, dijon mustard, apple cider vinegar, salt, and avocado oil.
Procedure: 
Crack the eggs and put them in the bottom of the jar.
Add the mustard, ACV, and salt.
Pour the avocado oil on top.
Use an immersion blender and whip the mixture at low speed for 20 seconds.
Avocado Oil Salad Dressing
Ingredients: Dijon mustard, maple syrup, lemon, garlic, fresh herb of choice, salt, pepper, and avocado oil,
Procedure: Add all the ingredients to the jar. Shake or whisk until the consistency becomes creamy.
Garlic Hummus
Ingredients: Garbanzo beans, tahini, garlic, lemon, salt, pepper, water, and avocado oil.
Procedure: 
Put all the ingredients in the food processor.
Blend until it becomes smooth and creamy.
Transfer to a serving bowl.
Add more oil and red pepper flakes if desired.