Last Updated on October 5, 2022 by Share My Kitchen
Whether you are a big breakfast person or not, having an omelet pan is an excellent addition to your cookware. Its sloping sides allow you to flip the eggs upside-down or side-to-side quickly. Something that you may find a bit more challenging to do with just the regular frying pans.
But aside from its literal purpose of making an omelet, there's actually more to love about this kind of skillet. This shallow pan is also perfect for cooking bacon, ham, and sausages, as well as sautéing veggies and even making pancakes. Basically, any food you cook with typical frying pans will perfectly work in an omelet pan too.
In this article, we will elaborate on why omelet pans are worth adding to your cookware collection. What are their advantages? What makes them different than standard frying pans? And lastly, which among the products out there are the best of the best? All these we will tap into, so make sure to stick around and read 'til the end.
Omelet Pan vs. Frying Pan
Before anything else, let us first dispel the difference between an omelet pan and a regular frying pan.
Both cookware can look very similar at a glance. They are often round in shape and available in various diameters. The two also often come with a layer of a non-stick coating surface.
The main disparity between the two is essentially in the angle of the sidings. Both can be similar in height or depth. But, in terms of the design, the omelet pan has significantly flared sloping compared to the more upright siding of the standard frying pan. The low curvature along the edge allows food to slide through and fold over easily. Thus, making food flipping smoother and more convenient.
Another difference is the variety in shape. Most often than not, frying pans are available in a circular shape. It may come in different diameters and depths, but it is still usually plain and round.
On the other hand, omelet pans are accessible in a wide array of shapes and designs. The most common is the regular round skillet, folding omelet pan for frittatas, and rectangular omelet pan for Japanese tamagoyaki. Other than that, you can also find fun shapes and patterns embossed within the interior surface of the pan. Making your omelet into a more interesting piece of food your kids will surely love to munch.
Advantages Of Using An Omelet Pan
1. Non-stick cooking surface.
In general, omelet pans are layered with a non-stick cooking base. This coating prevents the food from sticking to the bottom. Hence, it is much easier to swirl or maneuver within the pan.
2. Healthier cooking.
Because the surface is non-stick, it requires less butter or cooking oil. Consequently, it minimizes the addition of unhealthy fats to your diet.
3. Even heat distribution.
Omelet pans offer uniform heat distribution throughout the cooking surface. This allows you to cook your food thoroughly. At the same time, it reduces the chances of burning portions of the food, especially the bottom.
4. Compatible with different cooktops.
Omelet pans are generally compatible to be used on gas and electric cooktops. There are also some models that are designed to be suitable for induction and oven use. This gives you the versatility to adapt to various stove options.
5. Easy to clean and maintain.
Non-stick omelet pans are fairly easy to clean. Since food particles are unlikely to stick to the surface, it is effortless to wipe down the dirt and wash the grease with mild dishwashing soap and water. Just make sure not to use abrasive scrubs or sponges. This can scratch out and permanently damage the non-stick coating.
What To Look For When Buying An Omelet Pan
Quality of materials and construction
As with any other cookware, see to it that you are buying an omelet pan that is made of high-quality material and is sturdily constructed. Remember that this heats up and comes into direct contact with your food. Thus, you want to ensure it is absolutely safe and non-toxic.
Look for pans that are free from teflon or PTFE, PFOA PFA, PFC, lead, cadmium, and BPA. Such chemicals are found to be harmful to your health. When heated, it can leach out and contaminate your food.
Size
Omelet pans come in various sizes, but the most common options are 8, 10, and 12 inches. The 8-inch pans are great for single-servings. It can comfortably cook one to two eggs.
The 10-inch pan is a more popular option. It can cook up to three eggs which can well serve two persons. Meanwhile, the larger 12-inch omelet pan can accommodate cooking up to four eggs at once. So, this is a better option for sharing.
Type
As mentioned, omelet pans can come in various shapes or designs. The regular round is the most famous and versatile of all types. It can work just like any other standard frying pan.
The folding omelet pan is another thing. They are like round pans but sectioned into two halves. These can be folded on top of each other to make flipping easy and hassle-free.
In Asian countries, the rectangular-shaped omelet pan is a staple choice. The Japanese often use this kind of cookware to make rolled omelets called tamagoyaki.
Handle
A handle with a comfortable grip is essential for an omelet pan. Look for a handle that is long enough for your hand size to hold onto safely. This also helps to balance out the weight of the pan.
Most importantly, it should be able to provide heat protection and a secure grip. A silicone-wrapped handle is a good one to start. You need this feature to easily and safely maneuver the pan as you try to swirl or flip out the contents.
Our Top 5 Picks for the Best Omelet Pans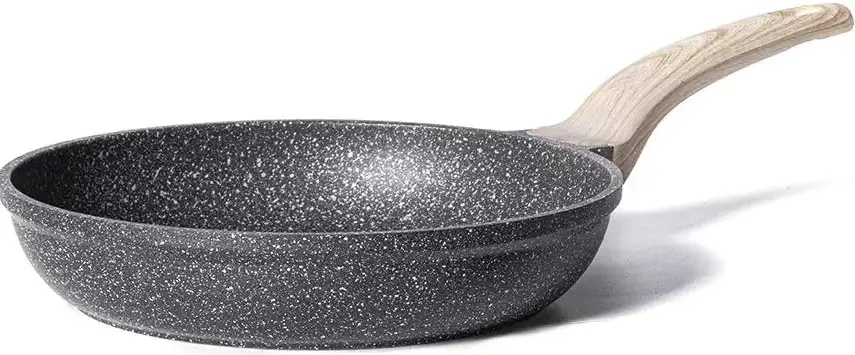 CAROTE NON-STICK GRANITE OMELET PAN.
This Carote model is actually an all-around frying pan that works really well for cooking omelets. It is made with food-grade granite stone material. So, be assured that it is 100% free from lead, cadmium, PFOS, and PFOA. Plus, it is eco-friendly too.
This natural granite pan is heavy-gauged with die-cast construction to make it five times more durable than standard pans. The cooking surface is also non-stick, thus promoting a healthier cooking experience. I love the fact that it is compatible for use with gas, electric, ceramic, and induction cooktops. Moreover, the pan heats up quickly and evenly, which in a way helps to save energy.
But on top of it all, I really appreciate the value the company puts into its customer service. It offers worldwide service with a 24-hour in-time response.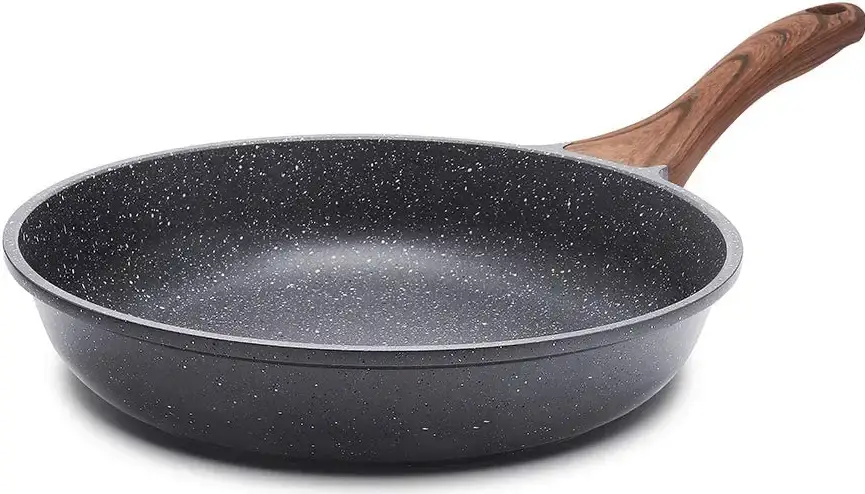 SENSARTE NON-STICK SWISS GRANITE OMELET PAN
This omelet pan features a Swiss ILAG non-stick coating. It is a multi-layer coating that is reinforced with high-performing ceramic material. As a result, it enhances its scratch-resistance feature, promotes a healthier and safer cooking experience, and it is SGS-approved too.
The Sensarte pan is also designed with a woodgrain bakelite handle. This allow it to stay cool when cooking and be oven-safe for up to 302°F. Apart from that, the woodgrain design is very chic and aesthetically pleasing.
The pan is also built-in with a high magnetic conductive base. This makes it suitable to use on all types of stove tops, including induction.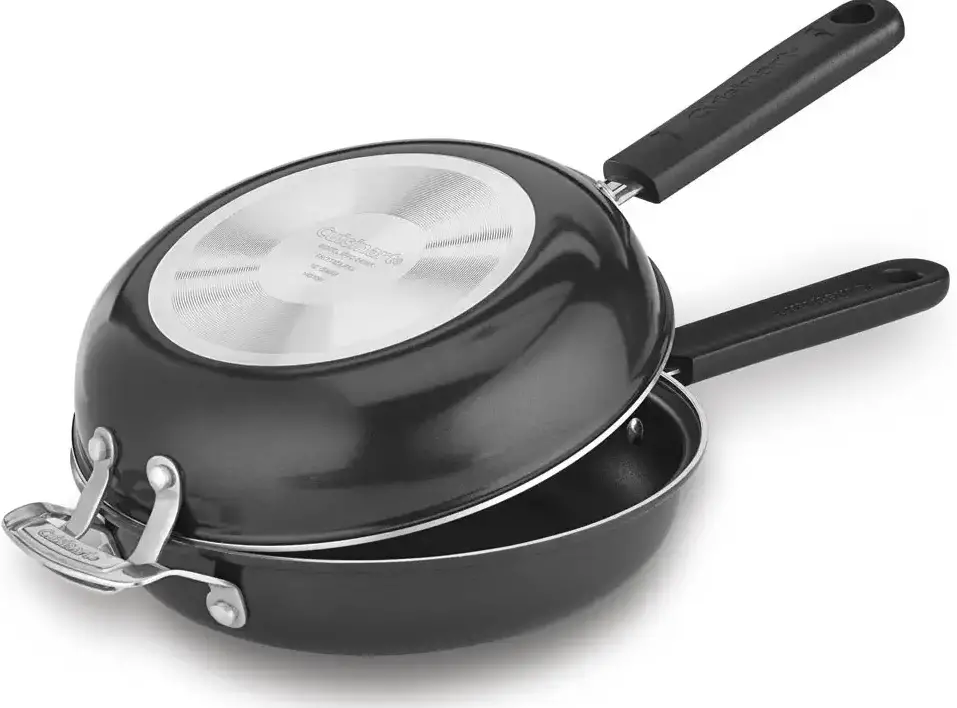 CUISINART NON-STICK FRITATA OMELET PAN
This is a full-sized folding omelet pan designed especially for making classic Italian frittata. By full-size, I mean they come in a full round shape, unlike others that fold into a half circle only. Hence, this gives you twice as much capacity and more convenience in flipping any dish upside-down.
But what I love most about this interlocking pan is that it is totally separable. The set is composed of two full pans with stainless steel handles, which you can slip into each other to connect. This 2-in-1 functionality is super ingenious and adds greater value for your money.
Performance-wise, this omelet pan set will not fail you either. Its aluminum encapsulated base enables it to heat up pretty quickly and evenly. Thus, there are more chances of saving energy and fewer incidences of burnt food.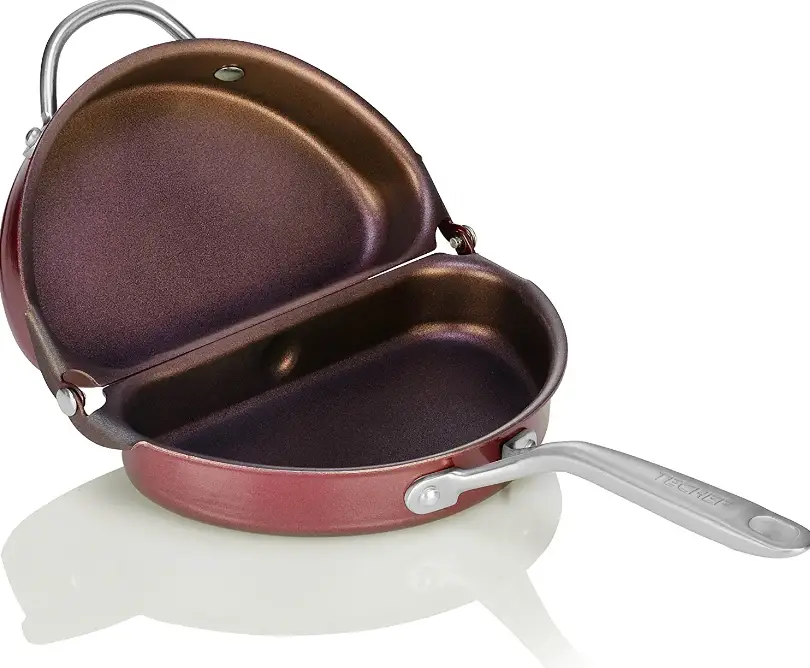 TECHEF DOUBLE-SIDED FOLDING OMELET PAN.
This Teflon pan is a more classic style of folding omelet skillet. It features a double-sided cooking surface, so you can heat up your food on either side you wish. Just flip it over, heat it up, and do it all over again on the other side. It's super simple, yet it can give you the fluffiest frittata omelet.
This model uses the new and improved Teflon Select non-stick coating. This layer is engineered to be absolutely free from PFOA, lead, and cadmium, as confirmed by RoHS. As a bonus, it comes in fancy color schemes too, to match your mood.
TAMAGOYAKI JAPANESE NON-STICK OMELET PAN
The list would never be complete without my favorite tamagoyaki omelet pan. Yes, this Asian-inspired rectangular skillet is used to make perfectly shaped rolled omelets. It features a Maifanite stone non-stick coating for quick heating and easy food release. It is PFOA-free and will not chip, peel, or flake off.
This skillet may be smaller than usual pan sizes, but it is constructed with heavy-duty aluminum-manganese alloy material. It is compatible for use with all kinds of stoves, including induction cooktops. This pan will surely last a long time with proper care and maintenance.
Takeaway:
There are plenty of frying pans out there. But, no one can deny the versatility that omelet pans can offer. It can do all the functions of a standard frying pan with a whole lot more convenient when it comes to swirling and flipping eggs. On that thought alone, omelet pans can make a fantastic addition to your cookware. Not to mention, its functionality can give you better value for your money. So, why dwell on the plain and typical when you can feel extra with a non-stick omelet pan? right?