Last Updated on May 19, 2022 by Share My Kitchen
One might wonder how to make pancakes without baking powder when baking powder has been used in cooking pancakes for many decades. Is it possible? Well, read on, and let's find out.
Pancakes, as we all know, are flat cakes that are made with basic ingredients like flour, eggs, and milk. They are usually cooked using a flat pan or griddle. Then, these are often topped with butter and drizzled generously with sweet syrup. Different varieties and flavors of pancakes are available around the world, depending on where you live. However, surprisingly, it is believed to be Greek or Roman in origin. Moreover, pancakes are a popular breakfast option in both the European and American continents.
Many people prefer fluffy pancakes because they are more appetizing to look at and they are softer on the palate. Fluffy pancakes became popular after the Japanese souffle pancakes were introduced. These fluffy pancakes are cooked with baking powder. However, using egg whites is another trick that can make fluffy pancakes. You may beat the egg whites until they form stiff peaks, then incorporate them into the pancake batter. The air bubbles in the egg whites will be trapped within the batter, and this will make them fluffy and airy. This same technique is used to make souffle pancakes in Japan.
Pancakes Without Baking Powder
You might have been eating different types of pancakes growing up. There are some that are very thin and flat with margarine on top and sprinkled with a bit of sugar. There are also pancake mixes available at groceries. These usually need only water to make the batter.
It is a struggle to flip pancakes on your first try. However, you can get better at it with some practice. Get that stack of homemade pancakes going. They will surely be a hit, especially if you pour the syrup that comes with the mix.
However, with more experience, your idea of homemade pancakes may change. It may be after you discover how to make them from scratch. It will take you several times to get the right ratio. You may include baking powder in your list of ingredients since this is a part of the recipe to make souffle pancakes from Japan. But, you may also use egg whites to make your pancakes fluffy if baking powder isn't easily purchased in your local grocery store. This also reduces the ingredients needed, so lower food costs.
How to Make Pancakes Without Baking Powder?
Baking powder helps with creating a fluffy texture. This recipe will show you how to make fluffy pancakes with no baking powder. You only need the ingredients for a basic pancake recipe, and you are good to go.
Prepare the Batter
Begin by making the pancake batter exactly as you would normally make it. In a large bowl, combine the flour, sugar, and milk. To give the pastry a smoother texture, it is a good idea to sift the dry ingredients. Then, add some vanilla extract for extra flavor, and make sure to mix the batter until smooth.
Eggs are used in making regular pancakes. However, this recipe uses eggs differently. Crack the eggs and separate egg yolks from egg whites. Then, mix the egg yolks into the pancake batter until it is well blended.
Whisk/beat the Egg Whites Until Stiff
Beat the egg whites in a separate bowl until they reach stiff peaks. Although you can use a wire whisk, it will take about five minutes of vigorous manual beating to achieve the desired results. So, if you have a hand mixer, it is best to use it.
Flip the bowl over to check if stiff peaking has occurred in the beaten egg whites. If the egg whites don't fall, it has already reached a stiff peak. Baking powder is used as a leavening agent to make a pancake rise in a regular recipe. It is used to get a fluffy and thick pancake. Now, with the absence of baking powder, the trapped air bubbles in the whipped egg whites will be used to make the pancakes fluffy.
Mix the Batter and Beaten Egg Whites
Then, gradually add the egg whites into the batter when they are ready. Cut and fold the egg whites gently until you have a smooth mixture. Continue this process until all of the egg whites have been incorporated into your pancake batter.
The traditional method of cooking the pancake is to use a flat pan. Heat it and add oil to prevent the pancake from sticking to the pan. However, don't grease the pan too much as it can cause your pancake to be fried. Pour a portion of the batter to make the pancakes. Cook the pancake until there are bubbles on the top. Flip the pancake only when there are bubbles. If there are bubbles, the pancake's bottom side is cooked. Therefore, you can then flip the pancake to the other side. Continue this process until you have all the pancakes cooked. Then, transfer them to a plate. You can serve pancakes with some butter and syrup. Enjoy your fluffy pancakes while they're hot!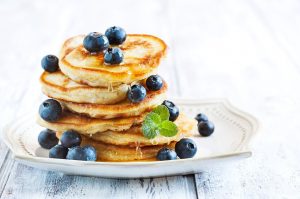 You may also try different toppings such as whipped cream, jam, chocolate sauce, and fruits. Moreover, you can add flavors to the batter to make strawberry pancakes, matcha pancakes, chocolate pancakes, and more.
Ingredients
1 cup all-purpose flour

3 tablespoons white sugar

1/4 teaspoon salt

1 cup milk (fresh milk or evaporated milk)

1/2 teaspoon vanilla extract (optional)

2 eggs

oil for greasing
Recommended Toppings:
Instructions
In a large mixing bowl, combine all-purpose flour, sugar, and salt. Then, use a wire whisk to mix well.

Add the milk and vanilla extract to the same bowl. Mix the ingredients until smooth and blended properly. Then, place the mixture in a bowl.

Take two eggs and separate the egg whites and yolks. The egg yolks need to be mixed into the pancake batter. The egg whites are placed in a separate bowl.

Mix the egg yolks into the pancake batter.

Next, use a hand mixer to beat the egg whites until they reach stiff peaks.

Add the stiff egg whites gradually into the batter, and fold gently. Combine the ingredients until smooth and well-blended.

Place a pan on low heat, and use butter or oil to grease it.

Pour a portion of the pancake batter into a pan gently to form a circle. Cook the pancake until there are bubbles up on top. Then, flip the pancake over to cook the second side.

Place the pancakes on a plate. Spread the butter on top and serve with your favorite syrup.